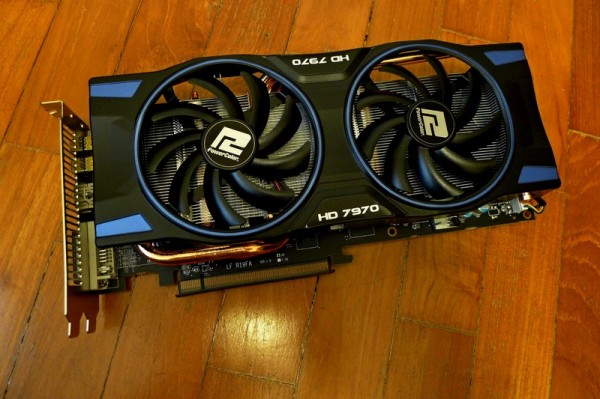 It's a sign of the crazy level of competition in PC graphics cards these days that I can buy a top-end card over the weekend with S$539, instead of the usual S$700 to S$900 asking price.
The Powercolor HD7970, using AMD's top-end graphics chip and with 3GB of RAM, is not a bargain basement reference card, but one with the manufacturer's own quiet dual fans, which usually add to the cost.
Yet, it is costing what a mid-range card might usually command, thanks to the latest round of price and performance one-upmanship between AMD and Nvidia.
To be honest, I was quite surprised when I visited Sim Lim Square over the weekend. I had believed I'd be spending more than S$600, perhaps even close to S$700, to upgrade from my AMD HD4870x2 card, which cost me close to S$800 four years ago.
I'm planning to buy a new monitor running a relatively high resolution of 2,560 x 1,440, so the extra pixels will mean getting a high-end card. I had been eyeing a GTX 670 card a couple of months ago, which was then cheaper than HD7970 cards by quite a bit, while close enough in performance to the much faster but expensive GTX 680.
Today, however, almost all GTX 670 cards cost more than S$600. Meanwhile, the cheapest HD7970 card, which is often slightly faster, is just S$539. That's close to S$100 less.
Going for the cheapest card usually means I have to settle for a noisy reference fan, but strangely, the enhanced version of the Powercolor HD7970, with the quieter dual fans and nice copper heat pipes actually costs the same. The choice was obvious.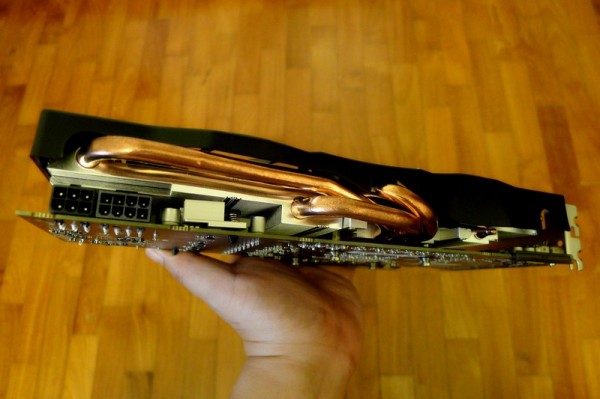 It also helps that I've always preferred AMD's designs that have two DisplayPort connections rather than Nvidia's one. They are great for connecting new monitors in future.
After a day of using the Powercolor card, I couldn't be happier. With the HD7970 placed in the PC, I could hardly hear the hum above the air-conditioning. Needless to say, it spins up when I play a game, but that's also when I fire up the surround sound system.
How does it perform? Very well, I have to say. With 3DMark 11, the synthetic DirectX 11 benchmark, the graphics card scored a creditable P8391.
This is on a system with an Intel Core i7-3770K, 8GB RAM (1600C9), Asus P8Z77-V Pro motherboard and a 240GB Corsair Force GT solid state drive. Everything's running at stock, and I have not started overclocking things.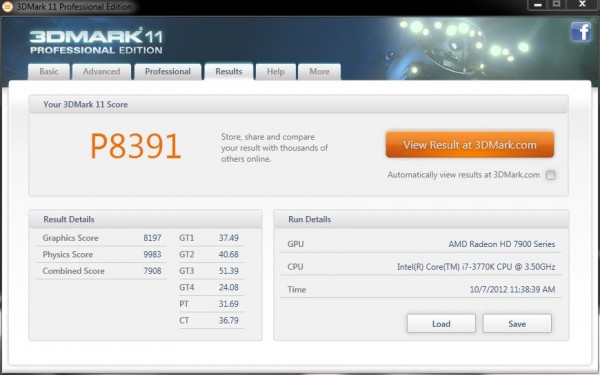 I also tested the HD7970 card with games running at a sharp 2,560 x 1,440 resolution and there were no issues with the latest games like Battlefield 3.On the Swordbreaker level, where there is a huge battlefield with a dozen or more characters and choppers firing at each other, the intense graphics hardly posed a problem.
I used Fraps to measure the frame rate as I played, with all the eye candy turned to Ultra in the settings, and I never got less than the 30 frames per second required for smooth gameplay. For the short sequence, the minimum I recorded was 33 fps, with a max of 60 fps and an average of 41 fps.
It's useful to note that the Frostbite 2 game engine used here is going to be used in the Medal of Honor: Warfighter shooter out later this month, so I'm looking forward to that.
If you're in the market for a high-end card to run at resolutions of 2,560 x 1,440 or 2,560 x 1,600, usually on your 27- or 30-inch monitors, then the HD7970 looks like a good deal.
I'm pretty sure AMD and Powercolor are not making a whole lot of money by selling such a great card at this price, but hey, as a consumer, I'm enjoying the competition while it lasts!