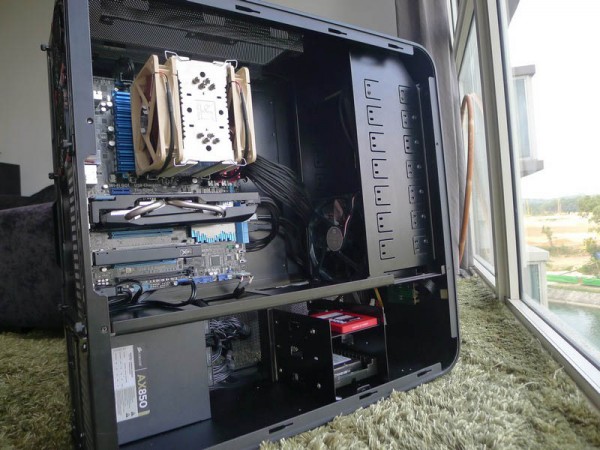 Who needs a desktop PC any more? That question replayed in my head more than a dozen times in recent weeks when I was thinking of rebuilding a new PC.
After all, with the exception of gaming – and I am playing fewer games these days – there really isn't much that a cheap, fast and pretty ultrabook cannot do. Even if I wanted to build a new PC, I could buy a really small case, stuff it with all the excellent gear and be really happy with it.
But one look at the classic Silverstone TJ07 case I've been using for more than five years, and it's clear I'm keeping that amazing piece of gear. Despite its rather dated interior layout and being better suited for a watercooling setup, its aluminium unibody design is still stunning to look at and puts a smile on many PC builders.
And so I built a new PC with it in the past few days. Here's a brief work log of sorts of my new PC based on an Intel Ivybridge CPU.
The first thing I had to do was to tear down the previous setup. This was a custom watercooling rig that I had spent days to build four years ago.
With two radiators, sporting five 120mm fans, and an intricate routing of tubes, it had managed to cool a Core i7-920 CPU, the Northbridge of an Asus Rampage II Extreme motherboard and a very hot dual-core AMD Radeon HD4870x2 graphics card. All the radiators, pump and reservoir were stowed away in the bottom half of the TJ07, which is a truly versatile case for custom watercooling.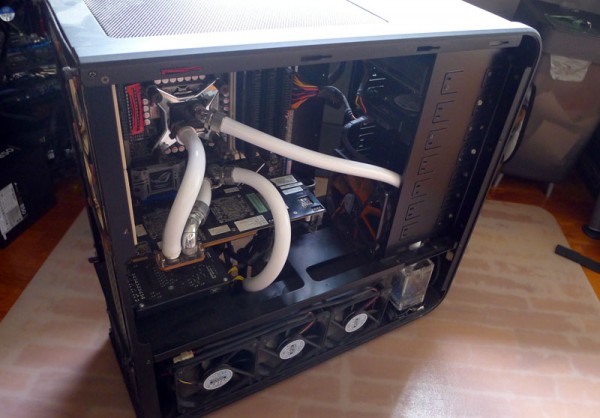 I had gone into watercooling previously because I needed a fast graphics card to, well, play Crysis. The HD4870x2 was the fastest there was and it was noisy to the extreme, even when it was running at idle. The solution came in the form of watercooling, which kept things cool and was relatively quiet. I was soon importing the watercooling gear from Performance PCs and Sidewinder Computers in the United States.
To disassemble all that and go back to air cooling seems like a downgrade, but things have changed a lot these past few years. Intel's CPUs have become increasingly cool-running. Solid state drives coupled with remote NAS access have reduced the need to have many hard drives in a PC. Even graphics cards like Nvidia's GTX670 run relatively quietly with cooling systems like Asus' DirectCU II.
I decided go back on air for its simplicity. Even though I still love custom watercooling, it's become less of a need, more of a hobby I don't have enough time for. I can have performance plus a whole lot of quietness to go with it while being on air cooling, or perhaps even with closed loop watercooling systems like Corsair's Hydro series.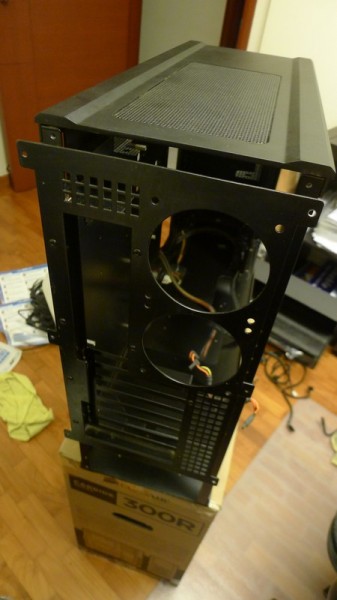 Once that was decided, the old PC was taken apart. Bit by bit, the watercooling setup was torn down and the coolant – just distilled water, which is the best – was drained and I took out all the other components carefully. That was not before causing a massive mess in my room, of course.
A piece of advice on this Akasa Paxmate sound isolation mat, which I had applied on the bottom of my case to cut down noise from the fans. It works but it's a pain to remove.
I had to scrape inch by inch with a metal scraper to remove first the sponge-like material before taking out the glue. All in, the effort took me an entire afternoon plus evening and a whole lot of alcohol-based solvent (caution: it works on anodised aluminium but will strip paint off). I'm never pasting that stuff again.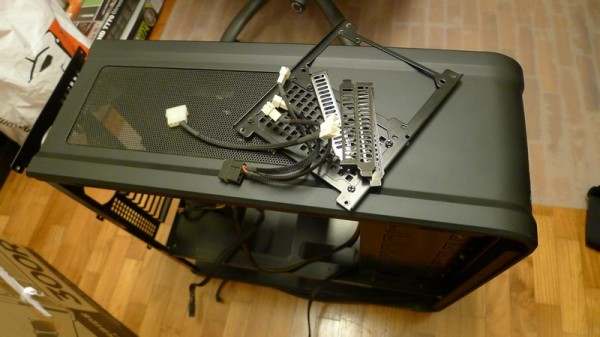 The payoff for all that hard work was an almost new-looking case. The TJ07 still costs about S$400 at the stores now, and I'm glad I bought one and powder-coated the insides, after making cutouts to accommodate wires.
Building the PC was quite a breeze after this, to be honest. No more testing for leaks with kitchen towels, or cutting and routing tubes to size. I was just going to install the following gear neatly and I already had an idea how best to optimise the airflow in the case.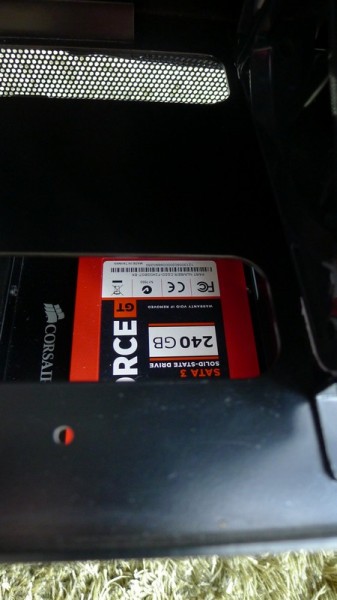 1. Intel Core i7-3770K – bit of an overkill, yes
2. Asus P8Z77V-Pro – a "downgrade" from an enthusiast motherboard, I know, but I'm feeling a little jaded about overclocking
3. Corsair Vengeance DDR3 8GB
4. Corsair ForceGT 240GB – who can say no to red?
5. Western Digital Velociraptor 300GB – a drive from four years ago, this is still a very fast hard disk
6.  Silverstone slim DVD drive – ripped from my living room home theatre PC
7. Corsair AX850 power supply – had bought this for a test last year but it's been sitting there all this while!
8. Asus GeForce GTX670 – sold out at the stores here for now; the card in the photos here is an Asus Radeon HD7770 which they have loaned us
9. Creative X-Fi Titanium Fatality Pro – from the previous setup, to hook up to my AV amplifier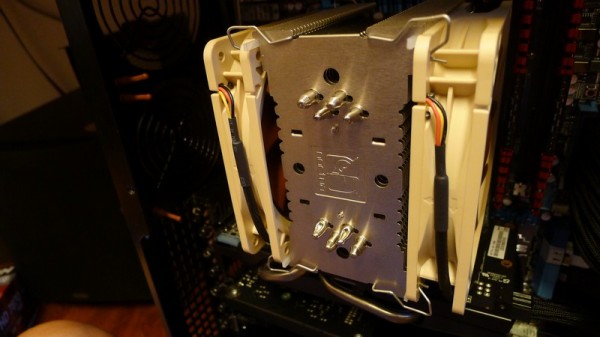 The cooler I have chosen is Noctua's NH-U12P SE2. The Austrian company is known for its extremely quiet but efficient fans and its build quality is something I've known since I started shipping their fans and coolers from the US a few years ago before a Singapore distributor brought them in.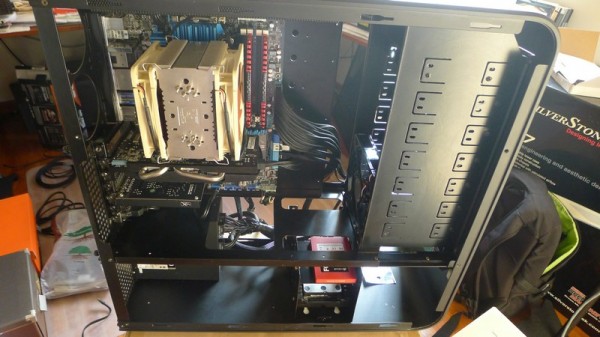 I've also reduced the number of fans in the case to cut down noise. Besides the CPU fans, the only one I've added is a slow-turning but efficient Thermalright X Silent 140. Nothing special here, though the 140mm fan means it can spin slower – thus producing less noise – and still put out decent airflow in the case.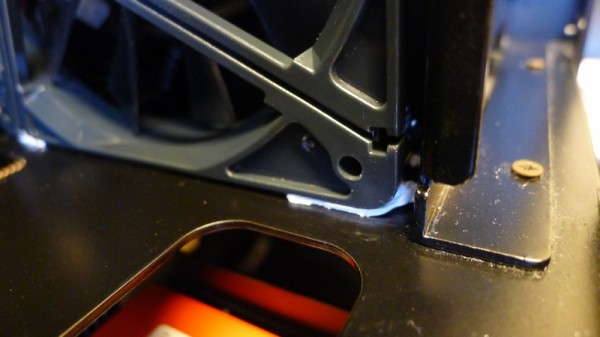 My little trick here: Blutack. Not many case builders use it, but it's one of the most understated materials you can use to hold up wires and in my case, even keep a fan solidly fixed in place while dampening its vibrations. If you can, get the black version. I ran out of that from my previous build and had to settle for blue, which unfortunately takes away some of the subtlety.
Another tip I'd like to share has to do with case feet. Most cases come with rubber feet to hold the case in place. The problem for me was sliding a really heavy case – remember it had water in it as well – under my desk.
The solution: those soft feet attached to chairs to reduce damage to the floor. Sold at DIY stores, these are a real godsend because they allow me to smoothly slide the case to the side should I have to open up the side panel to fix something. No more lifting the PC out from under the table with a bent back.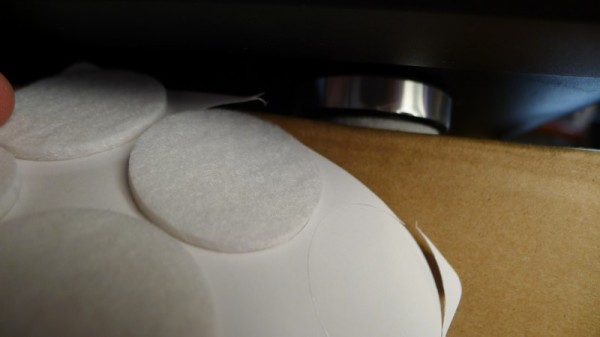 One nice "mod" that I've used from Silverstone this time is its stealth optical drive holder. Many PC builders have tried to create their own clean front panels without the ugly logos on optical drives out at the front, but none probably do it as neatly and easily as with Silverstone's FP58.
This lets you install a slim slot-load drive, which you can hide altogether. What you get is an amazingly clean front panel. A caveat though: Silverstone-branded drives, which are guaranteed to work here, are expensive at Sim Lim Square. You can always buy other brands, like Sony, but they are more easily available overseas than in Singapore.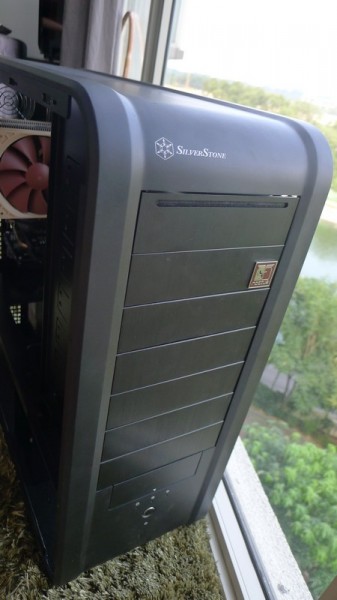 And here's the complete PC, now humming rather quietly under my desk. The TJ07, in my mind, is still one of the most beautiful cases today. With a thick 4-8mm outer frame – try cutting through it with a Dremel and you'll know it's tough work – and a really sleek finish, it stands comparisons to many more modern cases like Corsair's Obsidian 800D, for example.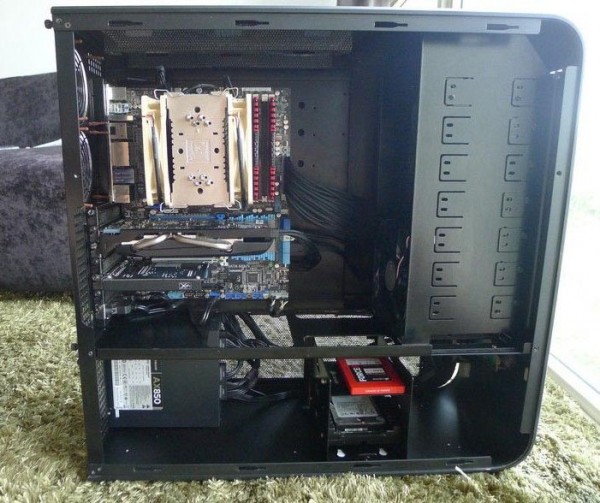 I only wish Silverstone would make a smaller version – the Fortress FT01 doesn't look as good, to be honest – that has the same build quality. But meanwhile, I'm just happy I'm past the "agonising" part of building a PC, which includes all the planning and tough decisions, and have a fast, quiet machine.
The new PC cost me a good few hundred bucks at Sim Lim, and will cost more if I buy a GTX 670 in the coming weeks, but it's still cheaper than the previous build because I'm not spending on watercooling gear that can easily add up. I'm a happy PC geek again.
Share your PC building stories and pictures in the comments or on our Facebook page!