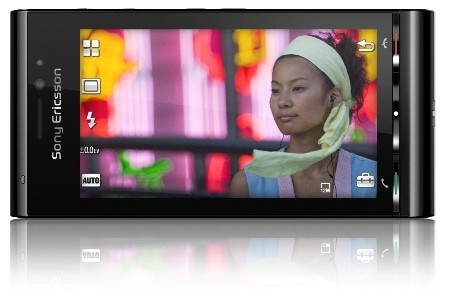 It was once called Idou… now it goes by another Japanese robot-sounding name – Satio.
We're talking about Sony Ericsson's latest all-in-one, "throw-in-the-kitchen-sink" entertainment phone that is being, well, launched, today.
Actually, we've heard about it back at the 3GSM World Congress in February, but Sony Ericsson has now decided to change the name of its new flagship phone.
And it's trying to tease its fans with some shots of the phone which will come with a whopping 12-meg camera, a 3.5-inch 16:9 screen and Symbian Foundation OS (what's left on the sink?)
The large-screen gizmo comes in red (or Boudeaux, as SE calls it), as well as black and silver, and features a handy sliding lid to protect the precious lens. No details on price yet from SE, which says the phone will hit the shelves in Singapore in early Q4 2009.
This one is worth waiting for, assuming Google/HTC or Microsoft/HTC does not come up with something stunning before SE does. Even then, those two will find it hard to match the 12-meg camera on the back of the, er, Satio.
Besides the Idou-Satio, SE also launched a couple of phones that go by the robotic names Aino and Yari. Both are sliders, though the Aino is slimmer and looks prettier than the heftier Yari.

The Aino is sold as an entertainment device as well. It comes with a nice 8.1-meg camera and will hook up to your PS3 game console over your home network or over the Net using Sony's Remote Play.
Interestingly, it comes with a charging stand, which tilts the phone at an angle that makes viewing videos easy. Thank your prayers if you're one of those who enjoy a movie on a small screen at a desk .
The Yari, finally, is the lowest-end of the three. Coming with a 5-meg lens and motion and 'gesture"-based gaming, it looks like the poorest sibling of the family. Not exactly our taste.
All three robots – Satio, Aino and Yari – will be available "early Q4", says SE. I think it means October (but I'm just guessing, because the last time SE delayed shipping the Xperia 'til December 2008, it really lost out in year-end sales).
[nggallery id=6]