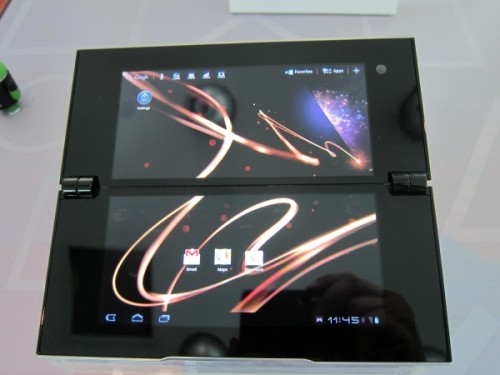 Instead of a thin and light design, Sony last year came up with a tablet that had a book-like shape so users holding on to its Tablet S could easily imagine they were reading a book or magazine.
This year, the Japanese firm is looking to a unique clamshell design in its new Tablet P. In terms of looks, this tablet is one that will not fail to catch the eye if you see it at a shop front next to other tablets.
Instead of going for a large 7- or 10-inch screen, the Tablet P uses two smaller 5.5-inchers, divided by a hinge that keeps the device foldable and very pocketable.
For sure, it reminds one of a portable game consoles like Game Boy Advance, only with much nicer screens and an Android operating system. The device, weighing 372 grams, is also easily portable.
The two screens can either be continuous, that is, the entire image is split between the two screens, or they can be separate when a program calls for it, say, in some Playstation games, where the bottom screen shows touch-based Playstation controller buttons, and the top screen runs the game.
Another scenario where the dual screens might help is if you are  reading a book. One page goes on each screen, and you get two pages at one go, so you can avoid flipping so many pages so often.
When it comes to browsing the Web, the bottom screen can also turn into a keyboard as you type into the Web address bar of a browser, for example. With Android 3.2 built in, and powered by a decent Nvidia Tegra 2 chip, the Tablet P doesn't seem the least bit slow when I fired up a number of apps at the IT Show a couple of weeks ago.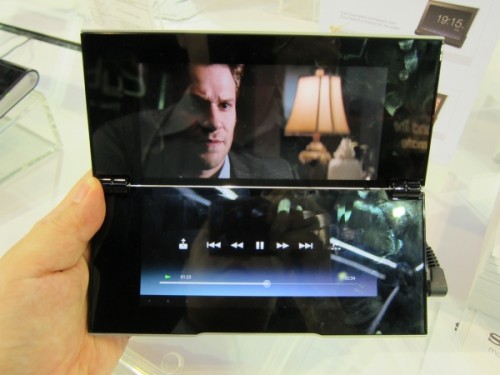 Not badly made at all, the Tablet P should appeal to gamers who carry around their portable game consoles. This device will also give these users the capabilities of a regular tablet, and of course, that niche appeal that the mainstream tablets don't offer.
It's rather smart of Sony to avoid the "thinner and lighter" race with Samsung and Apple. But at the same time, in the Tablet P, it probably only succeeded in making a niche device.
In the end, two screens are not always better than one here. They get annoying when you watch movies on the plane and end up eyeing the hinge in the between most the time because it's right in the middle.
There's the question of app support as well – other than Sony's own games, you don't expect a huge list of apps lining up to take full advantage of two screens, seeing that there are already so many different versions of Android OSes and different shapes and sizes of screens in the market.
If you are going to be scrolling between the screens most times, it may be better to get 7-incher like a Huawei MediaPad or Samsung Galaxy Tab 7.0 Plus, which are both relatively light but still only have a a single screen.
Truly foldable  one-piece screens may be the future, but the Tablet P is not that. It will likely only succeed in convincing a small group of users it has a place in their bags now.