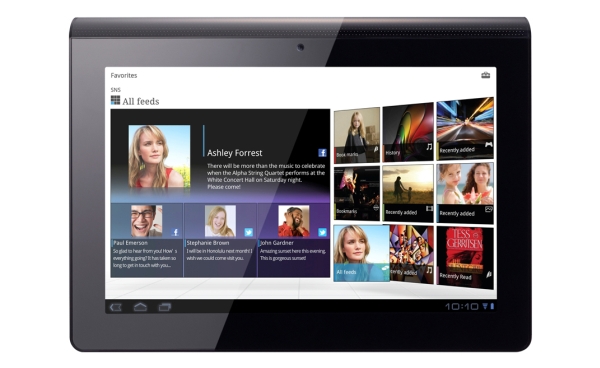 Sony couldn't have asked for a tougher day to launch a tablet, just hours after Amazon unveiled its Kindle Fire in the United States with a US$199 price tag that is sure to put pressure on rivals.
Still, the Japanese firm had to go ahead with its Tablet S show today, revealing that it would ship in Singapore from the end of October for S$668 for the 16GB version and S$798 for the 32GB version. Both are Wi-Fi-only and don't come with 3G so you'll either have to tether to your smartphone or hook up via a cafe's hotspot while on the go.
The good news is the Tablet S runs the latest Android 3.2 Honeycomb operating system and has the by-now standard Nvidia Tegra 2 chip behind the 9.4-inch IPS (in-plane switching) display, which promises some sharp images.
The bad news is that the 598g device is hardly the lightest around (the Samsung Galaxy Tab 10.1 has a bigger screen and weighs 560g). Sony does try to sell its wedge-shaped gizmo as one that's more naturally shaped to hold, and includes an SD card slot that's missing on the Galaxy Tab 10.1, but it's always hard to argue with something lighter and slimmer.
The biggest thing that differentiates the Tablet S from other Android rivals will be its Playstation capabilities. Touted as the first of a series of tablets to support such games on the Sony platform, it does stand out from the crowd by being a game machine that plays titles that many other tablets don't yet have access to.
But will this be enough to get Sony some traction in an increasingly crowded tablet field? Can it convince users to skip a low-cost rival in the shape of Amazon's Kindle Fire that would likely hit the shelves here as parallel imports, as older Kindles have done in the past? Tough to say for now, but as a user, I'm sure glad to be spoilt for choice while shopping for a tablet.