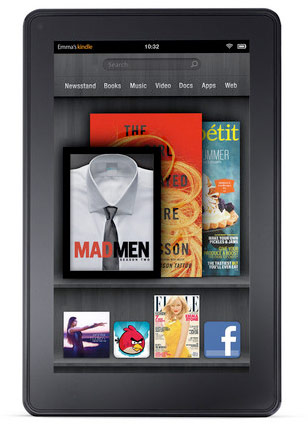 After weeks of speculation, Amazon has finally unveiled its new Kindle Fire, a 7-inch tablet that will help sell its e-books and streaming movies and, according to experts, be the toughest rival yet to Apple's iPad and iPad2 tablets. The main reason: its US$199 price tag.
Amazon's challenge is unique in that it is not so much a hardware seller as one more interested in pushing its online services and e-commerce business through its devices.
The Fire comes with a ready suite of apps and services, such as its free movie streaming service to subscribers of its US$79-a-year Prime membership. Customers also get a 30-day trial Prime membership, when they take the tablet out of the box, according to Bloomberg.
Another plus for Amazon is that it is running Google's Android operating system, which likely means it will be able to run a good number of apps in the market. Just a reminder: Amazon also runs its own Android store if you are not inclined to the regular Android Market by Google.
For an attractive US$199 tablet, there are trade-offs, of course. It doesn't come with 3G, a camera or a microphone, as Engadget points out. In fact, early pictures show that it follows a rather simple Kindle interface that is aimed at doing one thing right – media consumption.
Unlike others before who have been keen to pack in more features into their tablets, Amazon has clearly done the opposite and put in as few extra options as possible to keep prices down.
Launching their own tablets earlier this year, Samsung and Motorola had pegged their tablets' prices close to Apple's current iPad 2, which starts from US$499. Yet, the challengers are still trailing the leader by a fair margin, because of Apple's first-mover advantage in building an ecosystem of apps and developers, as well as a well-liked design.
Will the Amazon Kindle Fire work? I'd like to think it will gain traction. Just as an upgrade to the old Kindle, the new souped up version will be an attractive proposition to Amazon's many e-book users. Even for folks who never wanted to buy a tablet in the first place, coming across the Fire's US$199 price tag while shopping on Amazon or at a retailer in the United States will surely tempt their credit cards out of the wallets.
Think of the failed HP tablet. When the TouchPad was dumped on the market by the company for US$99, or S$118 here in Singapore, it easily sold out and HP had to make more of it to satisfy demand for what was essentially an end-of-life product.
Thus with its low price, the Fire looks set to move off the shelves in the coming months. Sure, it's irritating to hear about another "iPad killer", as the Fire will be called by many pundits, but it surely does look like a credible competitor.
For Singapore users, don't be surprised to see local retailers bringing in grey imports in the coming weeks.