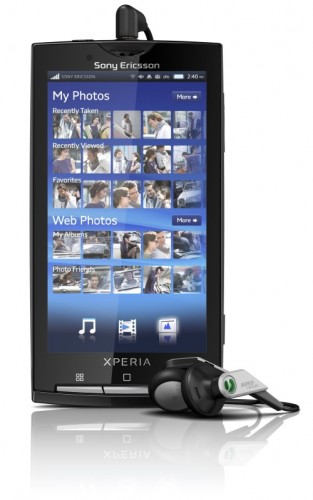 Having been somewhat disappointed by Sony Ericsson's recently-released Satio and Aino phones, are we glad that there's a new Xperia that uses the Android OS instead of the two entertainment phones' Symbian S60 software.
The Xperia X10, unveiled today, brings SE back to the fight against the likes of HTC, which has been looking ever stronger with its Android-based Hero and upcoming Windows Phone 6.5-based gizmos.
On the X10, SE has got an XL-sized, 4-inch touch-screen that boasts an ultra-high resolution of 480×854 pixels (old 14-inch CRT monitors only displayed 640×480). There's also an 8.1-meg camera with Xenon flash, which is sweet for photo buffs.
And for music lovers, what the Satio did not have – a 3.5mm headphone jack – the X10 packs it. This lets you easily plug in your own expensive Shure or Ultimate Ears earphones if you want to.
Seeing the X10, I can't help but think this is what the Satio could have been.
But having seen SE do such a good job making Windows Mobile work so well on the original Xperia X1, I'm pretty optimistic with what it can do with the Android OS as well.
We haven't had a chance to get our hands on this baby yet, but do check out what Engadget had to say about UX, SE's version of Android or what it calls "open" OS.
All in, this X10 looks promising. I'm already looking forward to the two colours that the X10 comes in – "sensous black and luster white" – when the phone appears in stores in Q1 next year. We'll update this when the price is out.
[nggallery id=15]