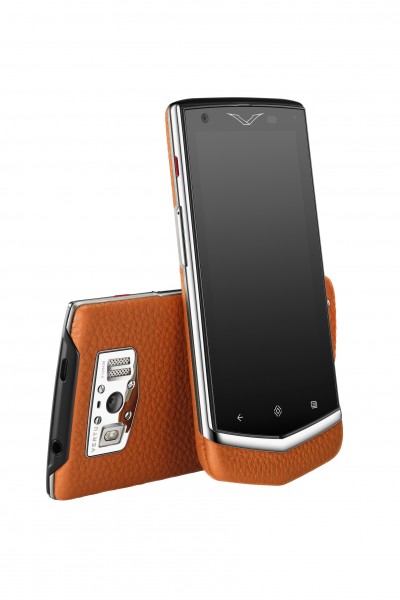 If you like to think of your phone as a piece of jewellery or expensive Swiss watch, then Vertu is probably a brand that comes to mind when buying your next mobile gadget.
Its new Constellation, handmade with materials such as calf leather for the phone's back, will surely make you excited. That's, of course, if you have the S$8,500 in the bank to pay for it.
For that price, you expect what's on an expensive automatic watch. The screen is protected by a piece of 100-carat sapphire crystal and the phone's fragile circuit boards are wrapped around by a lightweight titanium casing.
Getting my hands on the phone at the Singapore launch this week, I found the Vertu Constellation to exude a certain "premium" feel. It appears well put together like a Swiss watch but has a bit of heft that gives a user confidence, without weighting like a ton of bricks either.
As cellphone smarts go, the phone doesn't stand out as much. It runs Android 4.2, works on a modest Qualcomm Snapdragon dual-core 1.7GHz CPU and has 32GB internal memory for your photos and other stuff.
There's a 13MP camera with full HD video as well for holiday snapshots. However, the 4.3-inch screen offering 720p resolution isn't the largest or sharpest around the business.
The Constellation does have what its target audience might want, I guess. It comes out of the box with apps that let you access concierge services, for example. There's also some private members' club to join and there are invitation-only events, such as closed door shopping sessions, for owners.
If that's what you're after, then the Constellation should attract you. It certainly won't wow a lot of people with its engine under the hood, but for some users, the lure of being part of an exclusive club has an appeal that goes beyond the latest 4G connections or fastest CPU.