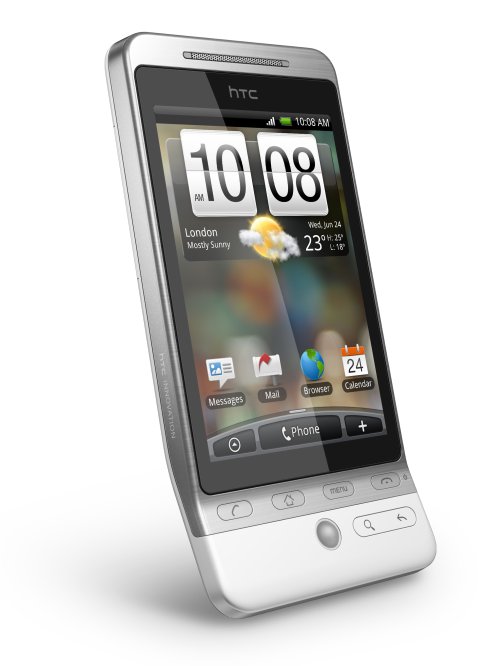 Once in a while, a phone can come along and seriously wow you just by its looks.
HTC's new "hero" phone, aptly called the Hero, is one such gizmo that is just begging to be carried in your hands. Dressed in white and dark brown, this looks at first like a HTC Touch Diamond 2 with Google Android in its DNA. But look closer, and you'd find a few surprises.
Announced yesterday, the 135-gram phone comes with the a generous 3.2-inch screen, 5-meg camera, 7.2Mbps 3.5G downloads and many other goodies.
More importantly, it appears to be a real multi-touch phone that lets you "pinch" the screen to zoom in and out of a webpage, a la the iPhone.
But if you think this is just another copy of the iPhone, then you're sadly mistaken. Take a quick online tour of the gizmo at the HTC site, and it's clear the handset maker and Google have come up with an interface that possibly matches and extends beyond the iPhone's.
For starters, widgets appear to be easily moved on screen, and you also can choose which screen suits your mood ("weekend or "work", for example).
Another nice touch comes from the integration of all your transactions with a contact, from your SMSes to e-mails to Facebook conversations or Flikr photos. In other words, you can just slide your thumb along and see all these interactions you've had with your friend (or boss) faster than ever.
I've been an HTC fan since the Touch Diamond, which I still use, and I've been particularly impressed by the Androids that have come out of the Taiwanese phone maker. More than just clones of one popular model, these "half-humans" are getting new features with each release, and HTC looks hard to stop this year with the Hero.
Forget the iPhone 3GS re-spin. Instead, look out for the Hero when it is out in July in Europe "later in the summer" in Asia.
We'll check for more details on local pricing when they become available, likely in the coming month or two.
[nggallery id=10]