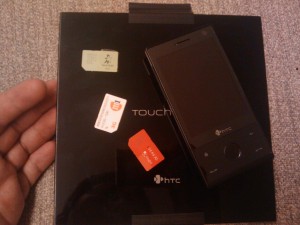 The street battles for mobile users are intensifying here, and these days, with cellphone operators fighing tooth and nail for customers, you can not only get a phone for free, but even free calls and mobile Internet – for up to 6 mths!
That's exactly what I got for finally switching last night. I've been agonising on whether to leave M1 – I love it a lot, sorry, and I'll miss the customer service after 12 years with it – but at the end of the day, it's hard-earned cash that made my mind up.
How so? The HTC Touch Diamond phone which I bought just now cost me less than $200. Amazing? Well, let's do the sums.
Original price for HTC Touch Diamond = $1098
Operator discount: -$500 =$598
StarHub PowerValue 300 plan discount -$100 =$498
Hubbing discount -$100 =$398
Trade-in my old O2 Atom -$200 =$198
Minus off my StarHub loyalty points -$50 =$148.
Amazing discounts, right? Truth be told, M1 and SingTel also have similar deals – they are both selling the Touch Diamond at around $598 with a basic plan.
But what swayed me in the end was also this amazing deal – 6 mths free subscription for new signups. That means another $48 (a mth) x 6 = $288 in savings.
Okay, I gotta pay about $37 for a new SIM card. But if you add the sums $148+$37-$288= -$103
Yup, I just got my phone free, plus I "pocketed" $103 (in fact I save another $60 coz of the free mobile Internet for $10 each month) because I don't have to pay any subscriptions – almost – for the next half year!
The fact that SingTel has a similar free-six-months deal for its FIXED LINE users shows it is fighting a tough fight with StarHub. Will M1 now stand up and offer something similar? Let's wait and see, but I don't think it will stay till and envy the crowds at the StarHub shops (I had 60 people in front of me in the queue).
But in the end, I'm glad I'm rewarded for my patience these past 6 mths for not upgrading and tying myself in.. now, I am truly happy with the fruits of some real competition here – the toughest in years for sure.