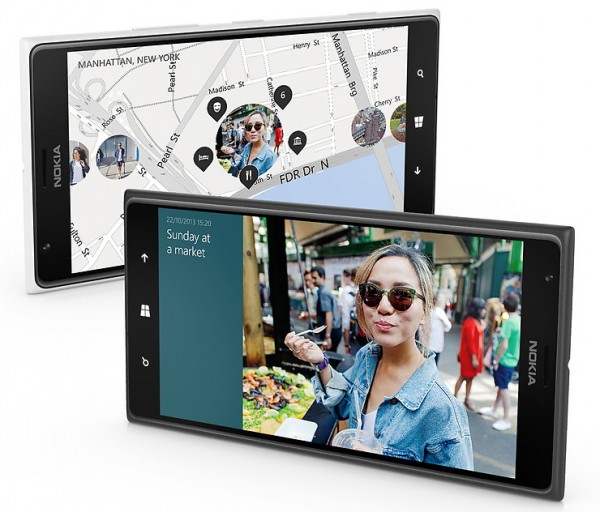 The Lumia 1520 is a phone that Nokia and Microsoft Windows Phone fans will look forward to, if only because it finally matches up to the best of its rivals with its large 6-inch screen, after the recent camera-centric Lumia 1020.
Nokia's latest phone will measure up physically against popular Android models such as the HTC One Max's 5.9-incher, LG G Flex's 6-incher and Samsung Galaxy Note 3's 5.7-inch. It is still short of Sony's king of the hill – the Xperia Z Ultra with a 6.44-inch screen – but the Lumia 1520 is clearly no pushover.
Going big is probably a simple choice for Nokia to make, considering what the competition is doing. The Lumia 1520 feels like an upsized Lumia 1020, but comes with the addition of a microSD card slot, which is a welcome feature to expand your storage easily and quickly.
What's not so cool is the Lumia 1520's shiny plastic surface. It's a fingerprint magnet, and it gets more sticky as the day wears on.
What I'm also not particularly fond of is the sound. There is only one small speaker located at the bottom rear portion of the phone, which isn't spectacular sounding. So, to really enjoy the phone's sound, I'd recommend you plug in a pair of headphones or earphones.
The Dolby Headphone sound enhancement on the Lumia 1520 does make things sound much better. When I tested the phone, playing Say Something by Christina Aguilera with my AE2 headset, for example, was an enjoyable experience.
What about photography, a main selling point of many Nokia Lumia phones?
Unlike the Lumia 1020, the Lumia 1520 has a smaller 20-megapixel sensor matched with Carl Zeiss optics and optical image stabilisation. For night shots that require flash, the new Lumia is less well endowed – it has dual LED flash compared to the Lumia 1020's Xenon and LED flash combo.
Still, for holiday snapshots and fun food pictures for posting on Facebook, the Lumia 1520 is more than adequate. Though it doesn't have enough resolution to do the "super-crop" on the Lumia 1020, the Lumia 1520's 20-meg resolution is sufficient for most uses, including printing A4 sized photos.
The excellent Nokia Pro Photo app seen on the Lumia 1020 is also added to the Lumia 1520. Most users will find it quite easy to use, while advanced users can look to manual controls similar to advanced compact cameras.
The new Nokia Lumia isn't perfect, of course. Using its four-second shutter speed means you depend on the lighting of a scene – if you expose a shot too long in a brightly lit place, it often ends up with images that are too bright.
The reason is simple – it can only control the amount of light being recorded using the ISO setting since the phone doesn't have an aperture to adjust. Creative effects such as light streaks are pretty much restricted to dark places, ones bordering on total darkness.
Finally, on apps, the Windows Phone-based Lumia 1520 faces the same problems as Android phones when it comes to searching for apps being built for the bigger screens. You have to test out which ones run on the 6-inch screen well.
Often, apps for popular services such as Facebook fail to maximise the extra screen estate of the Lumia 1520, which is a huge pity. Those which do will be seen as a godsend, because they will ensure that people don't strain their eyes looking at small fonts.
Fix that problem, by having more apps optimised for the large screen, and Microsoft and Nokia would have a lot more customers for this S$999 phone.