As the smartphone wars hot up once again this holiday season, Nokia has smartly concentrated on an increasingly important selling point for its new Lumia 1020 – a standout 41-megapixel camera.
It's something that the Finnish company had set itself apart with in the past. It's also most logical now, given its challenge to overturn the advantage Android and iOS devices have.
Indeed, the current flagship Lumia 1020, going for S$999 in Singapore, combines the best of the previous 808 PureView and Lumia 920.
The Lumia 1020's camera has a 1/1.5-inch sensor (or roughly a quarter of a Micro Four Third) that is slightly smaller than the one in the 808 PureView. It also has an improved optical image stabilisation technology with ball bearings, which betters what is found in the Lumia 920.
The f2.2 aperture lens, though small, houses six elements and is provided by Germany's Carl Zeiss, the premium lens manufacturer.
It provides 25mm-69mm, 35mm full frame-equivalent focal length zoom via what Nokia calls "high resolution zoom". The zoom range increases to 100mm for video footage.

For night portrait shots or fill-in flash shots, you can count on the Xenon flash for fill images and LED lamps to continuously shoot videos.
What's also handy is a camera grip, a S$98 accessory you may find bundled with the Lumia 1020, that provides a shutter trigger. It also contains an additional 1,020mAh battery. During my tests, it lasted a whole day of shooting, while handling regular normal smartphone tasks such as messaging, voice calls and other apps.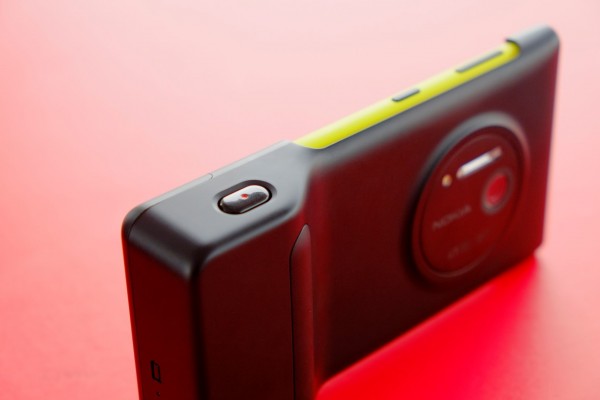 For someone who has used numerous camera phones over the years, I find the Lumia 1020 often exceeding expectations with its small sensor and lens.
The colours are nicely saturated and sharpened so that they pop from the screen even when shown on a calibrated PC monitor. The Lumia 1020's default dynamic range setting has details emerging from the shadows.
Skin tones are great with a tad of yellow tinge. The dreaded ISO noise resulting from overzealous Auto ISO setting is well controlled or even non-existent for some of my shots.
Shooting towards the Sun at Sentosa. The unique burst pattern comes from the sensor.
Colour graduation from dark blue to white. Details in the shadow are well defined.
Night shot of the Merlion with a timer, and on a tripod.
Credit should also go to the Nokia Pro Camera app. I could actually set my own white balance, ISO, focusing distance, shutter speed and exposure value compensation from the screen as though I was using a compact camera.
My day out to do a photo walk with fellow photography enthusiasts around the CBD area was uneventful except for some startled reactions to the surprisingly good results from the camera. I would have thought that my professional compact camera would come in use at some point during the walk but it stayed in my bag.
Nokia Pro Camera app, with a circle interface to control exposure and white balance settings.
Macro Shoot. Great Bokeh.
Having said that, the Lumia 1020 is not perfect. At one corner of the Camera App are two icons. One is to allow you to review the immediate past photo you have taken and the other to fire up the Photo Camera Roll to see all the photos taken previously. They are pretty close to each other so it is frustrating to keep pressing the wrong icon.
At the same time, the speed of the camera when saving a picture is pretty slow. Perhaps this is down to the small buffer space being afforded for the camera function. So taking shots in quick succession can be difficult.
Having a total of four camera apps on the phone – Nokia Pro Cam, Camera, Nokia Smart Cam and Nokia Panorama – also does not help matters.
Nokia should combine all these apps into one all-encompassing app that can do everything and make full use of the hardware they have developed. Otherwise, time is wasted on exiting and starting a new app when changing from a regular shooting mode to panorama mode for example.
Shot with Nokia Panorama.
Shot of Fullerton Hotel using Shutter setting of 1/10 seconds. 
Even though there are good manual controls for the camera, the way it operates is unlike any other camera. During my tests, I tried to shoot car light trails along Collyer Quay using a four-second exposure, only to be met by over exposed shots.
I tried solving the problem by using the lowest ISO to rein in the amount of light being captured. This didn't work well either.
The only way to correct things was to use a faster shutter speed of 1/10 second but that resulted in a very short light trail effect. Perhaps the issue has to do with the fixed aperture of f2.2 as the camera cannot restrict more light even with the lowest ISO setting.
What about the controversial "zoom" feature from the fixed lens? Essentially, Nokia is saying that you can zoom by cropping out the background, which is possible with the huge amount of pixels captured by the 41-pixel lens. This is a little like digital zoom on regular cameras.
Obviously, this is not a replacement for an optical zoom lens, which can provide a much sharper and higher-contrast image if it had all of the 41 megapixels to use. But to be fair, the images on the Lumia 1020 are still very usable. Plus, you can "unzoom" things and revert back to the original size if you want the background.
Original Shot
Zoomed In. 
One area that Nokia may have overlooked is storage. In the 32GB review unit, I had 29GB for general use and another 7GB of free Skydrive cloud storage, adding up to a total of 36GB. This can be used up pretty fast if you shoot often.
I had set the camera to save two copies of the same image, one high resolution and a small JPEG file good for sharing. After taking some test shots over a couple of days, the largest combined file size for an image was a whopping 23MB and the smallest – an overblown shot – recorded no less than 7MB.
As such, the 32GB storage space is puny for such a high resolution camera. And there is no microSD card slot to pop in additional memory cards.
To be fair, Nokia has really put a lot of effort in making one of the best cameras in a phone today. The Lumia 1020 is the perfect to go-to camera phone if you are a fan of Windows Phone.
Indeed, as a phone, it has what you'd expect, though nothing spectacular. There's a 4.5-inch AMOLED screen and an 1.5GHz dual-core Qualcomm Snapdragon S4 processor, assisted by 2GB of RAM, which are more than sufficient for running things smoothly.
Use the Pro Camera app with the camera grip and shutter button, and the Nokia 1020 becomes a really able street shooting machine.
That said, more thought should be given to fine tune the user experience by combining all the camera control apps into one powerful app, using just one easier interface.
Right now, the Lumia 1020 is a great alternative to, but not a perfect replacement for, your regular digital camera.