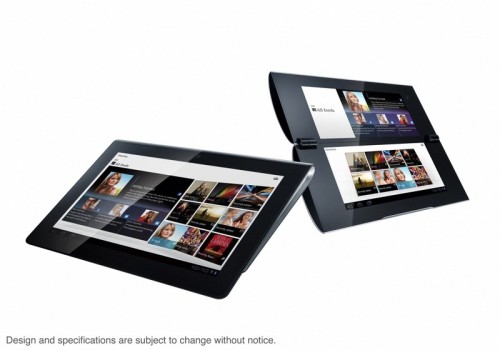 It looks like Sony is keeping good its promise of more PlayStation Certified devices. The Japanese consumer electronics giant yesterday announced at a Tokyo news conference two new tablet devices under the development name S1 and S2, and both look set to be unique contenders.
The S1 has a 9.4-inch display and is a media-focused tablet with Qriocity, a service which delivers music, movies, games and e-books, sort of like the HTC Watch on steroids. Sadly, the service isn't available on our sunny island (is anything ever?) and we're not sure if it will be. The S1 will be a DLNA-enabled device and can act as a remote control for your fancy Bravia devices, such as TVs and Blu-ray players.
The S1 has a unique "off center of gravity form factor". Picture a magazine with one fold rolled back for one-handed reading, and you've got a pretty good idea of what it looks like. Sony claims that it makes holding the device more comfortable for a longer period of time, and intuitively it certainly seems to be so. We'll have to wait for a hands-on to determine the truth in that.
The S2, on the other hand, has a dual-screen clamshell form factor, sporting a pair of 5.5-inch displays. This makes it an ideal reading device, and Sony is said to take full advantage of the form factor with a custom book-style layout for its e-reader, email, and messaging.
Looks aside, both tablets will run Android 3.0 Honeycomb, and will be PlayStation Certified. This means that all the PlayStation-y goodness which is coming to the Xperia Play will be available on them both. We can't image how that will work for the S1, although the S2 seems like a viable candidate. Underneath the hood are some familiar faces, including a Tegra 2 processor, WiFi, DLNA, and 3G/4G connectivity.
Both tablets will be released in the fall, although there's no official pricing as yet.