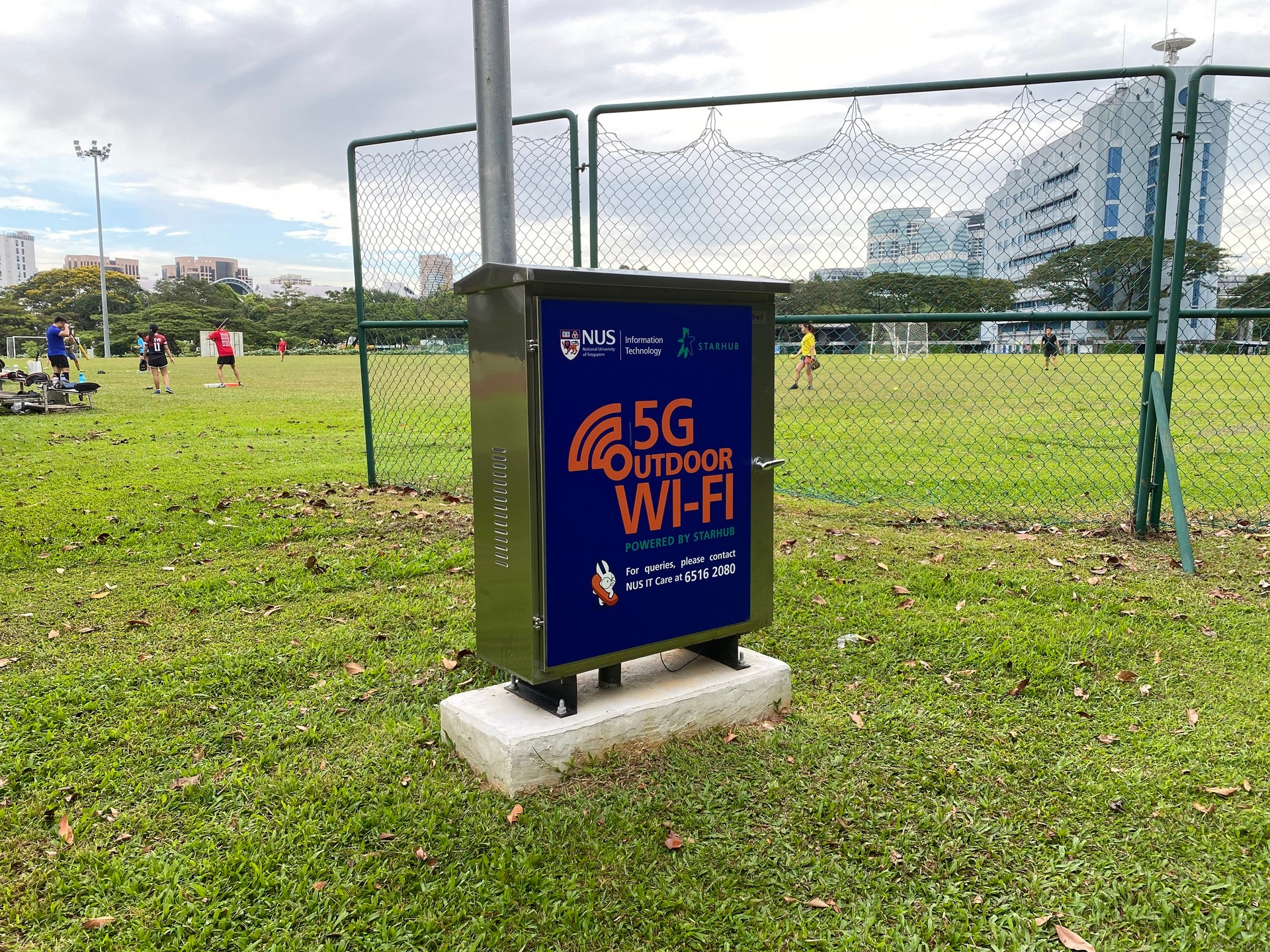 The National University of Singapore (NUS) is rolling out a campus Wi-Fi network that is fully solar powered, as part of a two-year trial of smart campus technologies with StarHub.
Touted as a first in Singapore, this outdoor Wi-Fi network will be connected by StarHub's 5G network to complement its indoor wireless network and offer a seamless online experience, according to the Singapore telecom operator.
The Wi-Fi network will be joined in the trial by other digital technologies, such as Internet of Things (IoT) sensors that will be connected to StarHub's 5G network to help the university manage its campus facilities more efficiently.
It could use the fast and low-latency network to inspect building facade, manage its landscape and waste, and keep the campus secure.
For example, sensors can detect the water consumption and occupancy count for toilets, so that managers can better allocate and manage resources to maintain these facilities.
Classrooms could also become more immersive with augmented or virtual reality applications, according to StarHub, though the telco did not detail how these applications will be rolled out eventually.
For a preview of what to expect, the telco and the university will set up a showcase of applications by June this year, so students, faculty and partners can check out the 5G applications.
The deployment is yet another trial that hopes to unearth useful 5G applications, as the new mobile network is progressively rolled out in Singapore.
In October last year, Singtel said it was kicking off a number of 5G trials on the island of Sentosa that will enable government agencies to find new ways to, say, clear the streets of rubbish with autonomous vehicles or inspect buildings for defects with a 5G-connected drone.
Rival M1 also said last year that it had started trials near the Keppel bay area to use 5G for security applications, such as roving robots to help security officers patrol the area.
The big plus that 5G brings in these use cases is often its low-latency link. The nearly lag-free connection means that a user can remotely drive a vehicle or control a drone that is inspecting a building. The videos can be streamed live over the air with the bigger amount of bandwidth available almost instantaneously.
However, while business and commercial applications appear to be embraced by early adopters in various industries, 5G for consumers is still very much an unknown value, given the lack of apps that are discernably improved through the new network.
M1 and StarHub are in a joint venture to roll out one islandwide 5G network in Singapore, while Singtel has also been deploying its own 5G network since the first two licences were awarded in 2020.
Late last year, Australia-based TPG Telecom, which runs a 4G network in Singapore today, also got an islandwide 5G licence.
The M1-StarHub and Singtel 5G networks are expected to cover the entire country by end-2025, while TPG has until January 1, 2027 to do so.