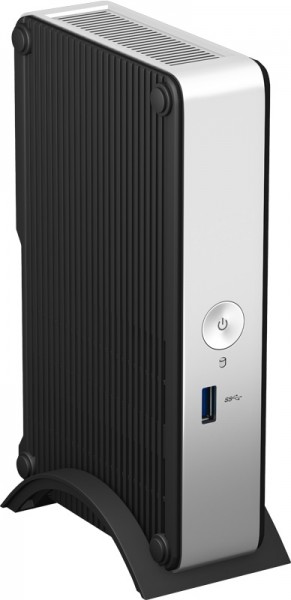 After seeing its first mini desktop PC kits sell well in the past year and a half, Intel has come up with an updated next unit of computing (NUC) kit that features an Atom-based processors for thin clients.
The fanless kit comes with an Intel Atom E3815 chip that features the chipmaker's new Bay Trail architecture, and is targeted at low-end computers used to control digital signage or run kiosks and point-of-sale machines.
The model, dubbed the Thin Canyon version of Intel's popular NUC kits, was launched in Singapore yesterday, as the chipmaker hopes to muscle in to an embedding computing space traditionally dominated by smaller rivals.
Initially launched in 2012 as a way to rejuvenate the slowing desktop PC market, the NUC comes with an Intel processor and motherboard, but requires users to buy their own drives and memory modules.
Over a million NUCs have been sold in 2013, up from nearly zero in 2012, according to a report in Ars Technica in February.
With the small desktop PC now established in the consumer space, as a home theatre PC, for example, the push is to get the NUC adopted by commercial and business users, said John Deatherage, a director for product marketing at Intel's PC Client Group, in an interview with Techgoondu yesterday..
The new Atom-based NUC is different from the previous NUCs in that it is placed upright, partly for ventilation purposes. Running silently, it could be placed right behind a digital sign or advertising screen without creating any fan noise.


With onboard flash memory, it could run without a disk as well, as a truly thin client machine like rival Arm-based appliances. Besides HDMI, the new Atom-based NUC comes with a VGA graphics port to connect up to commercial displays.
Though less powerful than older NUCs running Intel's Core processors, the Thin Canyon version should work fine for users demanding a reliable, lightweight machine for a variety of tasks, said Deatherage.
Indeed, at the Intel Solutions Summit here this week, Intel partners demonstrated how classrooms could run the Atom-based NUC as a thin client that is controlled centrally by a more powerful Core i5-based NUC.
While the concept is not totally new, the condensed size of the new NUC – no bigger than a small candy box – makes it easy for companies to deploy an entire fleet of such PCs.
Aimed at machines that cost between US$150 and US$300, the Atom-based NUC is Intel's latest push to get into an embedded computing market that it has not been previously strong in.
"With the NUC now established as a category, we want to rapidly ramp up the volume now (with new uses)," said Deatherage.