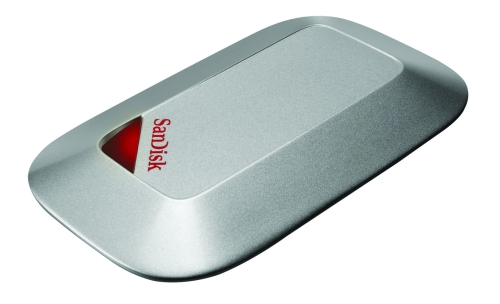 Media storage company SanDisk unveiled a whooping seven new products last Friday, including one which SanDisk hopes will innovate an entire line of products separate from its SD cards and USB flash drive lines.
SanDisk's memory storage devices have now spawned a new retail line which SanDisk is calling "data preservation". Unlike data backups, data preservation is about quality, not quantity. The new SanDisk Memory Vault purportedly guarantees an estimated preservation life of a 100 years (calculated through temperature cycling tests – details here).
Coming in 8GB and 16GB versions, the Memory Vault is not meant to be a hard disk to dump tons of data in. The long-term reliability of the device is held at the expense of space, and is developed for those who wish to pass on important photos, such as family photos of important events like birth, graduation or marriages, throughout the generations. Prices have yet to be announced and it will be available at the later part of the year.
SanDisk has enhanced their line of SD cards to integrate with the SD 3.0 Ultra High Speed bus architecture. The SanDisk Extreme Pro SDXC memory card goes up to 64GB in capacity, double the capacity of the SanDisk Exteme memory cards. With write speeds of up to 90MB per second, the card is aimed at high-market professionals who require the speed to take continuous burst shots. It will come in capacities of 8GB, 16GB, 32GB and 64GB, with prices ranging from S$69 (8GB) to S$529 (64GB).
Retail consumers who want to store tons of music, photos and videos on their tablets or smartphones (which can accept external memory) will appreciate the Mobile Ultra microSDHXC card. Compatible with any device with a microSDHX card slot, this microSD boasts a capacity of up to 64GB, which would easily store thousands of photos and MP3 files. Consumers who do not require so much space have a choice of lower capacity cards as well. Prices start at a S16.60 for a 4GB and up to S$285 for a 64GB card.
SanDisk also released two new designs to their Cruzer USB flash drives. The Cruzer Fit is tiny- it's slightly bigger than a 10-cent coin, and is designed to be as unobtrusive as possible, something which netbook users may appreciate. The tiny size factor, though, can be problematic- it took some tries fumbling with the cap to get it the USB out. Drive capacities come between 4GB and 16GB, with prices ranging from S$12 to S$36.
The Cruzer Switch's fancy design sees the cap on a swivel that slides out nicely and flips over to the back when the USB is in use. At the very least, users would stop losing USB caps. Other than that, it's just another ordinary USB storage device, with capacities running from 2GB to 64GB, and prices ranging from S$9.20 to S$64.
With increased read/write speeds for storage devices, SanDisk also released the ImageMate All-in-One USB 3.0 Reader/Writer. USB 3.0 will enable quicker transfer speeds from storage device to one's computer. It comes with four card slots and is compatible with USB 2.0 devices, and is priced at S$65.
At the media event last week, SanDisk also took the chance to trump up its entry into the SSD (solid state drive) market for consumers, with their release of the SanDisk Ultra SSD. With a read speed of up to 280MB/sec and write speed of 270MB/sec, no moving parts and long-term reliability, the Ultra SSD promises faster boot-up timings and quicker app launching.
While SSDs can be considered to be superior to hard drives, because of their reliability, such technology comes at a price: a 60GB Ultra SSD will set you back S$230, while the 120GB and 240GB versions are S$415 and S$790 respectively.