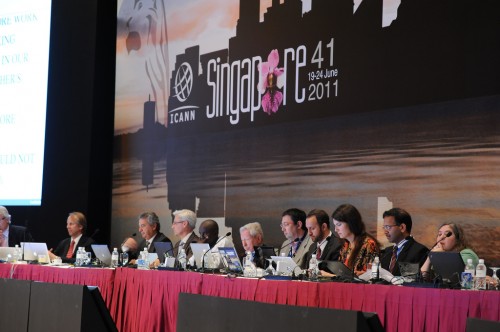 The Internet Corporation for Assigned Names and Numbers (ICANN) has approved a program to expand the Internet address system's top level domains (TLD) beyond the familiar suffixes such as .com and .net.
Under a new TLD program, companies, entrepreneurs and communities can apply and run their own TLDs that incorporate their company names, trademarks and location names.
As an example, Sony could switch from Sony.com to .Sony, while cities such as Bangkok could have a domain name such .bangkok. The new domain names will also support languages such as Chinese, Japanese and Arabic.
The approval follows years of discussion between the Internet community, business groups, governments and ICANN, the global governing body for domain names.
At a media briefing today, ICANN president and CEO Rod Beckstrom said the new program will throw up new domain names that weren't available previously.
"If you live in Japan, it means there could be equivalents of generic top level domains such as .com and .org in kanji, katakana and hiragana, as well as new terms that might be in Latin scripts," Beckstrom said.
"It opens the right of the dot (in domain names) to anything. So instead of .com and .net, think .anything," he added.
So far, over 120 organisations have indicated interest in applying up for a domain name under the new program, though ICANN has not started receiving applications from interested organisations, Beckstrom said.
Applications for the new TLDs begins next January and will close three months later, in April 2012. The first TLDs expected to be approved by the end of 2012.
Beckstrom said ICANN is only receiving applications next year to allow sufficient time to educate organisations on the application process and availability of the new domain names.
"We decided to invest more time in our communications program because we thought that would the best thing to do to serve the public interest," he added.
ICANN has also produced a guide book with information on how to apply for the new domains. The guide has gone through seven significant revisions to incorporate over 1,000 comments from the public.
Running your own domain name is not cheap and certainly not for the faint-hearted. The application fee could cost at least US$185,000, determined by ICANN on a cost recovery basis. The amount covers six evaluations for each application, along with other development and contingency costs.
The ICANN board has approved up to US$2 million to help developing countries get on the new domain names. This could translate to lower application fees or technical assistance, though the exact form of support will only be determined after ICANN has received inputs from an internal working group.
Adrian Kinderis, CEO of domain name registry AusRegistry International, said the new TLDs will allow for regulated online name spaces that are authentic, verified and trustworthy.
In a media statement, he said HSBC, for example, could assure customers concerned about the security of its online banking services with a simple message: "If it's not .hsbc, it's not us".