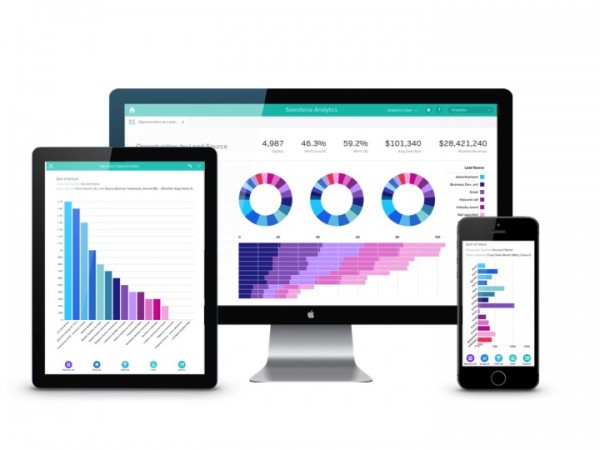 For years, Salesforce.com, the poster boy of cloud computing, has been criticised for offering pretty dashboards that do not do anything more than generating charts and reports of a company's sales and marketing performance.
Corporate executives want to look beyond those cold hard numbers. They want insights, such as whether their marketing messages are resonating with customers. They want to know if they should tweak their marketing strategy, or continue with a sales promotion next month.
According to McKinsey Global Institute, decisions based on data-driven insights result in 23 times greater chance of customer acquisition, 6 times greater likelihood of customer retention and 19 times greater likelihood of profitability.
But gaining those insights often means pulling together a hotchpotch of data from sources as diverse as retail channels, social media, ad tracking systems and consumer surveys, before getting the IT folks to run complex queries around those data sets.
The results aren't always useful, especially if you don't know the right questions to ask. Moreover, with large amounts of data to sieve through, it's almost like searching for a needle in a haystack.
To solve the problem, a handful of companies such as Qlik and Tableau have started offering cloud-based analytics software and mobile apps that make it easy for business executives with little or no IT knowhow to glean those insights.
Rather than limit users to a set of predefined queries, these apps tend to be positioned as discovery tools, letting you slice and dice heaps of data across different facets.
In providing cloud-based apps that help companies manage their sales cycles and customer relationships, Salesforce.com knows it must act fast to shore up its analytics capabilities, or run the risk of customers taking their data – and business – elsewhere.
Over the past year or so, it bought business intelligence start-up EdgeSpring, as well as RelateIQ, which offers a customer interaction and analysis tool.
Rounding up those efforts is Salesforce Wave, the company's analytics cloud to be unveiled later this week at the Dreamforce conference in San Francisco. Salesforce.com calls it a "platform", which means developers can also build analytics apps on top of it to cater to more specific needs.
To the surprise of industry watchers, Wave will also support third-party data from rivals SAP and Oracle, in addition to unstructured social media data as well as data from partner apps on the Salesforce cloud.
The move is significant, as it will help Salesforce customers make better sense of data housed in other systems, with the hope that such customers will invest more in the Salesforce.com cloud.
Wave is the sixth cloud service by Salesforce.com, which made its mark in the tech industry by luring businesses away from large, monolithic customer relationship management (CRM) systems to more nimble cloud services consumed on a subscription basis.
"Salesforce.com is disrupting the analytics market, just as we disrupted the CRM industry 15 years ago," says company chairman and CEO Marc Benioff.
Whether Salesforce.com can cause ripples in the US$38 billion analytics market remains to be seen, but when it makes such a bold claim at an event that's expected to host over 100,000 people from around the world, expect marketers and tech folks to sit up and take notice.
Meanwhile, Benioff's rivals are not standing still. Ahead of the Wave announcement, SAP has already inked a deal with Birst to deliver cloud analytics on its Hana data management and analysis software. Oracle and IBM, too, have been boasting about their own cloud analytics services.