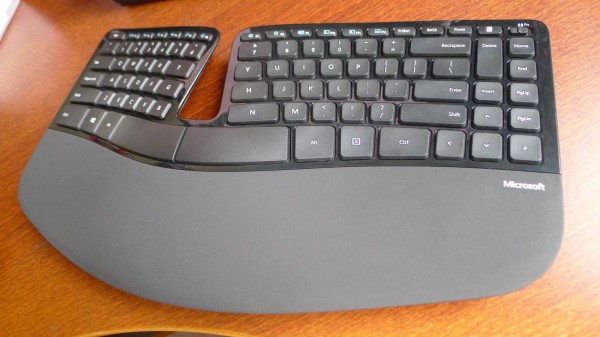 Try looking for a keyboard today in an electronics store and chances are you'd find all the space-saving options that take up little real estate on your desk.
User-friendly keyboards, such as the one packaged in Microsoft's new Sculpt Ergonomic Desktop, are rare these days. Even this updated mouse-and-keyboard combo from the company's long-standing ergonomic series is a shrunk down version of the past.
The keyboard takes up roughly 392mm by 228mm on your desk, which isn't much larger than most keyboards today, bar over-sized gaming models.
Fortunately, being smaller doesn't mean being worse off. The new keyboard is very sleek-looking, for starters. What catches your eye immediately is the "floating" design, thanks to the gap in the middle. I'd say the package is classy too – battery compartments are sealed with a smart, magnetic snap-on.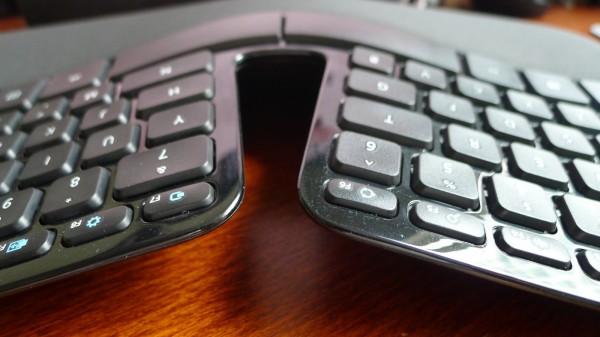 Perhaps more importantly, the ergonomic features are retained. Keys are well spaced out in a chiclet format, so you don't bunch up your fingers and end up with typos. It also makes typing more comfortable.
One reason for the small main unit is the separation of the numerical keyboard into a second wireless unit. With a key that automatically fires up the Windows calculator app, this is a space-saving addition to the wireless package. If you don't need it, you can stow it away somewhere else on the desk.
Like with previous ergonomic keyboards from Microsoft, you get a split keyboard layout that makes sure you don't pull your arms too closely to your body. This reduces fatigue in the neck and back.
That's really important in preventing problems like slipped discs. Trust me, I've suffered in the past from crunching my back too tightly every day while typing on a small laptop. An ergonomic keyboard that ensures my back is not so tensed up is always welcome.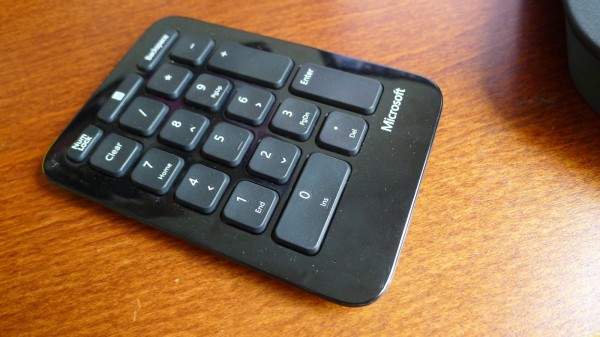 The other feature that users will be familiar with is the keyboard's sloped layout. If you're new to this, it takes a little getting used to, but it's not hard to get going after a while. Again, it makes sure you get a better posture when typing away e-mails and other stuff at work.
The keyboard's elevated wrist rest makes sure your wrists are not bent at an angle to press down at the keys, preventing strain to wrist and palm. You can opt not to use this, by removing the wrist rest, but I'd suggest you do. It really helps with the posture, from what I can see from the couple of weeks I've been using it.
I'm also impressed by the very quiet keys. They are great to bang away at, even if the baby is sleeping in the other room at home.
Despite being  shallower than on previous Microsoft ergonomic keyboards, they feel springy enough and don't make you feel you are banging on metal, like with an Apple keyboard.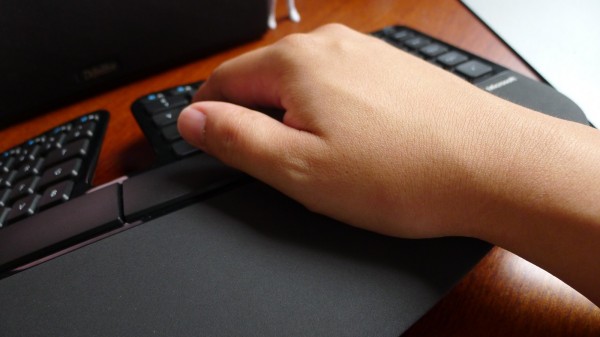 What of the mouse then? The shiny critter was a bit of an afterthought when I bought the desktop, to be honest. Unfortunately, since shops here don't seem to be selling the keyboard alone – called the Sculpt Ergonomic Keyboard for Business – I ended up buying the mouse in the combo package as well.
It's more rounded than other mice. This is to encourage you to keep your wrist parallel to the desk, rather than resting on it and tilting up at an angle.
I'll have to say, it's a lot harder to get used to than the keyboard, because you have to constantly keep your wrist off the desk, or the position you're taking would be not much different than with a regular mouse.
The other thing about the Microsoft mouse, which is also sold separately as the Sculpt Ergonomic Mouse, is the shiny surface. While nice, it also attracts lots of fingerprints. After a warm afternoon in Singapore, it's shiny with sweat as well.
What I do like about it is the useful Windows button. It lets you switch between the desktop and the tile-like Windows 8 interface seamlessly, if you often do that at work.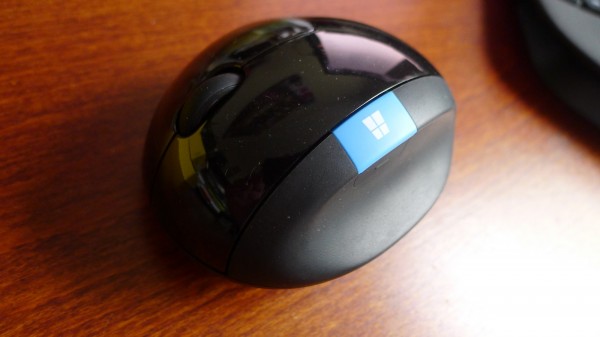 All in, I'm enjoying Microsoft's new ergonomic package after using it for a couple of weeks. It is a nice upgrade from the company's previous ergonomic offering – the huge Microsoft Natural Ergonomic Desktop 7000 – which I had used before this.
The older keyboard and mouse combo was a very useful package, but the material on the wrist rest had started peeling. And my palms were getting stuck with the tiny bits of faux leather every day. Thus, the upgrade.
For S$159, the Sculpt Ergonomic Desktop is not cheap in Singapore. Amazon is selling it for just US$79.99 (S$102), but you'd have to find a way to ship it over, as it only ships within the United States due to "federal and international regulations". I wonder what those are.
If you can wait, I'd say wait for the standalone keyboard to arrive in shops in Singapore. Having used ergonomic keyboards for the past seven years, I have to say I'm not going back to a flat, regular one.
A nagging pain in the neck – from a slipped disc years ago – reminds me how important it is to get the posture right at work, especially if you type for hours for a living. Keyboards such as the one in the Microsoft Sculpt Ergonomic Desktop certainly help.