If there's one thing I've always wanted to recommend to Brother, the Japanese company that makes printers and, yes, sewing machines, it is to change the model numbers.
The company's recently launched all-in-one (AIO) printer, the MFC-J4540DW, is a case in point. Other than the manufacturer, it will be a surprise if anyone actually remembers the mixture of letters and numbers here.
With that out of the way, I'm happy to say this inkjet AIO is a joy to use, especially if you're placing it on a semi-permanent work-from-home desk that is compact in size.
Besides printing, the Brother machine lets you scan, copy and even fax (yes, it's still a thing in Japan). It also comes with an automated document feeder that lets you scan a bunch of documents at a time.
Despite these features, the Brother AIO is just 43.5cm long and has a height of 25cm. It's easy to fit on a desk or shelf. It is also relatively compact compared to some of rival HP's Officejet range.
Indeed, as I tried out the Brother AIO in the past few weeks, it had sat snugly on a compact Ikea table in a converted study room, which my wife uses to work from home.
Its size is a big selling point, especially for folks who seek an AIO that does not take up too much space at home while they work remotely.
Other expected features you'd find on the Brother machine include Wi-Fi and Ethernet connectivity so you can place this at a place that's near your workstation with no issues.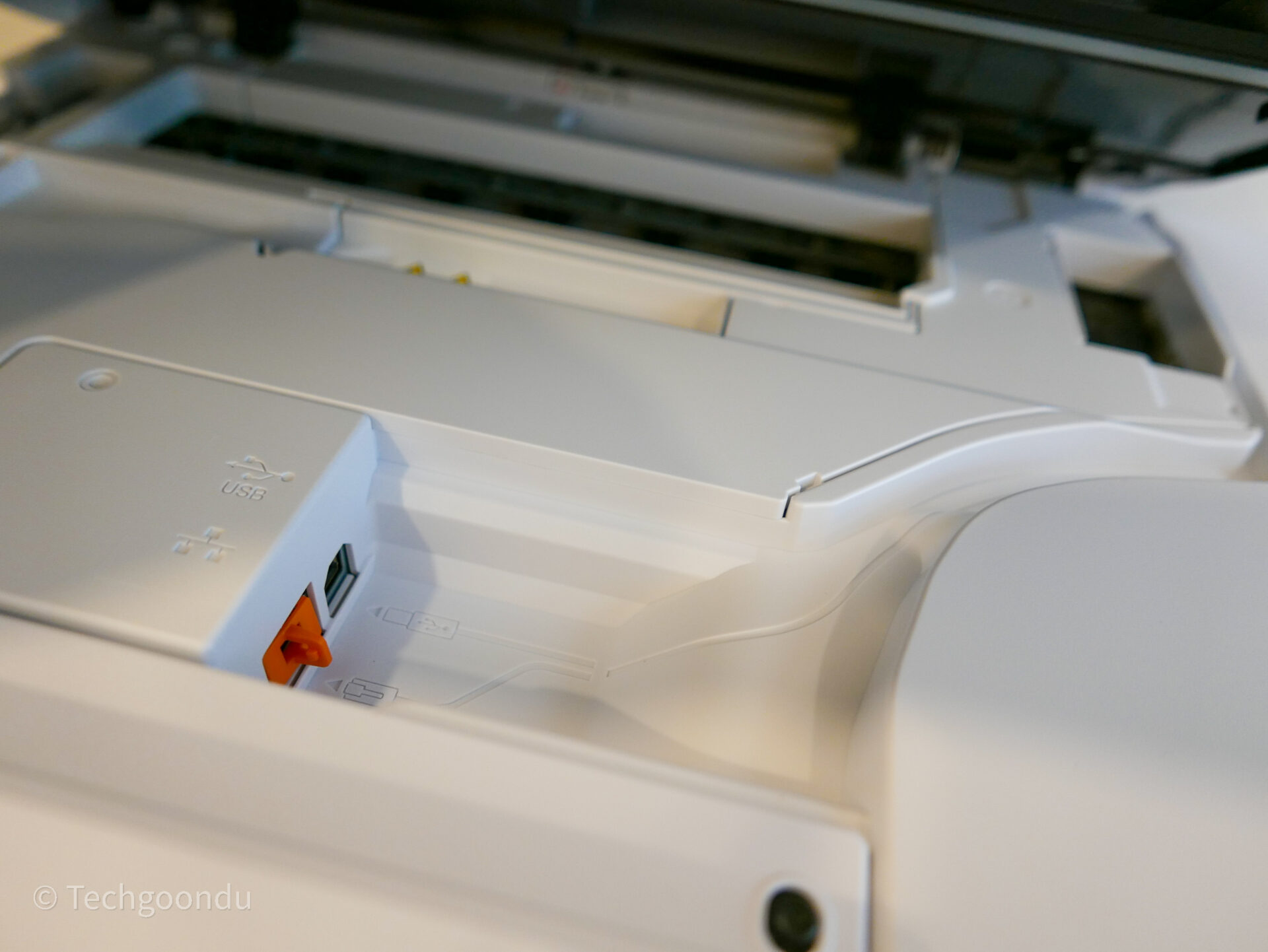 One key attraction for Brother and indeed this new AIO is savings on ink. On its box, the MFC-J4540DW promises as much as a year's regular usage of ink so you don't have to splurge on those cartridges so soon after spending on your printer.
I haven't used it for that long so I can't say for sure if that claim is true. Good news is that you can check the ink levels quickly on the small screen at the front so you don't unexpectedly run out of ink.
The MFC-J4540DW uses four cartridges – CMYK or cyan, magenta, yellow and black – and each S$90 cartridge is said to be able to push out more than 1,000 pages, according to Brother. That's a lot more than what I'd print in a year.
What's also interesting is how Brother's ink technology works. Essentially, the printer has an internal ink tank of sorts, which draws some of the ink from the cartridges for reserve.
So, even when your cartridge runs out, the internal ink tank still can push out about 100-plus pages, depending on what you print. That's great if you are the type – like me – who only rush to the store to buy cartridges at the last minute.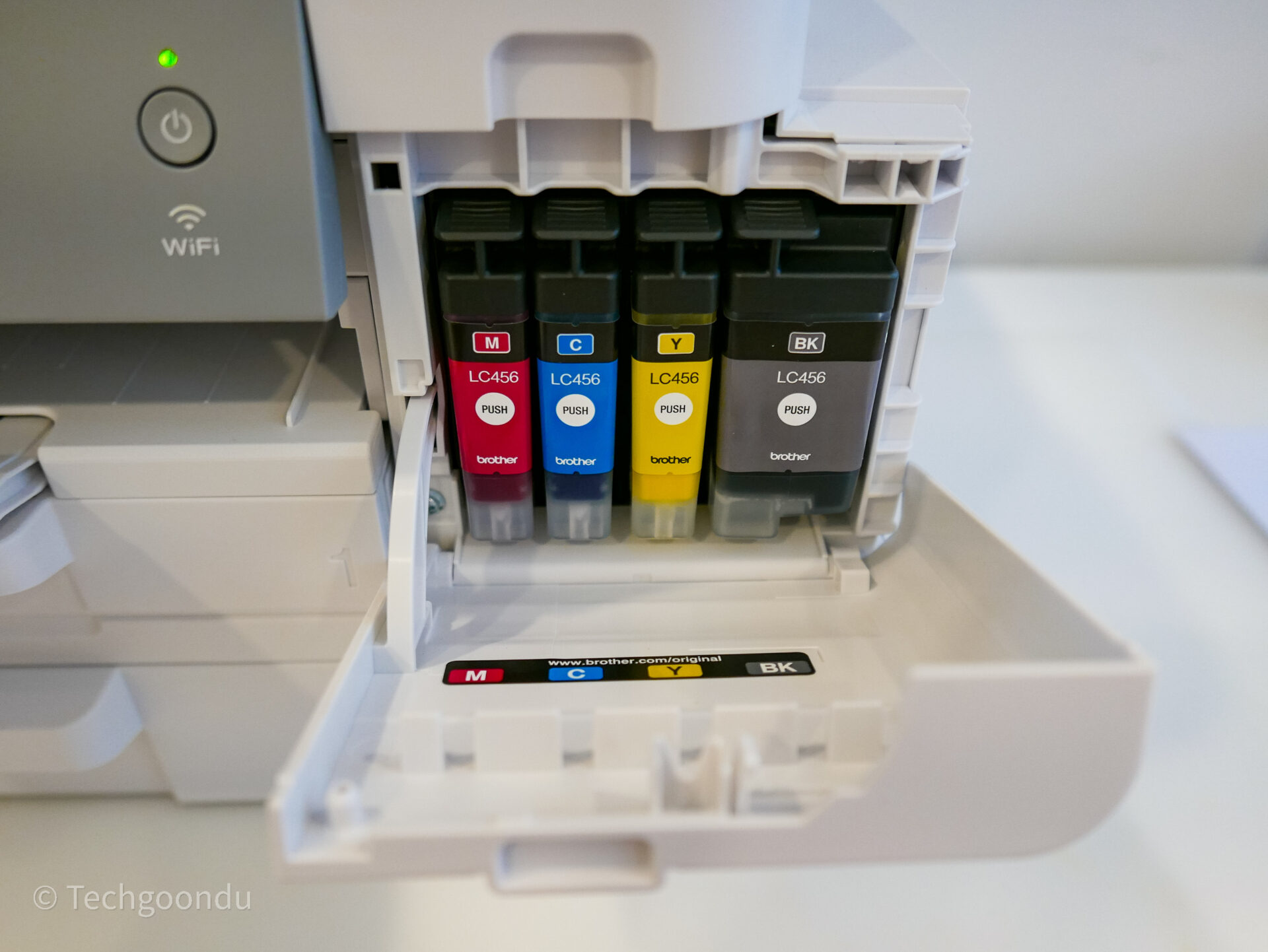 If you're a heavy user, this is also a feature that will be welcome. For a home user like me, it is also handy as my kids are increasingly printing more stuff for their schoolwork as well as for casual colouring sheets to pass time.
I'll be honest to say I've been an HP guy when it comes to printers. I've only ever bought HP printers since my first one – a Deskjet 500C in the 1990s.
So, I am pleasantly surprised to find the Brother MFC-J4540DW get both monochrome and colour printouts ready with a lot less noise and at high speed as well.
I've heard of Brother printers being quiet but it makes a bigger difference if you're sitting next to it, as my wife has been doing the past few weeks.
It also helps to have the AIO spit out a page in no time – in a minute, it can print 20 images per minute for monchrome or 19 for colour, according to the specs.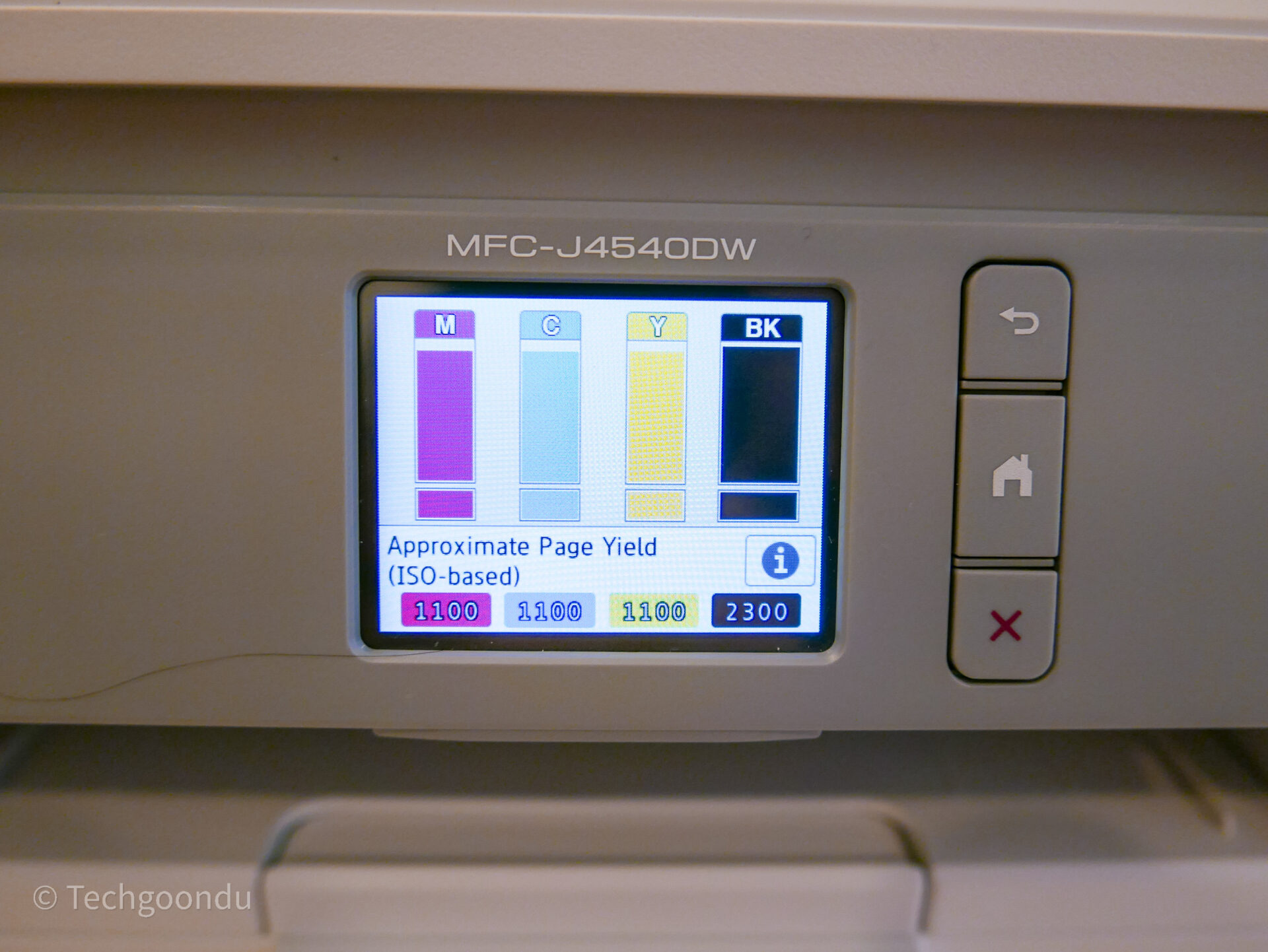 What about print quality? It's what you'd expect from a modern inkjet printer. The edges of text are clearly defined and sharp though if you're picky, a laser printer still offers most striking printouts in terms of text sharpness.
That said, laser printers are also typically bulkier and more expensive, especially if you want a similar quality in colour printouts and all the AIO features like scanning.
So, an inkjet AIO like the MFC-J4540DW is still the more likely choice for many work-from-home users. What sweetens the deal are some thoughtful features that will take the frustration out of everyday chores.
It helps to have two document trays, for example. One can be for important documents which need better or thicker paper while another can be filled with recycled or cheaper paper for regular or draft prints.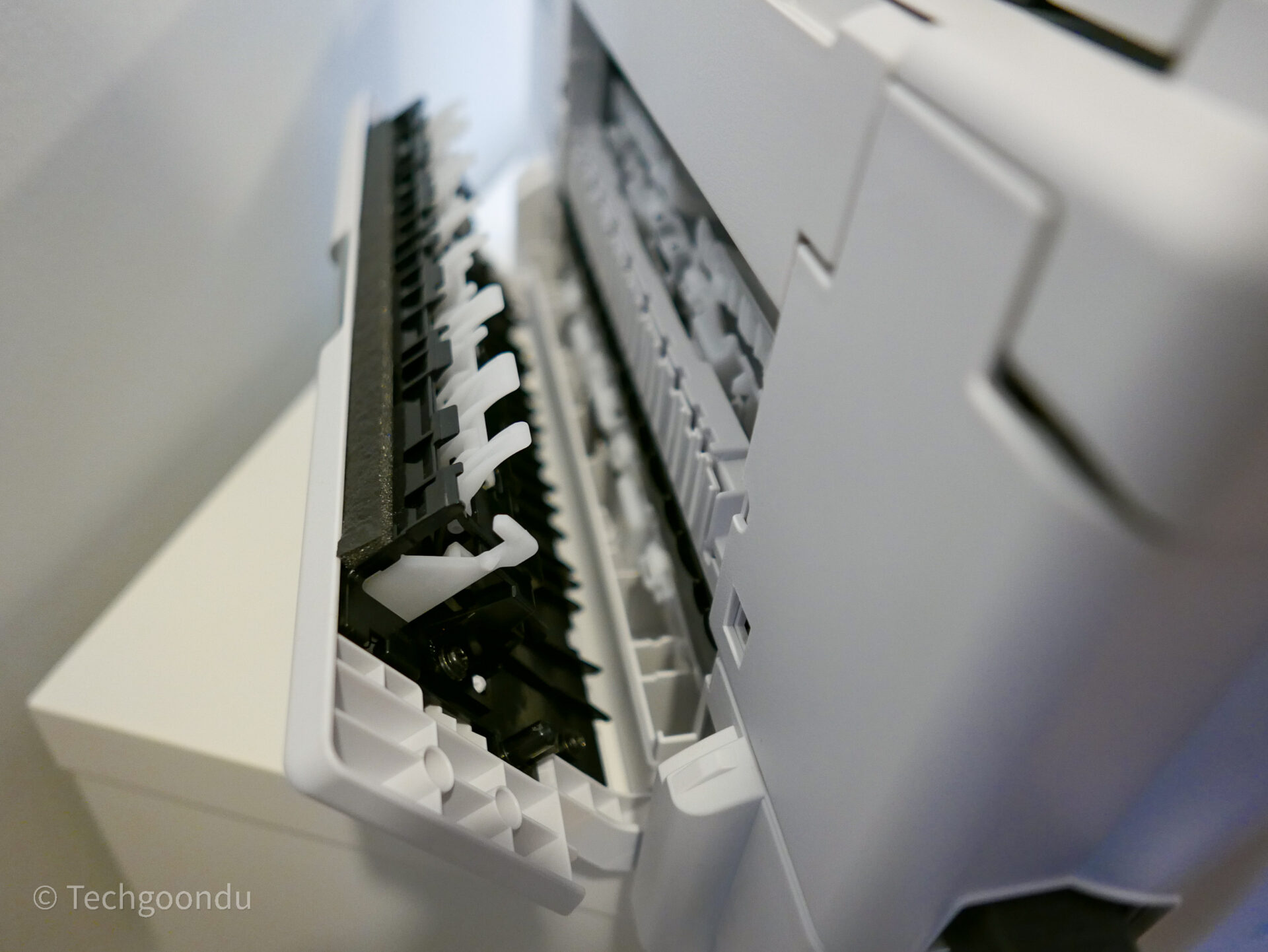 So far, I haven't encountered any jams that requires me to pull out panels to free any pieces of paper from the back, so I'm glad the Brother AIO appears fuss-free to use.
That said, the back panel that you'd probably need to open up should a paper jam occur on the rollers seems easy to to open and close.
What about scanning? I'd say the 20-sheet automatic document feeder is a good assistant to have if you're trying to scan stuff, like a contract, for archiving.
If there's one complaint, besides the model name, it's that the 2.7-inch screen that you use to input your settings can be a little lacking in contrast, especially on a bright day.
It's a small thing, yes, since most of the time you send print jobs with your PC and you really only use the screen to scan or copy documents, but it's one improvement Brother can work on.
What I think will be a deal clincher for many is the MFC-J4540DW's price. At S$378, this is an affordable AIO that comes with all the essential features that most home users need for work and study.
In Singapore, you get 36 months of on-site warranty as well, which is a big plus for peace of mind and convenience. Personally, I wish the Brother AIO comes in black as well, since it will match my bookshelf.