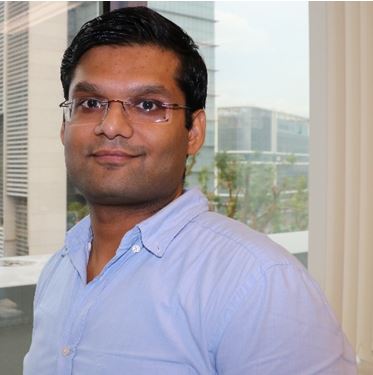 Checking for cracks or other defects in a building may take engineers days or even weeks to painstakingly inspect the facade and examine various part of the structure.
A Singapore company, WaveScan Technologies, started making this easier in 2019 with its handheld scanner that emitted electromagnetic waves to scan through the structures and cover large areas much more efficiently.
This scanner uses frequencies in the microwave and millimetre waves and can be mounted on drones as well, so there isn't a need to build scaffoldings or set up a gondola for a person to manually look at the entire building.
Spun off from the Agency for Science, Technology and Research (A*Star) in 2019, WaveScan has attracted interest from government agencies such as JTC Corporation and developers such as CapitaLand.
Now, the startup's chief executive officer, Dr Kush Agarwal, tells Techgoondu it can also make use of machine learning and AI to automatically spot a defect such as corrosion without requiring a human to pore through all the data.
This will be a big step towards data-driven maintenance for the process of non-destructive testing (NDT) in the sector, he says, in this month's Q&A.
NOTE: Responses have been edited for brevity and style.
Q: Besides adding a drone to automate the movement of the scanner, how does you technology improve on current conventional methods?
A: WaveScan's see-through imaging technology has been developed with a focus on automation and digitalisation. Our first-of-its-kind scanner systems are fully contactless, wirelessly activated and controlled, and achieve high scanning speed and accuracy levels for the targeted 3D imaging resolutions.
Besides drones, which is currently under active R&D, our proprietary scanner system is also designed to integrate with other automated robotic platforms, such as robotic arms and wall-climbing robots. This would allow our technology to be applied in many different use cases or built environments such as confined and hard-to-reach spaces.
Furthermore, our technology aims to digitalise the entire non-destructive testing process. This is more efficient and effective than current traditional methods, such as magnetic testing and ultrasonic testing, which require manual inspection and data processing.
Our proprietary software solution can be used to interact with the robotic-based scanner for control, data processing, visualisation and analysis, and cloud-based report storage and sharing. We aim to automate all the aspects of the inspection process.
To the best of our knowledge, there's no competing technology in the market today.
Q: What kind of savings in terms of efficiency and improvement in safety standards can we expect from such new technology?
A: In data collection processes using traditional NDT equipment, experienced field inspectors are needed to perform manual measurements of infrastructure facilities. This puts them at potential risk such as installation failures, collapses, and electrical hazards.
Our technology helps improve safety on the ground by automating the entire data collection process and minimizing the number of inspectors required to work in high-risk areas. We estimate a nearly 50 per cent reduction in manpower through the smart usage of our automated scanner systems.
In terms of efficiency, we believe our innovations in digitalising the end-to-end process of building inspections will reduce costs in the long run. Reduction of manual labour and skilled expertise required in the data processing and analysis stage could also improve the customer's return on investment in the long run.
We are currently working on AI models to automate the material and defect classifications in 3D images. This would substantially reduce the amount of scan data that professional engineers have to evaluate, reducing their time spent per project, hence saving costs.
With our technology, we are aiming to minimise the cost and maximise the ease of inspections. In doing so, we hope that this would lead to the mass adoption of proactive inspection practices.
This is also timely because various building and construction agencies around the world are implementing stricter safety measures and standards through mandating periodic building inspections and maintenance.
Q: What are the key improvements in AI in the past few years that have enabled WaveScan's solution?
A: There are three major components of NDT technology – data collection, data processing, and data analysis.
We have been developing machine learning algorithms to automate the data analysis process. For this, we are using AI techniques for material classification and defect tagging on 3D images generated from our scanners.
Once the scanned data is filtered, processed, and labelled using these techniques, a professional engineer can then selectively analyse and review the labelled defects that have been classified under various categories.
This extent of automation of the analysis process will minimise the work (and hence involvement) of professional engineers, which are a costly resource in such inspections and maintenance procedures.
As we continue to collect more field data from assets and advance our algorithms, in the future, AI would enable predictive analysis of defects to allow inspectors to plan for repairs.
This is our vision where the industry can eventually move towards the practices of data-driven maintenance.
Q: People are a lot more concerned today with exposure to wireless signals. How safe are WaveScan's scanners operating in microwave frequencies?
A: WaveScan's wireless scanners pose little to no risk to humans as we transmit electromagnetic waves much below the permitted safe exposure limits implemented by FCC (Federal Communications Commission in the United States) and adapted by the IMDA (Infocomm Media Development Authority) in Singapore.
Moreover, since both of our scanners (microwave and millimetre-wave) are directional, they transmit the waves only in the single direction facing the asset under test, they are entirely safe for human personnel operating the equipment.
Through our testing, we have also verified that there is no effect on humans from long-term exposure in line of sight of the equipment.