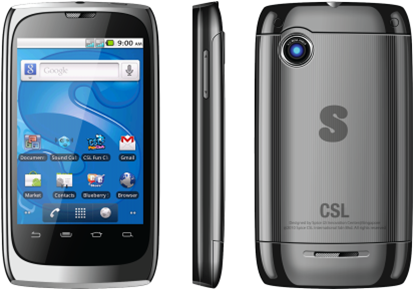 Malaysian cellphone maker CSL is targeting business travelers with the Spice Mi350 dual-SIM smartphone that lets you pop in two SIM cards into a single device. That means you could, say, receive calls on your personal and business phone numbers without lugging two phones around. Folks with a dedicated mobile broadband service could also use the Android device as a broadband modem through Wi-Fi tethering.
To be sure, the Mi350 is not for everyone. If you are a smartphone junkie who can't wait to update your devices to the latest flavor of the Android OS, the Mi350, which ships with Android 2.2 Froyo, will seem rather dated. While most Android handsets today are running Android 2.3 Gingerbread, using a Froyo device, which is just a generation behind Gingerbread, is an unfamiliar experience. For better or worse, that's how fast things are moving in the Android world.
Design
Despite its plasticky frame, the Mi350 is a well-built gadget. Though it doesn't feel like a premium device — and it isn't meant to be one either — the Mi350 has a solid frame and will not creak when you try exert more pressure around the edges. The battery cover snaps perfectly into the back of the phone with no signs of coming off. The rounded edges softens the phone's business-like profile and offers a comfortable grip. In the age of ultra-slim phone designs, however, the Mi350 has a hefty 14.7mm thick body. There's a lid-protected USB port along the left edge of the phone and a five-megapixel rear camera.
Display
If you have been lapping up on soap dramas on a 4.3-inch screen, the Mi350's 3.5-inch display will seem rather small. With a 480-by-320 pixels resolution, onscreen text is readable but you shouldn't expect things to look super sharp. Colours also look a little washed out, with obvious colour gradations in photos and images. That said, the phone's display is responsive to taps and swipes, making it a cinch to navigate menus and apps.
Software
The Mi350 offers a stock Android experience. That means the phone is devoid of bells and whistles that some smartphone makers have slapped on to differentiate their devices from the pack. While there's no custom app launcher, CSL has thrown in some of its own apps, such as Blueberry Messenger and CSL Fan Club, along with notable third-party offerings such as the Muvee video editor and Nero backup software.
Performance
Powered by a Qualcomm MSM7227-1 600Mbps processor, the Mi350 is not in the league of high-end smartphones that sport dual-core chips. Notwithstanding, it has enough computing juice for Web browsing and running a handful of apps in the background, but be warned that the phone will start to slow down once you try to do too much. Installing a task and storage manager such as Norton Mobile Utilities will help to free up resources hogged by idle apps.
Managing two phone lines on the device was easier than expected. There's a dedicated dual-SIM settings menu that you can delve into to enable or disable SIMs, set the default data network, and configure mobile data settings. The phone was able to configure both carriers' Access Point Names automatically, including that of my T-Mobile prepaid service, which I still use on my trips to the U.S. And with Wi-Fi tethering, you can effectively use the Mi350 as a broadband dongle by assigning the default data network to your mobile broadband SIM card.
The Mi350's battery life is nothing to shout about. We've come to expect smartphones to last not more than a day without plugging in the charger in between meetings, and the Mi350 is no exception.
Bottomline: While the Mi350 does not offer a premium smartphone experience, it gets the job done and will save business travelers one less gadget to put through airport security checks. However, it is likely to gain more traction in prepaid markets where users are more likely to take advantage of different price plans offered by different telcos.