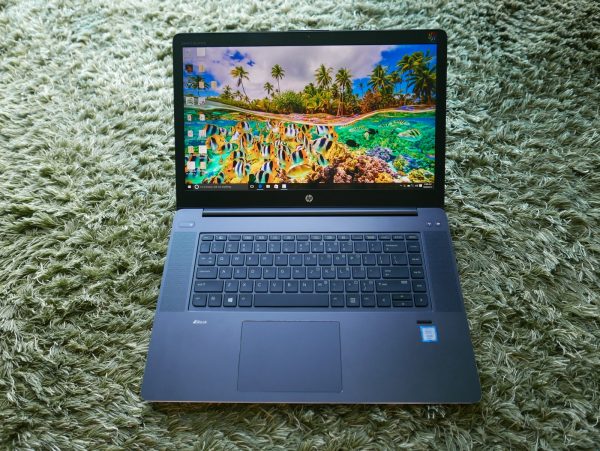 If nobody told you that HP ZBook Studio G3 was a portable workstation, you'd probably not know that it packs some serious hardware that few in its shape and form offer.
This isn't another slim ultrabook optimised for extended battery life. The redesigned ZBook class of workstations from a revamped HP is out to make a statement in its design and computing prowess, and it will certainly win some fans.
First, the design. HP has done a good job taking cues from successful smartphone designs. There're the shiny chamfered edges adding a touch of class. There's also a smooth but not sticky surface that's great to touch and wards off sweat from your palms well.
What I also like are the solid touch and feel of the notebook. You don't see the screen wobble when you press the back of it. And the base of the clamshell design stays on the table when you flex the screen up and down.
If I have one complaint about the design, it's the rather thick bezels around the 15.6-inch screen. It just doesn't fit in as well with the overall sleek and slim feel.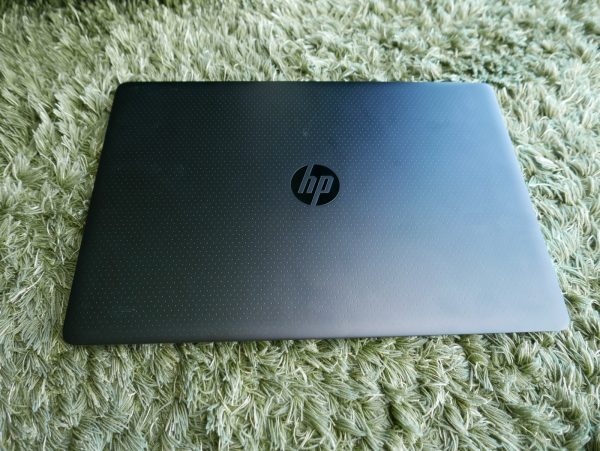 Another downside, of course, is weight. Though the ZBook Studio G3 is said to be the slimmest in its class of workstations, the 2kg machine is certainly not a lightweight machine you'd tote around to write e-mails or present Powerpoints.
There's a reason for all that weight, to be fair. The review unit I got was packed to the brim with high-spec gear.
You get a full range of ports, for starters. There are three USB 3.0 ports, a full-sized HDMI port and two Thunderbolt ports to hook up zippy storage drives.
Not to mention an extendable Gigabit Ethernet port, in case you don't want to connect to a flaky Wi-Fi link. Plus, a fingerprint sensor.
Inside, there's an Intel Xeon E3-1505M v5 chip, which is particularly useful for workloads that take advantage of its multi-threaded capabilities. In other words, programs that can be split into several parts to be handled optimally by the chip's four cores.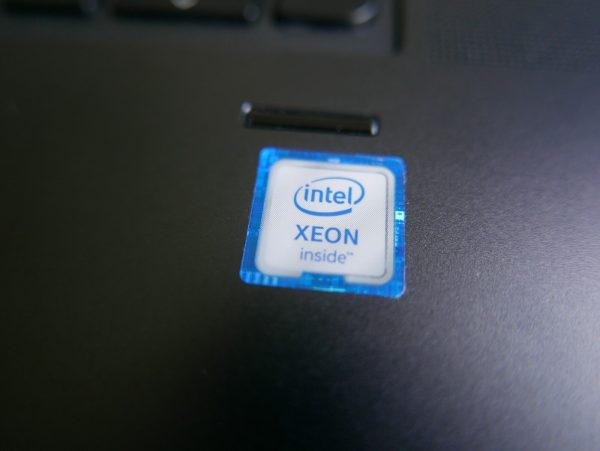 The processor also works with ECC RAM, which as its name Error Correcting Code RAM suggests, is able to cut out common errors you'd find in memory and reduce any issues when running sensitive workloads.
On the review unit, I had a nice 32GB of ECC DDR4 RAM, useful for big workloads that send lots of data to memory. This will come in handy for programs involved in computer-aided design (CAD), for example.
I also had two 512GB solid state drives (SSDs) plugged straight to the fast PCIe lane instead of the more common but slower SATA connector on the motherboard.
To cope with complex graphics, you can expect Nvidia's Quadro M1000M with 4GB of graphics memory to come in handy. This isn't the highest-spec part from the graphics chip maker, but is still aimed at stability when dealing with professional tasks.
It also outputs the 4K resolution without much difficulty. In particular, the LED screen looks bright and offers great contrast. It also supports accurate colours via the HP DreamColor Assistant, for those who want to ensure their images are really what they look like on screen.
How does this stack of hardware perform in tests? It is ahead of other regular PCs, even those rocking Core i7 chips.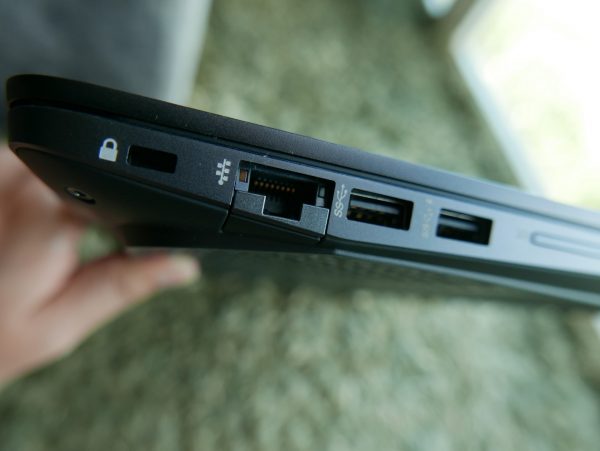 In the PCMark 8 Home workload, which measures how a PC handles common tasks like video calls and Web browsing, it scored 3,613. That's better than the 2,831 score I got on the LG Gram 15, a high-end 15.6-inch machine using a Core i7.
In the PCMark 8 Creative test, the ZBook Studio G3 came in with 4,809. This features typical workloads performed on professional users' machines. Again, not bad from the HP machine, thanks to its handy processor and generous amount of memory.
Tested with SPECviewperf 12.1, which measures a workstation's graphics performance in typical tasks like computer-aided design, the HP workstation didn't disappoint either.
In the tests, the HP workstation's Quadro M1000M graphics chip worked as it was expected to. It was faster than some previous iterations of the Quadro series, but it has little chance of outperforming other workstations sporting faster parts, such as a Quadro M2000, for example.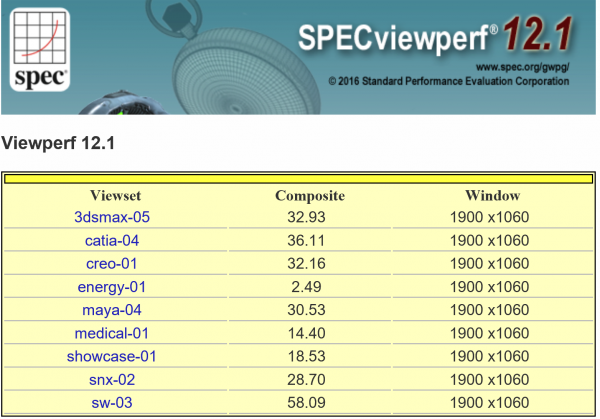 With 3DMark, a benchmark that simulates games, the Nvidia graphics chip did a decent job as well. It scored 9,702 for the Sky Diver subtest and 11,476 for the Cloud Gate subtest, which are higher than on regular ultrabooks (3,107 and 4,399 on the LG gram).
Still, the HP workstation is not a gaming machine. In the new Time Spy subtest, which benchmarks performance for DirectX 12 effects, it spitted out a modest score of only 703. With Fire Strike, another high-end gaming subtest, it got 3,249. An Asus gaming notebook scored 6,624 in this test early last year.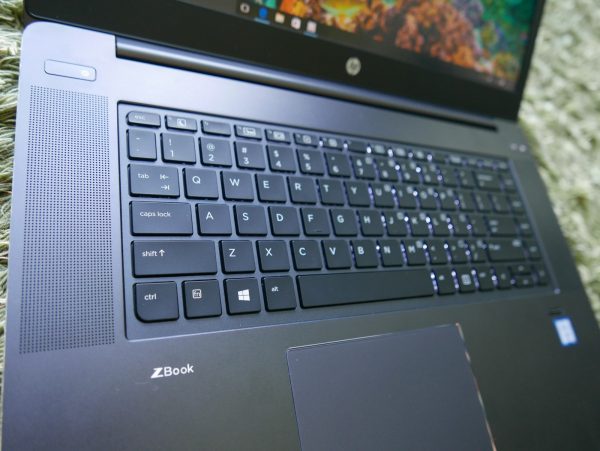 To be sure, raw performance is not the only thing that HP is trying to sell here. As a notebook, the ZBook Studio G3 is also well thought out.
The backlit keyboard, which feels firm to press, doesn't give you the familiar and annoying feeling of slamming your fingers onto metal. Yes, I can type an entire day on it without my fingers stinging.
The touchpad is also as large as it gets today. If you liked Apple's reference, you may want to try HP's as well. It's really not that far behind in terms of sensitivity.
Though it's not billed as an entertainment machine, the ZBook Studio G3 comes with Bang & Olufsen speakers. Situated on each side of the large keyboard, they are passable for playing music while working.
As something you don't spend a lot of effort listening out to, they make useful companions. I'd still be plugging in a pair of headphones most of the time if I were using the notebook.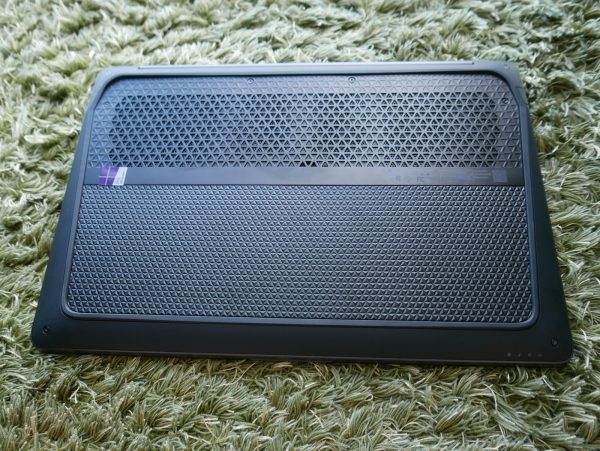 One thing I have to bring up is the heat that the machine generates. I won't recommend placing it on you lap, as it reminds me a little of the laptops of a few years ago which heat up your lap pretty well.
Fortunately, the fan is relatively quiet despite spinning up more often than regular laptops that are optimised more for battery life than processing power.
That will be good to know for users seeking a sleek workstation to replace a tower PC at the foot of their desks. The ZBook Studio G3 will impress. Slim and sleek, it also packs a punch.
The unit I tested costs S$4,300 with a three-year warranty. However, there are cheaper options. One with a Core i7, 16GB of RAM, a Full HD screen and 256GB SSD goes for S$3,450.
For sure, this is a machine you'd be working on in the office more often than at a cafe. However, if you'd like to get your technical drawings home to work on, or even to crunch numbers while you're away from the office, the portability offered by the ZBook Studio G3 will appeal.