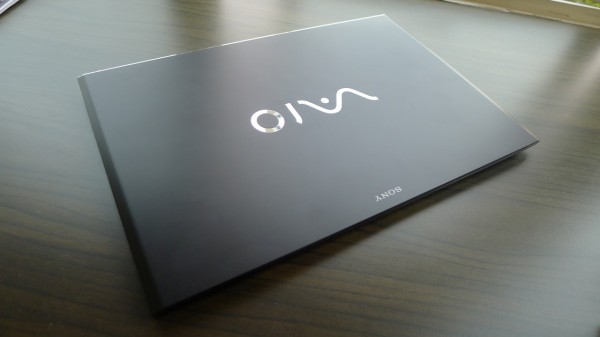 When I first took it out of my bag at an airport security screening recently, I immediately felt how light the Sony Vaio Pro 13 was.
Sure, I had checked it out at the stores, even had my credit card out once at Sim Lim Square to buy it. But nothing beats finally owning – and carrying – the ultra-slim laptop from Sony that has been wowing everyone of late.
Out of the box, the thing that impresses first, and the most, is still its amazingly light frame that weighs a feather over 1kg. 
Made of carbon fibre, and boasting Sony's "hexashell" design that promises a tough exterior, the Vaio Pro 13 will win over folks who travel a lot.
Its portability helps it beat out other popular makes such as Samsung's new Ativ Book 9 Plus and Apple's MacBook Pro 13, both of which have 13.3-inch screens like the Vaio Pro 13.
To be fair, Sony's by-now-regular Full HD (1,920 x 1,080) display is not as sharp as its rivals, which offer a stunning 3,200 x 1,800 (Samsung) and 2,560 x 1,600 (Apple).
That had played on my mind for a long time as I was comparing the options. In the end, practicality won out for me.
I wanted a really light ultrabook after lugging my trusty HP Envy 14 through airports and cafes for more than two years. Plus, I reasoned that I won't need all that fine resolution on such a small screen, not on the go anyway, since I don't edit many photos and may not read that many magazines, unlike on a tablet.
It was a tough decision, but the Vaio Pro 13's extremely light weight won me over, along with a few other goodies.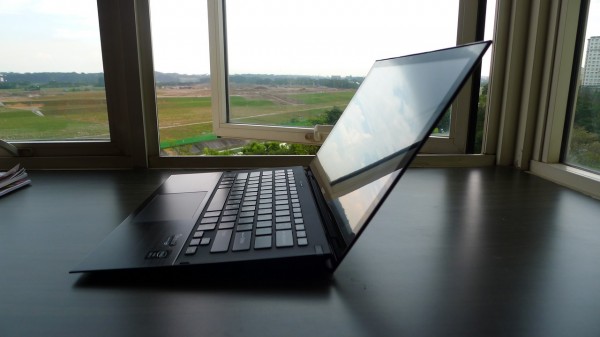 The keyboard, for example, feels great. Most skinny laptops these days don't offer much "bounce" when you press down on the keys, and the Vaio Pro 13 doesn't offer a miracle in that department. Yet, it doesn't make you feel like you're smashing your fingers onto the board below. The tactile feedback matters a lot to a writer.
The other thing is the Vaio Pro 13's smart tilt that lets you type at an angle, while resting your wrists on the base of the laptop. Again, this matters a lot to someone who doesn't just type quick e-mails but long write-ups, like this review.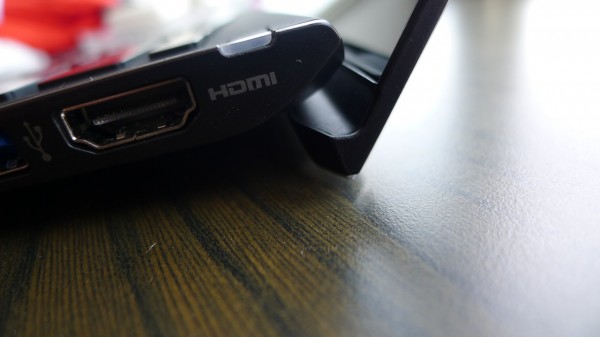 Indeed, I wrote my first article on a plane, after I bought the laptop in the United States last week.
My configuration came with an Intel Core i7-4200U CPU with 8GB RAM, 256GB solid state drive and a touch-screen. There's also Windows 8 Pro included. I had wanted a Core i5 one with 8GB RAM, which was cheaper, but I had to specially order that and wait five days in the US.
In the end, I went for the more expensive, pre-packaged one. The cost? US$1,800 plus the dreaded California sales tax (8.75 per cent in San Francisco), which worked out to be a costly US$1,960 (S$2,457). Somehow, that's still cheaper than the S$2,699 that Sony Singapore is asking for here for a similar model.
Besides the light weight, the other thing that impresses is the performance. The Vaio Pro 13's SSD connects directly to the PCI Express link on the motherboard, which removes some of the bottleneck that might hamper a really fast SSD should it use a regular SATA link instead.
I'm not sure if that translates clearly in everyday use, but the Vaio Pro 13 is surely one of the fastest laptops to boot up or "wake up" from sleep mode. Sometimes, I'm not quite ready for the welcome screen when it greets me within a short few seconds, and I've been using SSDs for my previous laptop and desktop for a few years now.
Another feature I really like is the Vaio Pro 13's responsive touch screen. Not so much for use with Windows 8's rather annoying apps, but as a way to navigate a document or website on screen. It's great when I'm reading news, for example.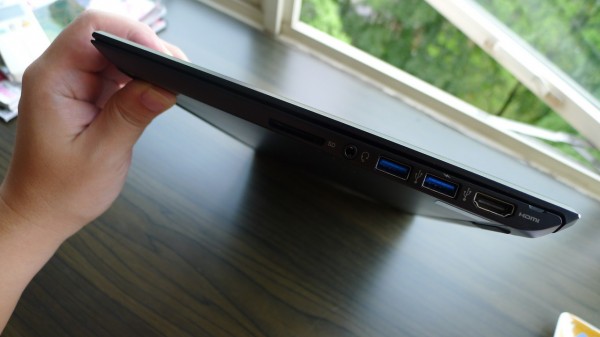 Fortunately, Sony hasn't sacrificed too many features for portability. Handy ports on the side make it a cinch to connect up a couple of USB 3.0 drives, along with any HDMI video sources you may have. Very importantly, there's a SD card slot, so photos are easily transferred without having to plug in another adapter.
Credit to Sony too for including an HDMI adapter to connect up the laptop to VGA projectors. As someone who conducts presentations quite often with his laptop, I find this a boon. Sure saves me the S$50 to go buy a separate adapter!
What about battery life? I have to say it's within my expectations of about six hours on standby, on-the-go Web surfing and simple word processing, but it's short of the eight hours sometimes talked about for laptops running Intel's more efficient fourth-gen "Haswell" processors.
Perhaps I have to run everything in low-power mode, I'm not sure. I've been running my laptop on the default "balanced" mode so far.
For me, the six hours of battery life seem fine, because I don't work that long usually on a laptop on the go, except when I'm on a plane, and these days, many planes have power adapters.
Still, if you want longer battery life, you might need a snap-on battery for the Vaio Pro 13 (S$219) or consider a heavier laptop with a beefier power pack.
This brings me to a quirk on the Vaio Pro 13, especially if you are using the Core i7 version. Being more powerful than its Core i5 sibling, the chip may run hotter and make the fan spin up, sometimes rather loudly.
On one occasion, I even woke up in my hotel room, thinking that the cleaners had started vacuuming the corridors at 5am in the morning! Turned out the Vaio Pro 13 was spinning up for some reason, maybe for a Windows update.
What you can do, fortunately, is to get the latest software update from Sony. Download it from your Vaio Update app and you should get the laptop to run quietly once again. There's also the option to run the fan quietly, albeit with lower performance. That's fine by me, really, since I won't be playing Battlefield 4 on the laptop.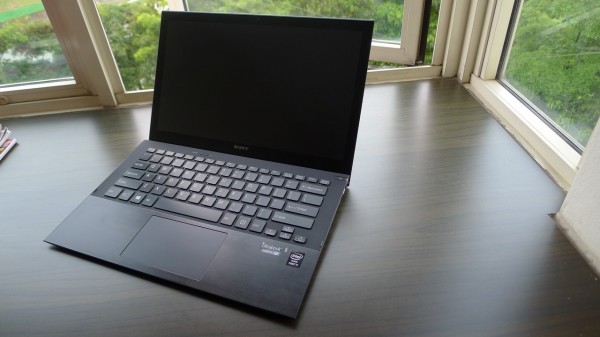 Another little annoyance is the touchpad. It can be too sensitive when you pinch and zoom, expanding webpages too much, and not responsive enough when you try to tap on it instead of clicking.
It also accidentally gets activated when your right palm moves towards the centre of the laptop, since that's where the commonly-used keys for "y", "n" and "h" are located on the keyboard.
Still, on the whole, I have to say the Vaio Pro 13 has been a joy to use. Its price, especially in Singapore, goes against it when compared to Apple's MacBook Pro and Samsung's Ativ Book 9 Plus, when it eventually ships with an 8GB version in Singapore.
However, Sony's Vaio Pro 13 offers a great balance of the three things I was seeking – a lightweight machine, a great keyboard to type on and a sharp screen offering at least a Full HD resolution. I wouldn't trade it for another laptop now.