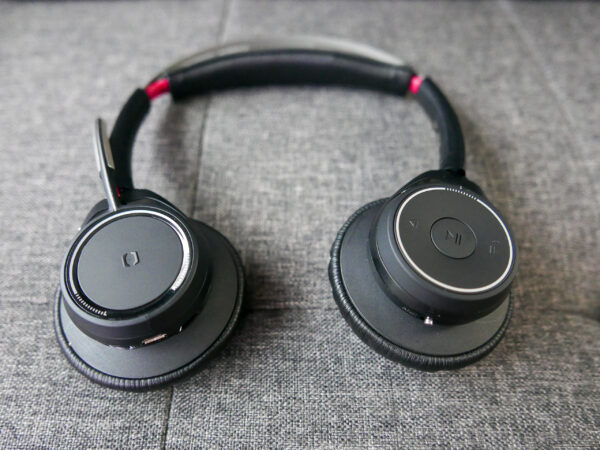 Looking at the data sheet for the Plantronics Voyager Focus UC, you might feel that this is a headset that's made for the call centre rather than your regular home office.
Included is a neat little stand that lets you hook up and charge up the headset, which reminds you of a call centre setup. The headset is also certified for a raft of unified communications systems, from the likes of Cisco, Avaya and Microsoft.
Having said that, the Voyager Focus UC is a joy to use. It should be a worthy candidate if you are thinking of buying a new-quality and comfortable headset for working from home in the so-called new normal.
For starters, the headset is very light at just 155g – the much larger audio-focused Sony WH-1000XM4 headphones weigh in at 254g – so it is designed to be used comfortably for hours.
The foam padding for the earpads and head band, while not overly generous, still manages to do its job well. Again, the emphasis is on a lightweight design.
Still on comfort, you get a microphone that can be easily pushed away when you are not speaking. There's a nice reassuring click when it is stored in a resting position, another small detail that makes the Voyager Focus UC appear well-thought-out.
Like other wireless headphones today, the headset also automatically stops playing a music track when you take it off your head. That's a handy feature to have if you tend to move about between tasks.
To connect to your smartphone, the Voyager Focus UC pairs easily via Bluetooth. However, on a Windows PC, I was more successful with the included USB dongle. I did manage to get the headset linked up through Bluetooth but for some reason, I couldn't get the audio to work properly.
Still, the good news is that I can get the headset connected to both my phone and PC simultaneously. When a call comes in to my phone, I can answer that; when I need to jump into a video call on the PC, I can do so instantly as well.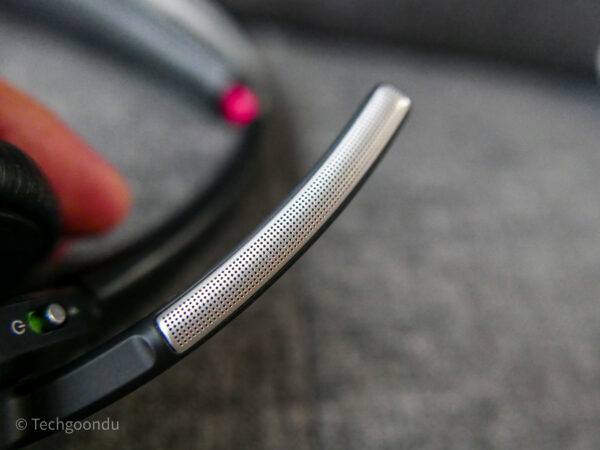 Without a doubt, the headset is great for multi-tasking throughout a day. The voice quality I get is generally high, with little distortion or background noise. It helps to have the active noise cancelling (ANC) featured turned on to cut out chatter.
When speaking, I am told that I sound loud and clear to the other parties, say, on Google Meet. I tried typing away at my keyboard and I'm told the noise is relatively faint, likely cancelled out by the headset. That's a good thing if you need to take notes while in a call.
Surprisingly, even when I fired up some music tracks on Tidal, the Plantronics headset sounded pretty decent too. Okay, don't expect punchy bass but you'll get good clarity for music to accompany you through a tired afternoon's work, that's for sure.
Another thing that is worth mentioning is the battery life. The Plantronics headset is rated for 12 hours of talk time (10 with ANC turned on), which means you shouldn't have to worry about it running out of juice for on a regular workday.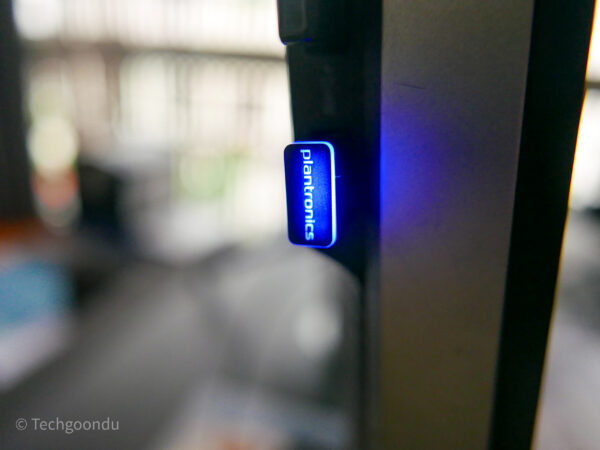 To juice it up, the headset can be docked on the provided stand or you can also plug it directly to a PC's USB port or a phone charger. So, on your travels, it can be packed into a bag without the stand.
On the whole, I find little to fault the Voyager Focus UC. It's largely been a pleasant experience to go through a day with it. What makes it stand out are some of the thoughtful features.
Volume is adjusted by turning a plastic ring on one side, instead of having you mash at buttons furiously. A Bluetooth knob lets you get into pairing mode quickly without holding multiple buttons while powering the headset on, as is often the case with other headphones.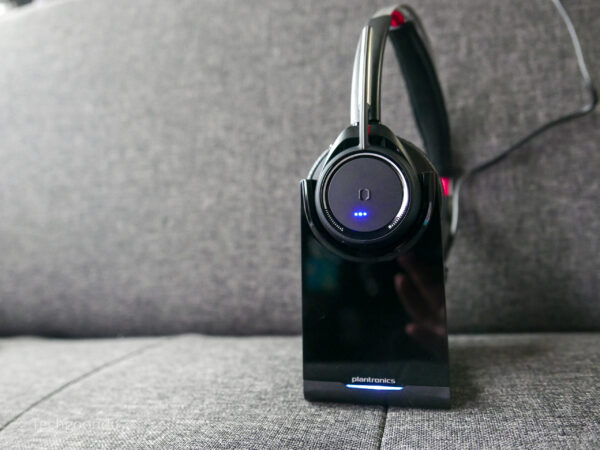 These touches bring a more professional feel to the Voyager Focus UC than your typical consumer-focused Bluetooth headphones that are made more for music than business calls.
The downside is that the Plantronics headset isn't cheap, at least locally in Singapore, where it is going for a hefty S$351. Buy it from Amazon US and somehow the price goes down to about S$240, which is more reasonable.
If you want a comfortable headset to make those daily calls more bearable, the Voyager Focus UC is certainly worth checking out.