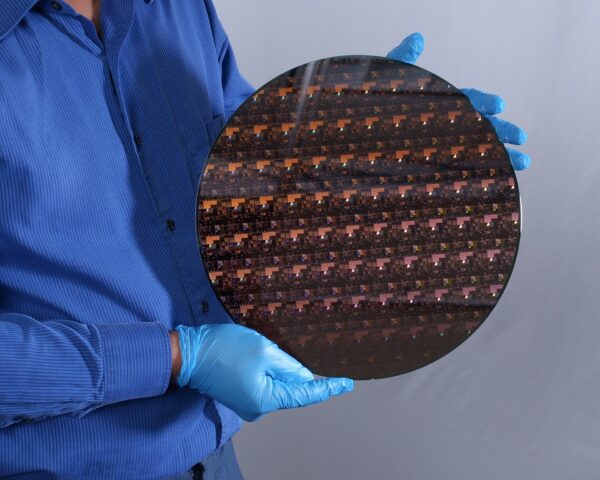 IBM has shown off a new chip made with a 2-nanometre process, a groundbreaking piece of hardware that promises less energy use at data centres as well as smartphones, while boosting performance for tomorrow's apps.
The chip is projected to increase performance by 45 per cent while reducing 75 per cent lower energy use, compared to today's 7-nanometre chips, according to IBM.
A smaller nanonmetre manufacturing process means chip designers can cramp smaller and more transistors into a piece of silicon, thus improving both performance and energy use.
In the case of the new 2nm chip, this means fitting 50 billion transistors on a fingernail-sized chip. IBM says this is down to an industry first – the scaling of semiconductors using its nanosheet technology.
In the real world, the new chip would eventually quadruple cellphone battery life, enabling users to charge their phones every four days if their usage pattern continues from today's 7nm-based phones, claims IBM.
In PCs, as well, the American computer company says laptops could be sped up, say, in language translation or Internet access. In self-driving vehicles, the chip's added performance is also said to improve the reaction time needed by a machine to detect an object on the road, it added.
It's important to note that IBM's new design isn't ready for mass production yet. Chip manufacturers such as Taiwan Semiconductor Manufacturing Co. (TSMC) only ready for 4nm chips in 2022, according to AnandTech.
TSMC now makes 5nm and 7nm chips for various electronics companies, from smartphone and PC makers to 5G network equipment suppliers.
Chipmaking usually didn't grab headlines outside of the semiconductor industry in the past, despite the sector's globalised and distributed supply chain, from chip design to manufacturing.
However, recent American sanctions to prevent China from having the world's most advanced chips have highlighted the importance of these basic technological building blocks for tomorrow's advanced networks and smart devices.
China has said it would build up its indigenous semiconductor industry for self-sufficiency, as the likes of TSMC and Samsung are prevented from delivering what Chinese companies such as Huawei, need.
Meanwhile, American companies are taking chip manufacturing more seriously as well. Intel said in March that it was spending US$20 billion to build two new chip fabrication plants in the United States, after finding itself lagging rival chipmaker AMD.
The biggest PC chipmaker is fighting to get its 7nm PC chips out by 2023. AMD's current 7nm chips, the Ryzen 5000, have won over PC users in the past year.