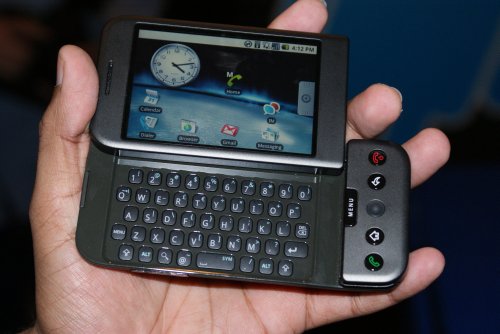 The first Google Android phone will go sale in Singapore tomorrow with prices ranging from S$238 to S$448, and will be tied to SingTel's cellphone plans just like the iPhone here.
These cellphone plans range from S$39 to S$95 a month, and users have to sign up two-year contracts with SingTel.
That was essentially the only new info from a rather lavish SingTel event this afternoon, which finally launched the Google Android phone, known also as the G1, or HTC Dream, here. Users in the US and Europe, of course, already had the phone for several months.
Asked about this, SingTel and HTC both said the delay was because they wanted to bundle in more local apps into the device, which comes with a large touch-screen, speedy 3.5G as well as a nifty slide-out Qwerty keyboard that's great for surfing the Web and messaging.
One of the "customised" apps here is called SG SavvyShopper, which lets Android users use their phone to scan barcodes of stuff you see at Sheng Siong Supermarket and compare prices on the fly. The phone actually identifies the item and goes online to search for the prices and returns them on-screen.
It's not totally new, of course. It's the same thing that was launched with overseas versions of the phone. But there are some nifty "integrated" stuff as well, which according to my quick hands-on today, are pretty impressive.
First off, the phone is fast to move between menus – faster than my old HTC Touch Diamond.
It's also tightly integrated with online services. You can, for example, share any link you see on a webpage with a friend by simply tapping and selecting from a pop-up menu (unfortunately, you can only send through Gmail now). Another hit for me: the little trackball at the front is perfect for scrolling up and down a webpage.
SingTel says it would ship the phone in black for a start, and if there's demand, it may bring in the white one later. Either way, I think the ID (industrial design) and finish still have some ways to go. Not that the phone is ugly. But just put it beside a Nokia E71 or Samsung Omnia and you can tell how much more accomplished the latter two are in their touch and feel.
SingTel also explained that they hadn't gone for the new HTC Magic, because it felt that the market here would prefer a device with a Qwerty keyboard (really, then why did it bring in the iPhone first?).
Google folks here didn't want to say how long SingTel would have the exclusive deal on the HTC Dream. But if you want one without being tied to SingTel, you can always buy one at Sim Lim or Lucky Plaza. Or better yet, sign up as an Android developer and buy a US$399 (S$613) developer version (comes with special logo at the back too!).
Anyway, here's the info for SingTel's plans if you are interested to buy from the telco:
Price Plan

Monthly Subscription

Bundled

Outgoing Minutes

Bundled SMS

Promotional Data Bundle**

Price of HTC Dream phone***

3G Flexi Lite

$39

100

500

500 MB

$238

3G Flexi

$56

200

500

1 GB

$138

3G Flexi Plus

$95

500

500

2 GB

$38
* Applicable for all new and recontracting customers across compatible phone models.
** Applies after unlimited data bundle is exhausted
*** After $200 trade-in
Source: SingTel