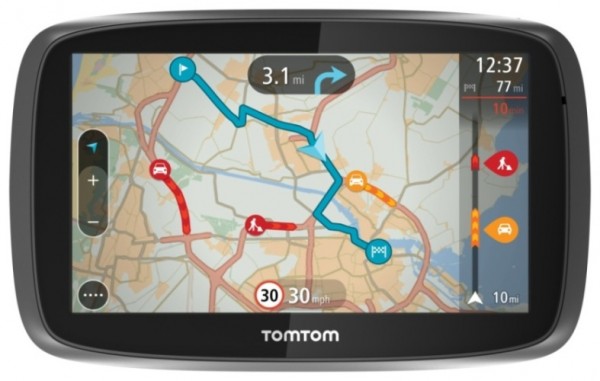 As smartphones become increasingly common navigation devices for drivers, dedicated GPS navigation systems have to catch up with new features to stay relevant.
TomTom probably had that in mind when coming up with the Go 610, essentially a souped up version of the similar Go 600 we reviewed last year.
On the 6-inch screen, you will find a proven navigation guide and new nifty features such as route planning before a trip. It's trying to match what Google Maps and smartphones can do.
The biggest upgrade, however, is that TomTom is now giving its world maps for free during the lifetime of the device. This means you can easily bring them with you when driving overseas.
You get the Southeast Asia maps loaded on the device, but also can download any map around the world onto a microSD card that you can slot into the Go 610 later.
At the same time, you get traffic updates on the device via TomTom's Traffic service. A handy "jam ahead" warning tells you to avoid congestion ahead if possible and even offers alternative routes. They are especially useful in Singapore's increasingly crowded roads.
Like on the Go 600, the new Go 610 will pull the traffic data from sources such as local transport authorities as well as other TomTom users over a Bluetooth link from your smartphone.
What's new this time is a way to plan your route before you step out of the door. Essentially, TomTom has put its maps onto the Web as well as apps so that you can check out where the jams are and choose the best way home, for example.
Once set, you "send" the route to the TomTom device when you get into the car. It will then follow this pre-planned route. Needless to say, you'll need to connect via your phone or any other device to go online and fetch the information.
It seems like TomTom is trying to bring some of the features users already have on smartphones. I won't be surprised if one day a GPS device comes with its own 3G or 4G SIM card slot, doing away with its dependence on a smartphone.
To be sure, the Go 610 doesn't do as well in some areas. The pinch-and-zoom interactivity, though improved, is still clearly not as fast and responsive as your smartphone's screen.
The same can be said of the search feature. You don't have to go through menus any more and can just type in a destination name in a search bar, but the interface can be improved further.
For example, if I search for a road name in Singapore, the first result should be nearby and not one hundreds of kilometres away in Malaysia. Having been spoilt by Google over the years, I expect relevant results at the first time of asking.
In the end, what will make me buy a device like the Go 610 are still the "bread and butter" features. Its screen is large and bright enough for a sunny day, while the 800 x 480 resolution is sharp enough for road information.
Lane guidance is something that TomTom does very well. Instead of Google's generic "turn left in 300 metres", the Go 610 shows you the various lanes on the road and clearly shows you the way.
It also tells you the exact exit to take on a highway. While Google only tells you to take the next exit, the TomTom device will inform you clearly that it's Jalan Kayu, for example. And local road names sound good enough, even with a foreign accent.
I'd recommend the S$399 Go 610 for folks who need a full-feature GPS system that locks on to a signal fast. It's as good as any dedicated gadget you can get now.
There's a cheaper Go 510 with a 5-inch screen going for S$349, but the added $50 for a larger screen on the Go 610 is well worth spending on.