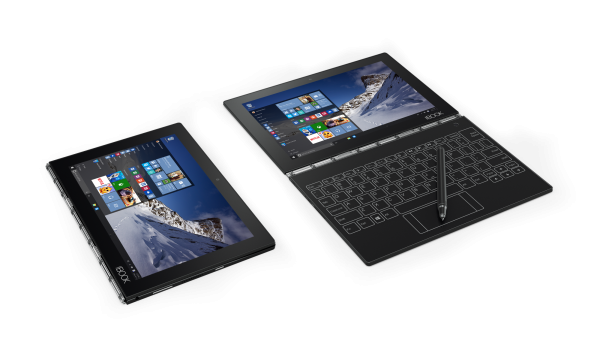 Love it or hate it, the Lenovo Yoga Book certainly does turn heads and catch the eye when you first come across it.
Unveiled in Berlin in late August, the new two-in-one tablet cum laptop has won over fans with its unique handwriting "pad" but also made others scratch their heads asking "why".
When I tried the Yoga Book out briefly on Wednesday in Singapore for the first time, I came away with mixed feelings. Yes, it is pretty unique and cool, but it doesn't make me excited enough to want to part with my cash right away.
The most unique thing about the Yoga Book is the flip-over Halo Keyboard. Like previous Yoga devices from Lenovo, you can flip things over by 180 degrees and quickly turn a clamshell laptop into a flat-screen tablet.
The difference is that one side now features no physical keys. Instead, this Halo Keyboard has them projected on a flat surface and you literally bang your fingers on it to type away.
Okay, there's haptic feedback, but this is nothing like typing on even the thinnest of keyboards, like those on a MacBook, for example.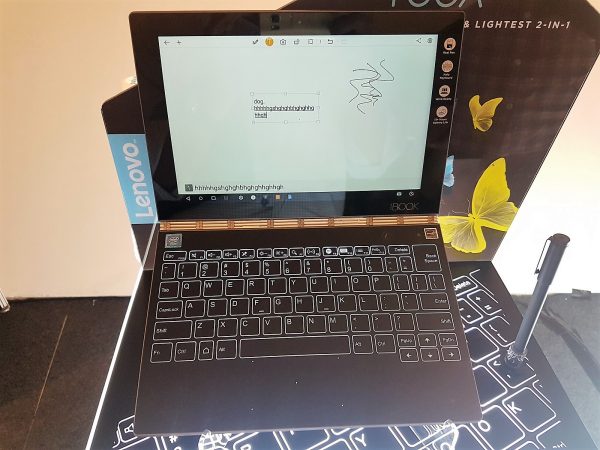 I feel this is the Achilles heel of the new device – if you type a lot, say, as a reporter, your fingers will prefer a regular keyboard for comfort.
During my quick test, I also had a hard time avoiding typos. Perhaps I'm just not used to the keyboard. One thing's certain – I'd need auto-correct to be turned on.
The virtual keyboard, of course, only fires up when needed. Otherwise, the flat surface acts as a canvas for you to draw and scribble notes on with a stylus.
Nothing too cool here if it's just a regular digital stylus. However, the Yoga Book lets you scribble on a regular paper notepad as well, as long as it rests on top of the surface.
The technology used here is electro-magnetic resonance (EMR), which lets you use the digital stylus like a real pen or pencil.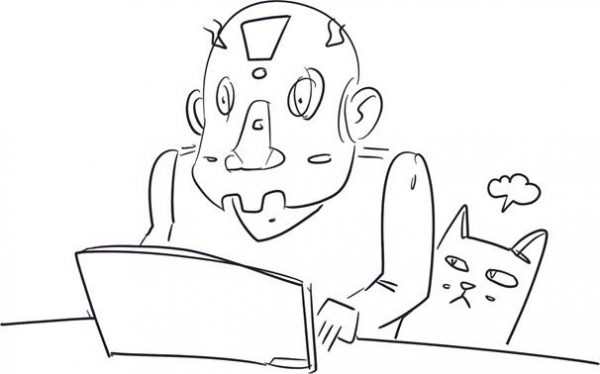 I still think Apple's iPad Pro and Pencil offer the best digital emulation of a real pencil, but the Yoga Book isn't shabby either.
Lenovo says its stylus supports 2,048 pressure levels and 100-degree angle detection. When I tried scribbling my "doctor's handwriting" on it, the ugly scrawlies turned out as I'd imagine on a piece of paper.
The good news is that the reaction time appears fast. I didn't sense any lag when I was writing on the Yoga Book at the media event. What you need to get used to though is using the note-taking program, which takes time to get around.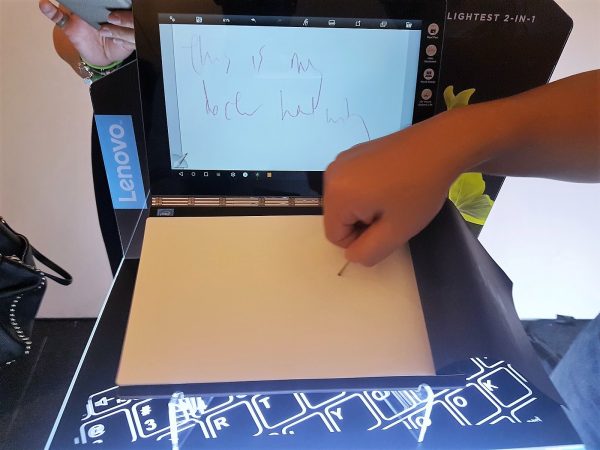 The Yoga Book's stylus also lets you change out a pen tip for an ink tip. This means you can write on the paper in ink and still have the handwriting captured digitally.
Why would you want to do that? I guess if you are a doctor who takes notes often, for one. With the Yoga Book, you don't have to give up your unreadable handwriting while having a digital version recorded.
I can also imagine students using the Yoga Book to take notes. Or to sketch things out for a classroom project. Schools, I believe, are where many of the Yoga Books will be headed to.
It helps that the device weighs a light 690g, less than the lightest laptops which tip the scales at about 1kg. You get a smallish 10.1-inch Full HD screen, but that should be enough if you're mostly consuming media and not editing a video on it.
The Intel Atom x5-Z8550 processor onboard is rather modest, so don't expect to do heavy lifting on this portable device. Also under the cover, Lenovo has included 4GB of RAM and 64GB of storage, which is expandable to 128GB with a microSD card.
It's interesting that the Yoga Book comes in both Android and Windows flavours, each costing S$849.
I had most of my brief hands-on with the Android version and the experience came across as lag-free. I did not try the Windows option, so I can't say how smooth things are.
Do note that you get up to 15 hours of battery life from the 8,500mAh battery pack on the Android version, but only 13 hours on the Windows one, according to Lenovo. And of course, 4GB of RAM is plenty on Android, not so much on Windows.
The Yoga Book is certainly an interesting addition to the two-in-one devices we have seen in the past few years. As an evolution of the original Yoga, it will attract fans of the Lenovo design.
You still have to find a use for the digital panel, though. If you don't scribble or draw on it often, you're forgoing the comfort of a physical keyboard for a virtual one.