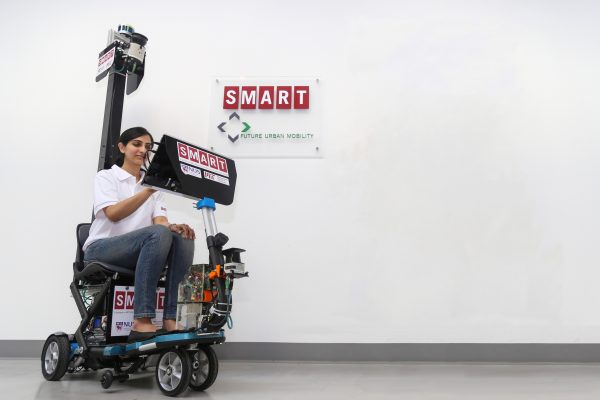 Self-driving electric vehicles can soon be used as mobility devices in airports and parks, or even to help collect trays at hawker centres, if things go according to plan for Dr Marcelo H Ang Jr with the Singapore-MIT Alliance for Research and Technology (Smart).
The co-lead researcher at Smart's future urban mobility unit showed off its self-driving electric scooter during an event at the National University of Singapore (NUS) today.
The unit is smart enough to detect and avoid obstacles as it goes about the many tasks that it can be assigned to. First shown in the United States in April, it made its debut today in Singapore.
Dr Ang says Smart is currently in talks with private companies and government agencies on collaborations to commercialise their vehicles.
They include the National Parks Board (NParks), who may use them to drive visitors around its parks, and the National Environmental Agency (NEA), so its cleaners can concentrate on clearing tables at hawker centres without worrying about navigating crowded aisles with a heavy trolley.
Smart is also in talks with automotive firms like Singapore Technologies Kinetics, to provide the hardware needed to scale up their technology to a level that will be useful to potential customers like NParks and NEA.
"When companies tell us they want to purchase 20 of our self-driving vehicles, we are unable to do that for them. We are only able to provide the software and proof of concept that the vehicle can work," he said.
Short development window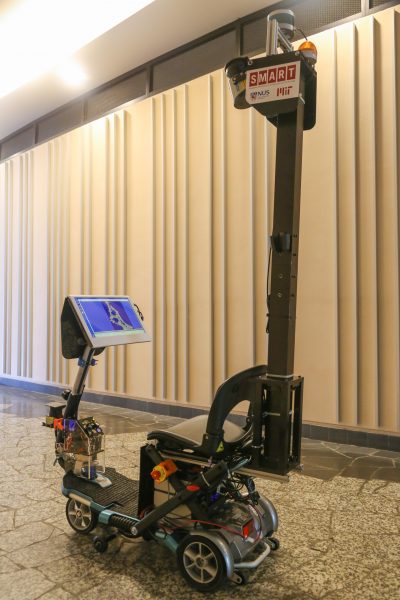 It took Dr Ang's team just two months to develop and ready the scooter for an MIT (Massachusetts Institute of Technology) event in April.
This was possible because the sensors and self-driving software his team had been working on since 2010 can be easily transplanted onto different vehicles, he said.
Smart began its developmental work on a golf buggy, and has managed to bring the technology onto cars, and now personal mobility devices like electric scooters.
It envisions a "multi-class mobility" future, where users are able to page for a driverless ride across a few vehicle types to their destinations.
An electric scooter like the one showed off today can drive the user from one end of a building complex to the pickup point of a self-driving car, for instance.
During today's demonstration, the electric scooter zipped around the pedestrian walkways along the different buildings located in the University Town area in NUS.

VIDEO: Desmond Koh
Whenever someone wanders into the path of the scooter, its sensors will pick up the obstacle and respond within 0.2 seconds, bringing the vehicle to a stop as it attempts to anticipate the person's next movements.
If the person were to clear the path sufficiently quickly, the scooter will continue onwards in a straight line. If whoever is blocking the vehicle does not seem to be moving away, it will try to weasel away from the person to his left or right.
These scooters can operate for 20 kilometres on a full charge, but Dr Ang says that can be easily expanded with the use of specialised batteries, if needed.
While the vehicle only managed to travel at a maximum of about eight kilometres per hour during the demonstration, it was equal parts fun and fascinating to witness robots gain the cognition to perform what would have been unimaginable just a decade or two ago.
Technology for self-driving cars 'maturing'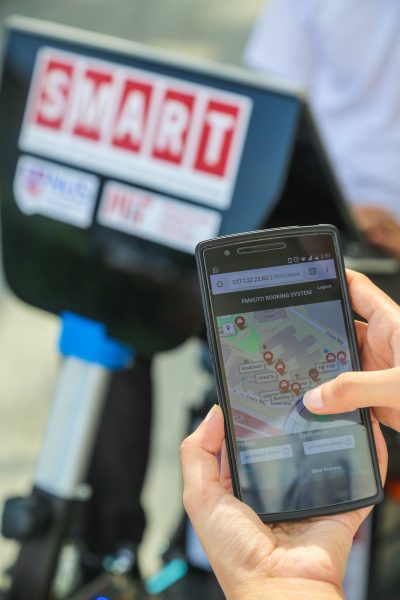 Dr Ang says self-driving technology for vehicles navigating pedestrian walkways are sufficiently mature, as the walking speed of humans are slow enough for sensors to respond to. They are known as reactive algorithms as they respond to changes in the environment.
The focus of work now is on proactive algorithms, that can make educated guesses on what people and vehicles around the self-driving car are likely to do and pre-empt them.
"For instance, at a traffic intersection, when you see a car from the side road speed up, you will be more cautious, but if they slow down, it will be safe to maintain the same speed," he said.
Dr Ang believes proactive technologies will need a few more years to mature, as automobiles are a lot faster and purely reacting to dangers in the surrounding will not be sufficient.
The car will need experience on the roads so they can deal with different driving conditions in a process known as machine learning, no different from a child picking up social cues based on his or her understanding of the environment.
Until then, do not be surprised when the "aunty" milling around to collect used plates at the hawker centre near you does so on an intelligent electric scooter.