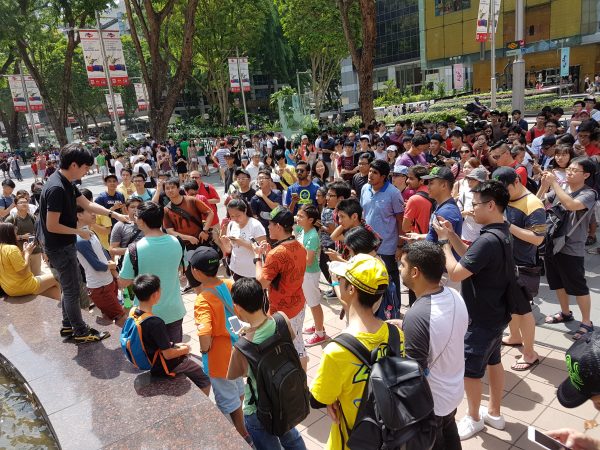 By now, you've probably seen people wandering around parks at night, heads down and eyes glued to their phone screens, searching for virtual Pokemon creatures. That is, if you are not one of them already.
Now, companies in Singapore are fast latching onto the latest craze for the Pokemon Go game, by providing "lures" to draw in the much-sought after creatures and even putting out a map to help people identify where they might be on the island.
Singtel said today it would be releasing thousands of Lure Modules at PokeStops near its Singtel shops, turning each site into a hotspot for people to catch their Pokemon and collect game items such as Poke Balls, Potions and Eggs.
The shops are at Ang Mo Kio, Bedok Mall, Bugis Junction and seven other places across the island. The telecom operator isn't the first to turn to Pokemon Go to draw in customers in Singapore.
Ion Orchard was turned into such a hotspot last weekend, when the mall manager Orchard Turn Developments started releasing lures to draw in customers.
And just yesterday, on National Day, gaming gear company Razer hosted a "Pokecrawl" for two hours along Orchard Road, by placing lures on a route along the famous shopping belt.
More than 300 people were attracted to the publicity effort, which aimed to market Razer's location-based chat app. Called RazerGo, it lets users find nearby players and exchange notes, say, on the virtual creatures in the vicinity.
While some businesses in the United States have reported increase in sales, with one pizza bar seeing a 30 per cent spike in drinks and food orders, it remains to be seen if this is a passing fad. Or if enough people would spend on something even if they turned up at a hotspot.
Niantic, the company behind Pokemon Go, has said companies can soon pay to appear prominently as sponsored locations on a map. So, instead of having to buy lures and keep releasing them, they can pay a yet-undisclosed fee to keep drawing people in.
In Singapore, even Grab is in on the act. The ride-hailing app company said today that it had put out a map of places where Pokemon creatures are said to appear, so users can hunt for them more easily.
Using information from the public, the map comes with specific lists of virtual creatures such as the sough-after Pikachu and rare ones such as Vaporean and Snorlax. (Note: we can't verify the accuracy of the information, available here).