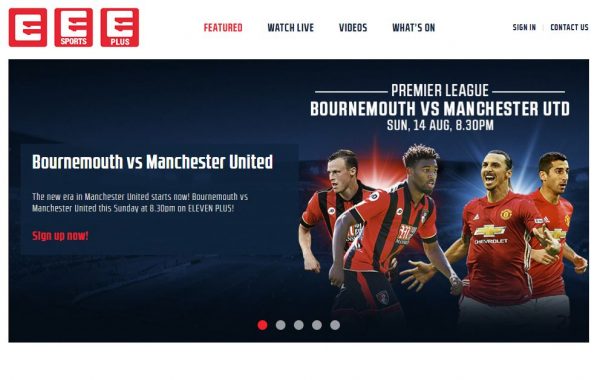 Just days before the English Premier League is set to kick off, M1 has come up with a fibre broadband bundle that lets its customers watch selected live matches for about S$6 more a month.
Costing S$44.90 a month, the M1 Fibre Sports Bundle unveiled yesterday gives users a 1Gbps fibre broadband link as well as access to three live matches and three delayed matches per match week. A regular 1Gbps service costs S$39 a month.
With the low-cost package, likely the cheapest in town, fans can get to watch the opening Hull versus Leicester City match on Saturday evening live, as well as Manchester United's first match of the season against AFC Bournemouth the following day (see schedule of guaranteed matches).
Throughout the season, fans will be able to view about a third of all matches live, likely the top-billed ones involving favourites such as Manchester United, Chelsea, Liverpool and Arsenal.
The streaming service is provided by Eleven Sports Network, which offers the live matches separately for S$24.90 a month, or slightly less, if you sign up for a year.
In June, Singtel resold the TV rights to key matches to Eleven Sports, which is in turn providing the content to operators such as M1 and StarHub. This is the first time viewers here have had an option to tune in without paying for all the matches.
The bundle of selected matches offers an interesting alternative to the "buffet" provided by Singtel, which owns the exclusive TV rights here and charges S$59.90 a month.
In the past, many users who have baulked at the high price might have turned to online pirated channels or connect via a VPN (virtual private networking) service to view matches provided by overseas operators. M1's offering may entice them with a simpler offering.
Although it is aimed at gaining new customers, an M1 spokesman told Techgoondu that existing fibre customers who have completed at least three months of their current fibre contract can also re-contract for the new package at M1 outlets.
Rival StarHub is also providing Eleven Sports' Premier League channels on its streaming service, it said yesterday. However, it has chosen to unbundle it from a fibre broadband plan.
If they sign up by September 1, users pay S$19.90 a month without having to be tied down to a contract. After that, they would have to sign up for a 12-month contract to enjoy the same price, or pay S$24.90 a month should they choose to go without one.