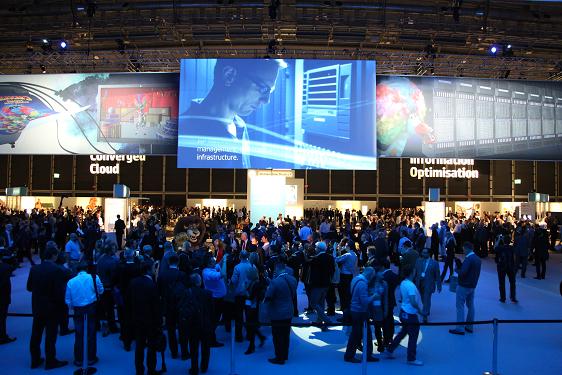 HP is setting its sights on Amazon Web Services (AWS) with HP Cloud Compute, an enterprise public cloud offering based on the open source OpenStack cloud computing system.
While AWS is leading the pack in public cloud services, its offerings are largely pitched at developers. With HP Cloud Compute, HP is targeting IT head honchos who demand high levels of support and reliability from cloud services to power critical business operations.
According to company executives, HP Cloud Compute will offer computing power on tap from US$0.04 per hour. The service guarantees an uptime of 99.95 percent, which translates to less than 30 minutes of downtime per month.
It remains to be seen if HP can put a dent on AWS' share of the public cloud market. Amazon's full spectrum of cloud services – from databases and cloud storage to payment and big data analysis – took years to build, and it would take HP more than just an aggressive SLA guarantee to unseat the king of the hill.
The company is also extending its reach into the platform-as-a-service (PaaS) space with the HP Cloud Application Platform based on VMware's Cloud Foundry software. Like competing platforms, developers can easily run and test applications off HP's cloud with a single click.
HP's choice of Cloud Foundry is interesting, as it competes with VMware's vCloud through HP CloudSystem, the company's proprietary infrastructure-as-a-service (IaaS) software targeted at companies that want to run their own private clouds. Saar Gillai, HP's senior vice president of converged cloud products and technology, told Techgoondu that other PaaS platforms could also be supported in future.
With CloudSystem, HP is singing the heterogeneous tune. Gillai assured companies that they are free to run CloudSystem, which now supports kernel-based virtual machines (KVM) in addition to Microsoft Hyper-V and VMware virtual machines, on non-HP hardware.
HP has also made it easier for CloudSystem customers to tap computing capacity from public clouds hosted by the likes of Amazon and Savvis to meet spikes in demand for computing power.
It is also wooing telcos, web hosting companies and cloud software providers with a suite of licensed applications such as device management and customer relationship management that they can host with HP CloudSystem and sell to businesses.