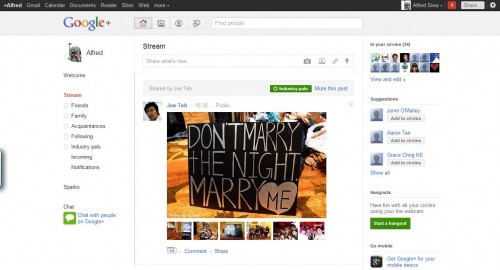 This is it, folks. No more half-hearted and half-baked social products. Google has revealed their trump card in the war for your online social life and gone all in with their chips.  Google+ is an amalgamation of all of Google's efforts to penetrate the social sphere thus far.
Although initially open only to a select number of users, the service has since expanded into the hands of quite a good chunk of people. But how will this latest foray into social networking fare for Google?  I spent the last few days playing with Google+ and messing around with it, so here's my verdict, for what it's worth.
Google+ is no Facebook killer, but it's nothing to scoff at either.
The first thing a new user should notice about Google+ is the striking resemblance it has to Facebook. That's not a bad thing, since Facebook's user interface generally does a great job at organising the various parts that make up its full service.
Beyond this superficial resemblance, Google has brought some fresh ideas to the online social networking table, including the much-hyped "Circles" feature.
Circles lets us organise the people in our lives in a more sensible manner, instead of classifying them all as "friends" like what Facebook does. I can put my family members in a "Family" circle and selectively share with them only the things I choose to. No prizes for guessing which circle my boss will go into.
Another interesting feature is the ability to start Hangouts: video group chats which, again, you can selectively invite and display to your various circles. This seemed to be Google+'s unique feature, until Facebook recently unveiled its long-rumoured partnership with Skype to bring video chat to Facebook users, complete with an overhauled chat function.
There are numerous other features on Google+, but other than a differing paradigm in handling your online social contacts, it's not that different from Facebook. Without a unique feature to hook users in, Google+ will remain a plaything for us geeks.
Plus, we're so entrenched in Facebook that there's no point moving to a new service if the bulk of our friends don't move. I, for one, am not going to download all my Facebook photos and then upload them again to Google+.
One advantage Google+ has right now is its overall tie-in with the rest of Google's services. Google is updating the design of all its major Web apps to provide an overall consistency to their look and feel. There is a huge potential there for Google to integrate their Web apps into a one-stop portal where you spend most of your time online.
Good reviews and optimistic outlooks on Google+ are pouring out all over the Web but don't forget that these are written by early adopters, who love shiny new tech playthings. Facebook now has more than 750 million users and it's going to be a mammoth task for Google to win them over. Still, don't discount Google yet, since being late to the game, it has plenty of time to polish Google+ up.
Have you tried Google+? Let us know what you think of Google's new attempt at being social!