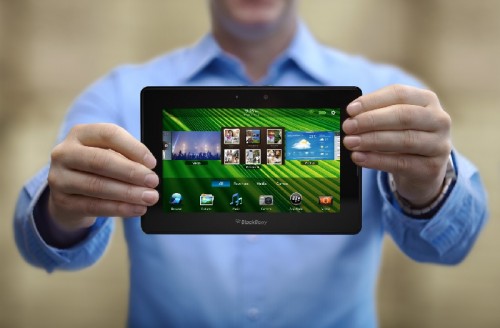 Months after it first appeared on the radar, the Blackberry Playbook is finally making its way to stores here in Singapore. Priced from S$668, it will go on sale on June 23, as the tablet wars heat up with one more contender entering the arena.
The Wi-Fi-only, 7-inch gizmo from Research in Motion will go on sale at SingTel, M1 and StarHub stores, as well as other retailers at the following prices:
16GB: $668SGD (inc GST)
32GB: $798SGD (inc GST
64GB: $928SGD (inc GST)
The prices, at least for the entry level model, are aggressive. But the question is whether it is aggressive enough to keep people away from the Apple iPad 2 and Samsung's Galaxy Tab 10.1, which will hit shelves here in July with prices from S$688 for a 16GB Wi-Fi version. Both these competitors, notably, come with bigger 10-inch screens, compared to the Playbook's 7-incher.
The other question, of course, is why RIM decided not to come up with a 3G version of the tablet. Wi-Fi is great, presumably when you have a phone in your pocket for tethering, but without 3G, the Playbook seems to be best used at home on the couch.
On the road, it's just troublesome to have to turn on tethering on your phone every time you want to receive mail. That's because if you turn on your personal hotspot on your phone all day, its battery will be used up in no time.
What RIM has going for it, however, is the Playbook's sleek interface. I had a brief hands-on with it during the UNWIRED 2011 conference a few weeks ago, and I was surprised at how fluid and smooth things are with the Blackberry Tablet OS.
Videos continue playing – through real multi-tasking – even when you move them into or out of the foreground. And switching between apps? That's a no-brainer because the touch interface betrays no lag.
The main issue, of course, is apps. RIM will have to garner the same momentum that Android and iOS have been garnering for a while now to get to their level when it comes to engaging developers and users. This won't be easy, but at least the Playbook is off to a decent start with the right prices and a good-looking OS. Here's looking at how RIM will upsell the tablet to its traditional base of enterprise users and it would wow consumers all the same.
Specs of the device are here:
7″ 1,024×600 WSVGA capacitive LCD touch screen
Ultra-portable at less than a pound and less than one-half inch thick: 0.9 lbs (425g) and 5.1" x 7.6" x 0.4" (130mm x 194mm x 10mm)
1 GHz dual-core processor
BlackBerry® Tablet OS with support for symmetric multiprocessing
MP3, AAC and WMA audio playback
Support for high resolution video playback (H.264, MPEG4, WMV)
1080p HDMI output
Dual 1080p HD cameras for video conferencing and video capture (3MP front and 5MP rear)
1 GB RAM memory
Up to 64 GB internal storage (16, 32 and 64 GB models)
GPS, Orientation Sensor (Accelerometer), 6-Axis Motion Sensor (Gyroscope), Digital Compass (Magnetometer)
Stereo speakers and stereo microphones
Wi-Fi (802.11 a/b/g/n) connectivity
Bluetooth® 2.1+EDR support