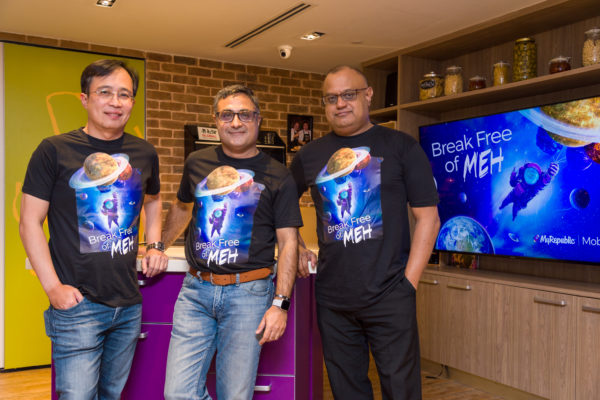 Marking its entrance into the Singapore mobile market today, MyRepublic unveiled services starting from S$35 a month and talked up an "unbound" data offer that promises to do away with bill shock.
The plans are not the cheapest in town, though they are competitive and aimed at winning over existing fibre broadband users here who are already with MyRepublic.
The S$35-a-month plan comes with 7GB of data, plus another 3GB for MyRepublic fibre customers. Next up are a S$55 plan with 12GB (plus 8GB for fibre users) and an S$85 plan with 25GB data (plus 8GB, and 2GB of roaming data for fibre users).
All plans come with 1,000 minutes of local talktime – generous for the entry-level plans – as well as 1,000 SMSes.
Another carrot MyRepublic has dangled is free add-on services that other rivals charge for. Caller ID is free, as is local SIM card activation, for example.
As is common now, the plans are all SIM-only offers, so users don't get any discounts for buying a phone. There are no charges for changing plans at any time, through a mobile app.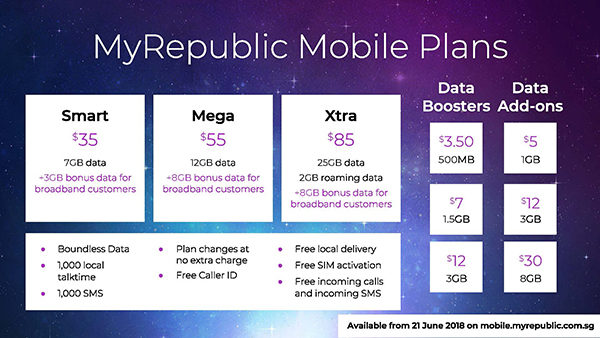 "I can change plans any time, even three times a day," said chief executive Malcolm Rodrigues, at a media briefing in Singapore this morning.
The added flexibility, he added, is aimed at winning over young and tech-savvy users who want to create their own plans and find the best deal.
Asked about the competition from TPG Telecom, which is expected to roll out its services in the coming months, he said his rival would find it tough to offer the coverage that demanding customers here seek.
"They will capture a segment of the market who don't care about coverage," he added, "but for most customers, it will be difficult to capture."
MyRepublic also seeks to position itself as a "thick" virtual operator that has control over network resources that it leases from StarHub. It is not just a reseller, it argues.
When data traffic from the radio network is passed to MyRepublic, it is able to perform deep packet inspection (DPI) and prioritise which users can have better service, for example.
This could be how it promises a "boundless" service, which means users who burst their data caps can continue to go online without paying more, but at limited speeds.
Declining to spell out the exact throttling that goes on, MyRepublic executives told reporters this lower network speed will still let users get their messages on WhatsApp but they may not be able to view high-definition videos smoothly.
What they get, though, is no bill shock for excess usage. MyRepublic's pitch is the latest in a wide range of competitive offers that telecom operators have rolled out in the past two years. Even before TPG Telecom's entry, the bar has been set high for any new entrant.
While some have offered more data at lower prices – Circles.Life's basic S$28-a-month plan comes with 6GB of data – others have rolled out unlimited data plans and unique roaming offers.
What all players offer is increased flexibility, ranging from data boosters at S$3 a day (from Circles.Life) to SIM-only plans that do away with phone discounts in exchange for cheaper monthly fees.
For MyRepublic, being a virtual telco may be the smart play today, thanks to the flexibility that cloud technology offers today, as well as the low cost of entry.
Indeed, its executives were keen to emphasise today that it is a platform company, not just a telco, so it can roll out services from TV to even electricity easily.
That's a far cry from the disappointment it faced back in late 2016, when it lost its bid to be the fourth telco here to TPG Telecom.
It is free from the burden of rolling out a new network at great cost and then facing up to the Big Three local incumbents all ready to cut prices to keep their subscribers.
If MyRepublic can go on and capture a small percentage of the Singapore market – 5 per cent now, according to Rodrigues today, instead of the 9 per cent that was targeted back then – then it would have achieved a big milestone without incurring all the expected costs.
And if it still manages to go public in Hong Kong in 2019 as it plans to, it would have received a blessing in disguise by losing its bid.