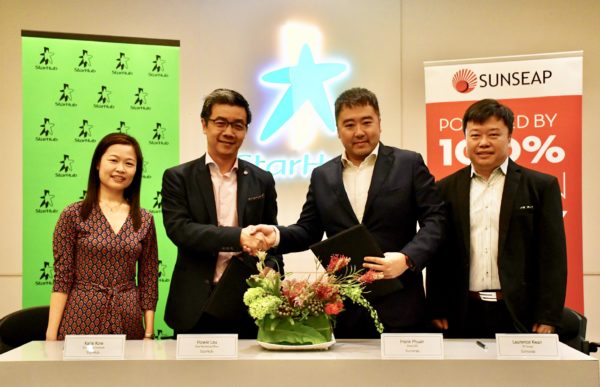 StarHub will start selling electricity to consumers next month, becoming the first telecom operator in Singapore to add to a package of phone, broadband and TV services that are already bundled today at a discount.
It is working with green energy firm Sunseap, which is harvesting solar energy from rooftops across more than 1,000 buildings in Singapore, to offer the service to homes, it said today.
The first customers would be those in Jurong, who will be able to sign up to the new plans next month. This marks the start of the full liberalisation of the retail electricity market, set for the second half of this year.
StarHub customers will be able to choose one of two electricity plans. If they go fully on solar energy, they will pay the existing regulated tariff, which is at 21.56 cents per kilowatt hours.
If they go for 5 per cent clean energy, taking the rest from the regular electricity generated from fossil fuels, they will get 20 per cent off the regulated tariff.
The higher price for the green option reflects the higher costs of generating, storing and delivering the electricity using sustainable methods in Singapore. This is unlike other markets where green energy has become more efficient and cheaper.
StarHub is banking on people caring enough for the environment to buy into its new bundle of services. It is setting aside 5 per cent of profits out of this business in the first three years to fund environmental conservation initiatives.
Clean energy has been gaining ground in Singapore and customers are becoming more environmentally aware, said chief marketing officer Howie Lau.
The company is yet to reveal the exact prices for the new services, or to say how much of a discount users will get for buying a bundle of services. It is likely to be watching what the other players will offer as well.
Its move to go beyond its traditional sources of income is a result of the competition facing telcos in the country, which expects the arrival of a fourth player this year.
StarHub has faced falling cable TV subscriptions in recent years, with more video streaming options such as Netflix chipping at its profits.
At the same time, price cutting on broadband services and aggressive offerings like unlimited mobile data services have thinned margins across the industry.