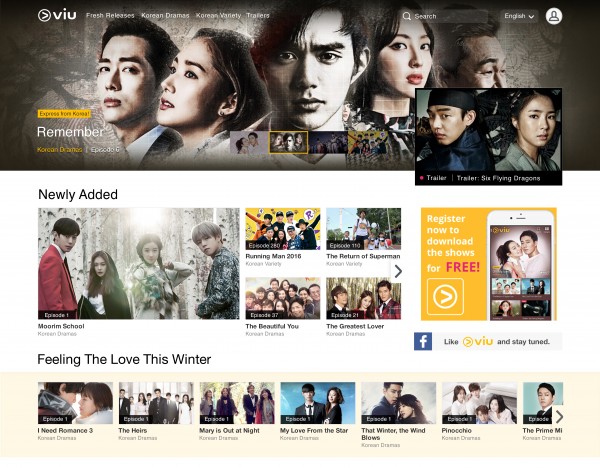 Fans of Korean drama serials and other TV programmes can now look to a new video streaming service that lets them watch popular shows such as Remember, Moorim School and Running Man for free in Singapore.
The Viu service, coming days after Netflix started streaming globally, promises to bring the latest telecast dramas and variety shows from four big Korean broadcasters – SBS, KBS, MBC and CJ E&M.
Plus, the Korean programmes will be subtitled in English and Chinese as soon as eight hours after they first become available in their native country.
Users can stream videos for free and enjoy up to three free downloads, say, to watch on a train later. Can you download more? There's no information on whether users can do so on a paid, premium service. The price also isn't out on that yet.
Singtel is preparing to provide a paid service for its customers, though there are few details of that for now as well.
Hong Kong telecom operator PCCW is behind this so-called OTT or "over the top" service, which is available on smartphones, tablets and PCs.
Having launched Viu in Hong Kong last year, and received 500,000 app downloads within three months, PCCW wants to expand in the region. After Singapore, it will seek to deliver the videos to Malaysia, Indonesia and India at a later date.
The new offering will bring yet another channel to audiences in the region, to rival and complement what traditional pay-TV provides and possibly turn viewers away from illegal sources.
Already, Singtel's Hooq and Malaysia's iflix have brought streaming video services to the region in the past year.
CLARIFICATION on 18/12/2016 6:33pm: An earlier version of this story said that users have to subscribe to a premium service to download videos. PCCW has clarified that users can download three videos for free.