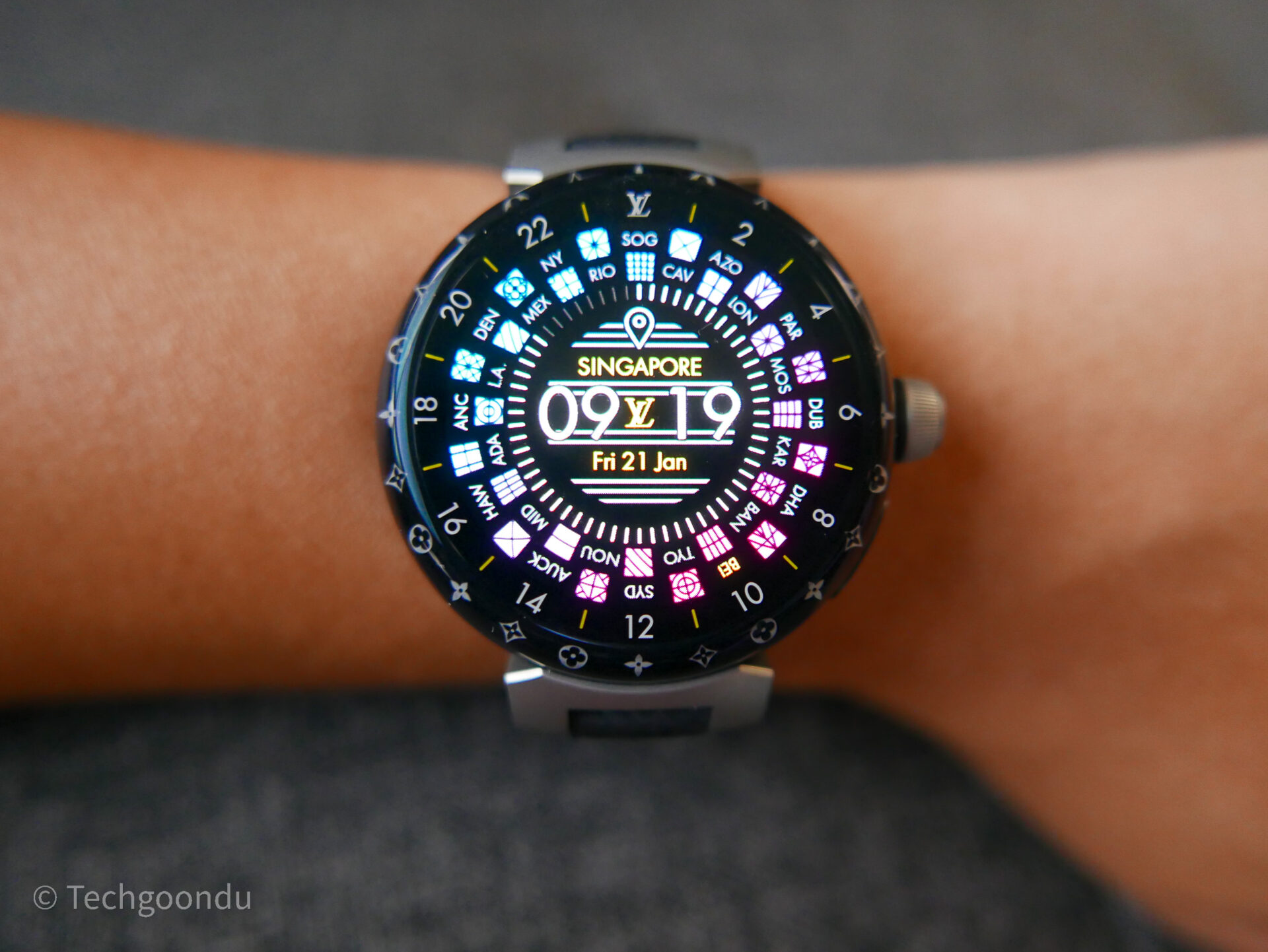 Smartwatches have been pitched as new luxury items for the rich ever since the first Apple versions arrived a few years ago, but sometimes it takes some polish from a luxury brand to get users to part with a bit more money for a shiny gadget.
Well, at least that's why Louis Vuitton hopes to do with its latest smartwatch, the Tambour Horizon Lightup, that's just out this month.
There's certainly no lack of polish here, from the time you open up the smartly designed LV box to when you strap on the watch on your wrist. The pretty box is certainly larger than the minimalist offerings you'd get from a technology company.
Here, like with some luxury automatic watches, you get nifty drawers and pretty little drawstring bags for all the accessories you need – multiple power adapters, a charger and a power cable that snaps onto your watch to juice it up. Don't worry about having to find your own USB cable or charger.
On to the watch, this is one with a 44mm face, which would be usually too large for my relatively slim wrist (I usually wear 40mm and 42mm watches), but because of its design, the Tambour Horizon doesn't seem to overwhelm like a large clock hanging on your hand.
The lugs are relatively short and the watch face is a near-full screen that looks like it curves over the edges, so there's no fat bezel here that makes the watch seem larger than it is. I think the watch will fit both men and women, assuming you don't think the large watch trend is fading.
What's interesting is that Louis Vuitton hasn't tried to make the Tambour Horizon Lightup into a digital version of a regular automatic watch.
This is unabashedly a smartwatch with the smarts designed on its face, including 24 colourful blacklit monogram logos that light up and animate when you flip your wrist to view the screen.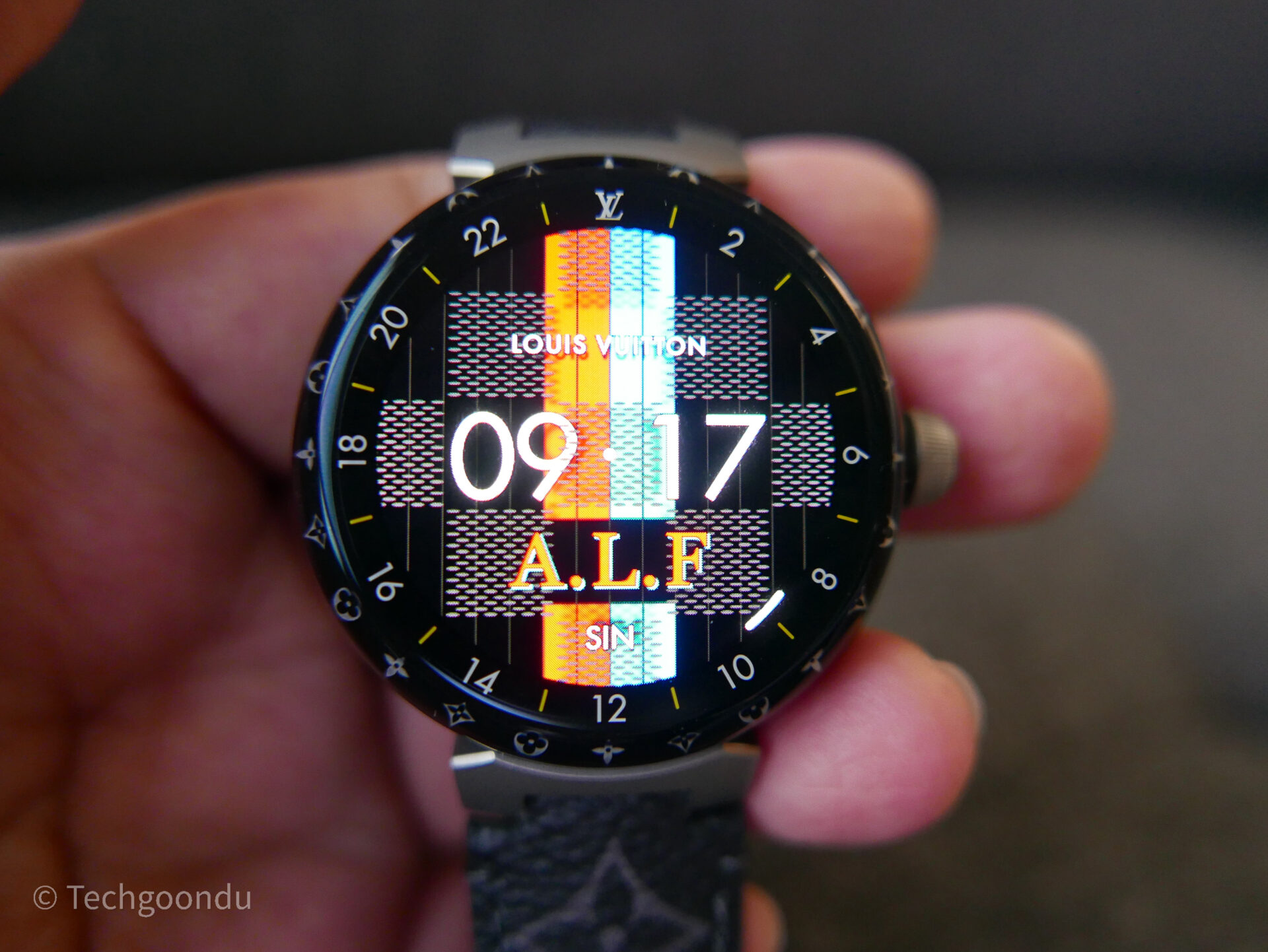 For the price that the luxury goods brand is asking for, you will still get some luxe material in there, to be sure.
The S$5,850 model I had to try for a few days came with sandblasted stainless steel for its case, lugs and crown so you still get a bit of heft here. There's also a model costing S$4,850 that comes with a shiny polished variety.
On the screen, you'd find sapphire glass, which helps protect against scratches, which is good. However, no fancy leather strap here – you get a monogram-filled canvas strap that can be easily swapped out for a new look.
For the tech hardware, you get a zippy Qualcomm Snapdragon Wear 4100 processor, 1GB of RAM and 8GB of storage, which are good. The 1.2-inch AMOLED touch screen is also brighter than many a rival's, plus it's got great contrast.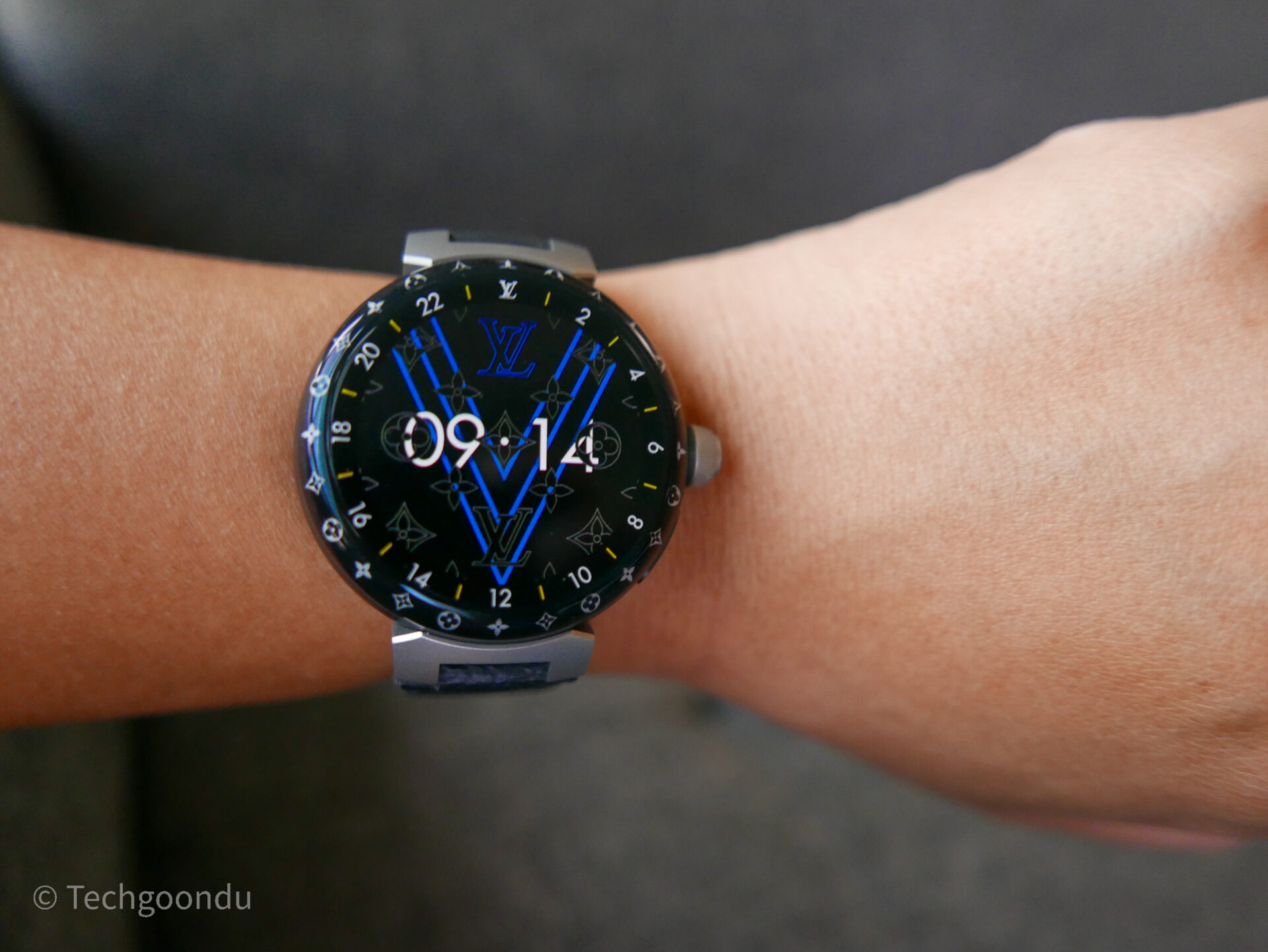 Like most other smartphones, you need the Tambour Horizon Lightup to connect to your phone via Bluetooth to get most of the applications, like heartrate and steps tracking, going.
Here, interestingly, Louis Vuitton has opted out of Google's Wear OS, which was used in the earlier Tambour Horizon smartwatch, and gone with its own proprietary operating system. It promises to be compatible with Android, Huawei's HarmonyOS and Apple's iOS.
You should expect few problems when you take the phone out of the box and pair it with an Android phone, which is what I did.
Well, I did have to jump through a few more hoops than usual because the smartwatch's hardware and serial number are tied to an LV account you have to sign up, and the review unit had already been connected to a previous user.
This meant calling up Louis Vuitton folks here for help to reset things (you can't just reset the smartwatch itself). In a way, that's almost like a bit of an anti-theft feature as well.
Now, what about usage? I'd say this is not a watch for more reserved folks. The colourful screen and animation that jumps at you each time the screen lights up will never fail to catch attention.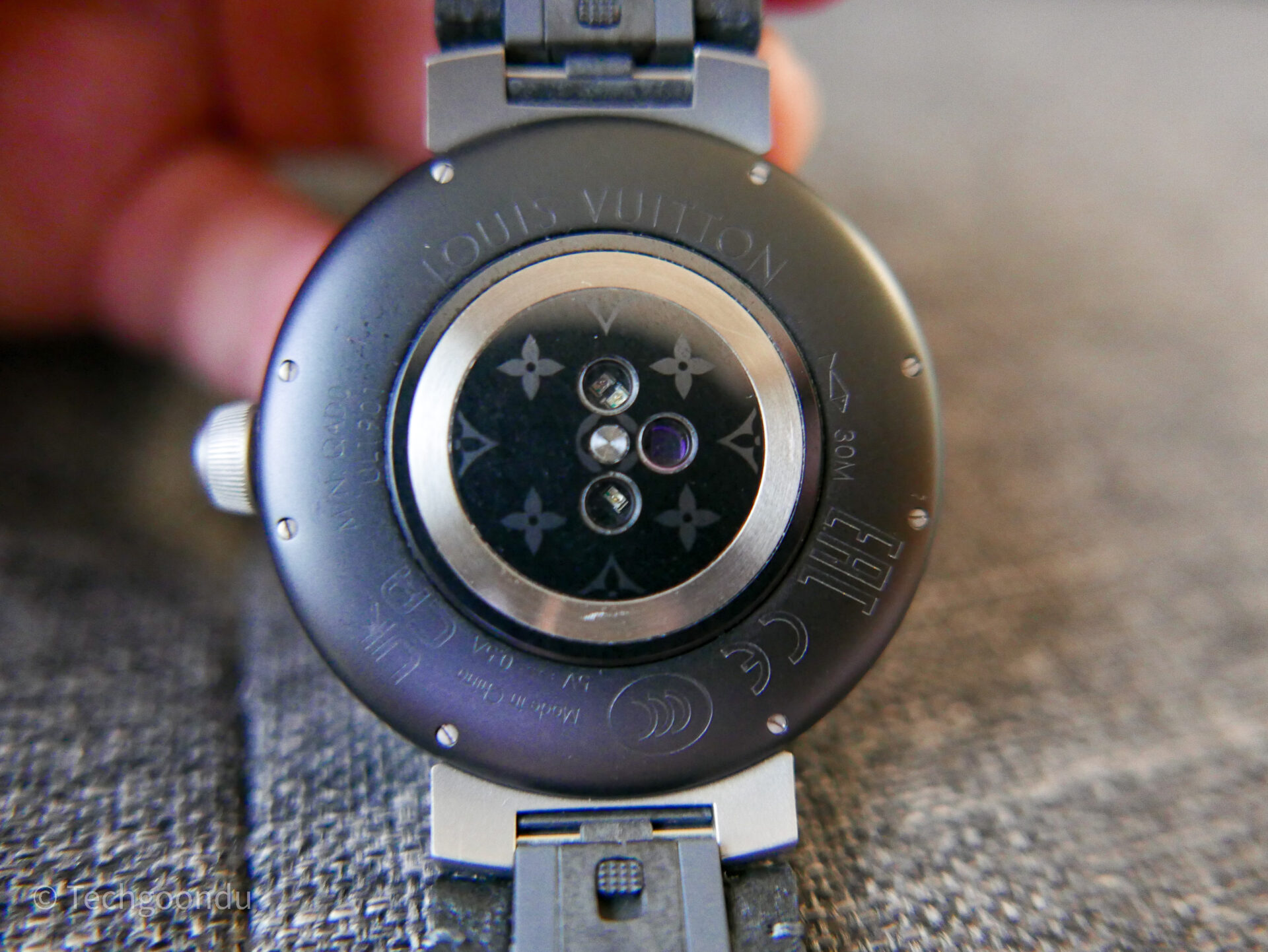 The watch itself is simple looking enough, but the screen is a blank canvas on which you can customise your watch faces and even get original LV content on, say, holiday locations (when we can travel freely again in future).
To make it easy to get started, there are four user modes on the watch, from one that never shies away from showing off the colours on the screen to a battery-saver mode when you're down on power.
What I do like are the easy-to-read notifications, which streamed from my phone readily during my test. All sorts of notifications came through seamlessly, from a pre-school app to WhatsApp and Gmail. That's handy because you can have a glance and decide whether to go to your phone.
You can also control music playback from your Louis Vuitton watch, so you don't need to reach for your phone in your bag or pocket, say, on a train when you want to change tracks.
I didn't have enough time to try the smartwatch long enough, to be honest. However, during the few days I wore it around, I did worry about the battery drain from the bright and flamboyant lights that come on whenever I flicked my wrist to read the time.
You can say I was using up the power more often than a typical user since I was testing it but I'd still advise users who are buying this to watch the battery use, especially with the bright and animated watch faces that are pretty and light up often.
On the whole, I liked the watch despite my initial skepticism. The watch face is a nice fit and the screen is friendly with information seamlessly sent from my phone. It's easy to use, generally speaking.
And despite the battery drain, I do like the colourful LED lights around the screen, which some of my watch collector friends found to be too gaudy when I showed them the smartwatch. I guess tastes vary.
That said, there isn't a standout user feature that would make the Tambour Horizon Lightup unique from others out there.
Of course, the monogram itself sells too, with its own claim to value. Ultimately, whether you are willing to part with almost S$5,000 or S$6,000 for this smartwatch depends quite heavily on whether you like the luxury brand to begin with.
However, don't forget that unlike rare luxury bags and automatic watches that sometimes go up in value over time, digital gadgets usually do not. Soon, a next version arrives with newer, better features.