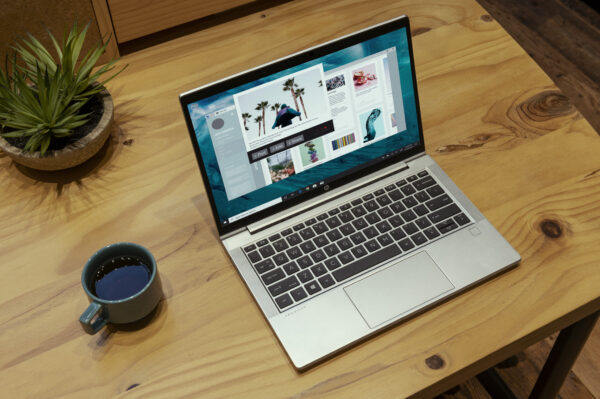 AMD has made great strides in the past couple of years and the chipmaker's latest win is its Ryzen 7 now featuring in the HP ProBook 635 Aero G7, a business laptop great for the telecommuting crowd.
The Aero G7's engine bay has the Ryzen 7 4700U processor, which some PC buffs might note is not the latest version of AMD's mobile processors. That would be the Ryzen 5000 series.
The HP laptop also has Radeon Graphics running at 2,000MHz, 16GB of Ram and a 1TB solid state drive. Still a good amount of performance for most business users, to be sure.
This shows in tests I ran on the machine as well. It scored 4,383 on the PCMark10 test, which measures performance in everyday tasks like spreadsheets and videoconferencing.
The HP laptop is behind some of this year's machines, such as Huawei's Matebook 14 (4,937) and the Dynabook Protege X30L-J (4771), though not by a wide margin.
What about graphics? Running the 3DMark tests that simulate game situations, the Aero G7 came back with a score of 870 for Time Spy, 9,246 for Night Raid and 2,112 for Fire Strike.
For comparison, the Dynabook laptop came back with scores of 1,388, 13,557 and 3,531 respectively.
This HP workhorse clearly isn't a dedicated gaming machine, to be fair. And though it is not the fastest machine off the block, it is not a slouch either.
I will have no issues using the laptop for my work and the occasional game on the side.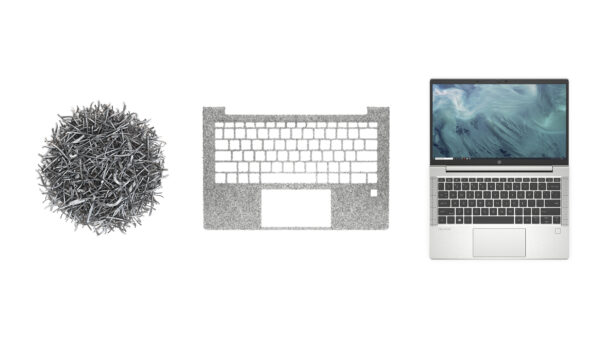 The full-metal chassis is encased in a magnesium alloy, with a silver-grey finish that makes the laptop look business-like, futuristic even. It's also light at just 990g, so that it is easier to carry around for meetings.
Over the years, HP has added some handy features in its laptops. One is HP Sure View, which reminds me of a 3M privacy screen filter that prevents people from peering at your screen from the side.
Good in cafes as well as planes, when travel is okay again. Better yet, I can toggle the filter on and off just by pressing the F2 button to keep out nosy kaypohs.

Unfortunately, the downside is that the 13.3-inch, 1,000-nit Full HD screen doesn't seem as bright as the competition, even when the privacy option is switched off.
The screen changes even when you shift a little in your chair. It's also a tad darker at times, so there are tradeoffs involved, especially if you work with images or graphics a lot.
Perhaps more practical is the QuickDrop feature, which makes quick work of transferring huge files from your mobile devices to your laptop.
I can send the files via the HP QuickDrop app's Google WebRTC peer-to-peer protocol. The service uses Datagram Transport Layer Security (DTLS) to encrypt the files before sending them off to the recipient.
This is similar to Huawei's Share feature, but QuickDrop is open to both Android and iOS devices, making it more useful in an enterprise environment.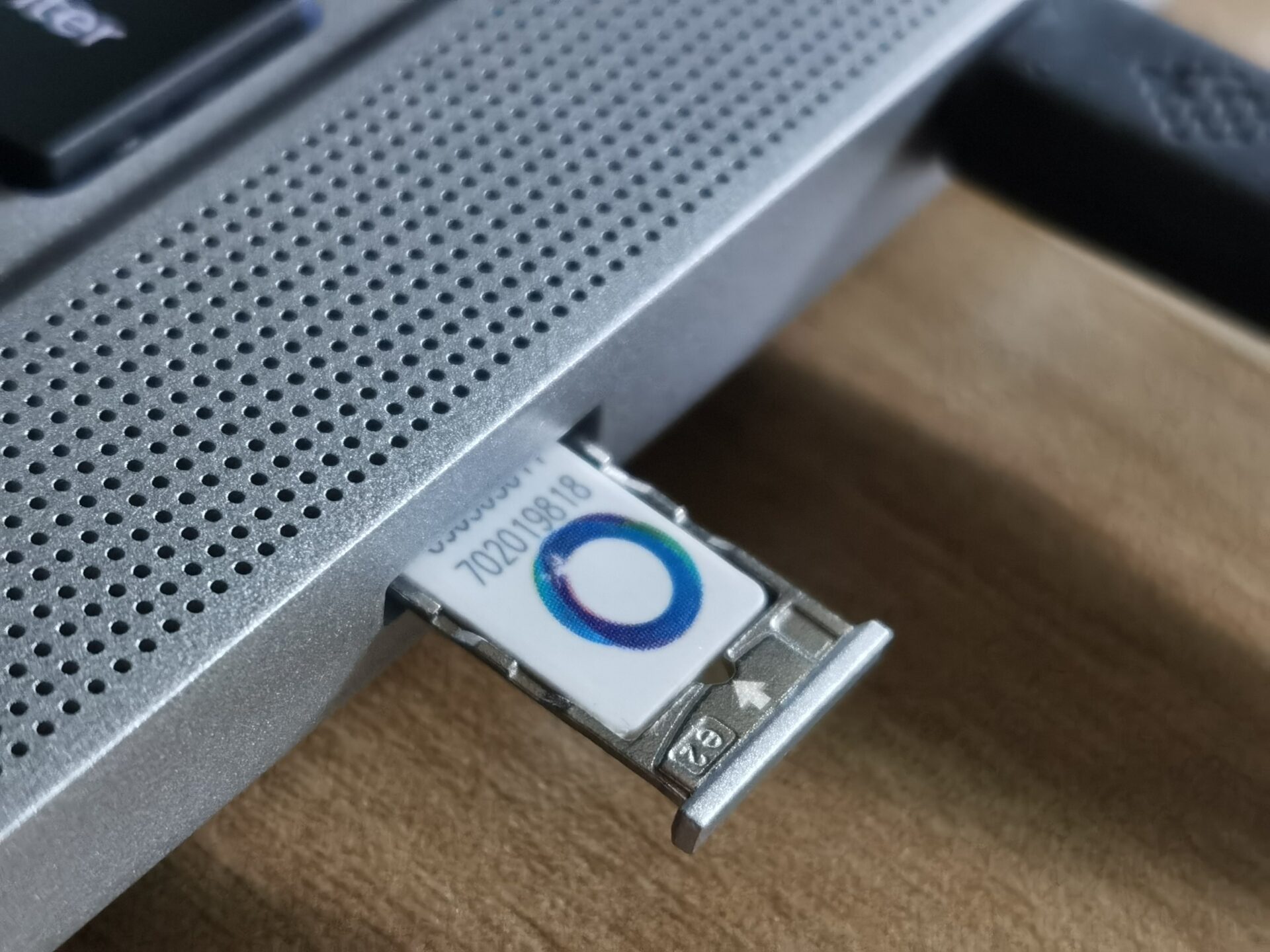 Like most new laptops, HP has equipped the Aero G7 with Wi-Fi 6, so you can connect up to the latest wireless networks at good speed.
But what makes the laptop standout is its built-in 4G connectivity, something that more business laptops should have. All you have to do is slot in a 4G SIM card and you're online.
This saves time looking for a Wi-Fi hotspot on the go or looking to tether to your phone. With cheap mobile data in Singapore, this is a great option to have in a laptop.
With my Circles.Life subscription, I managed to get about 85Mbps download speeds, which are good enough to reply to e-mails and watch a video or two.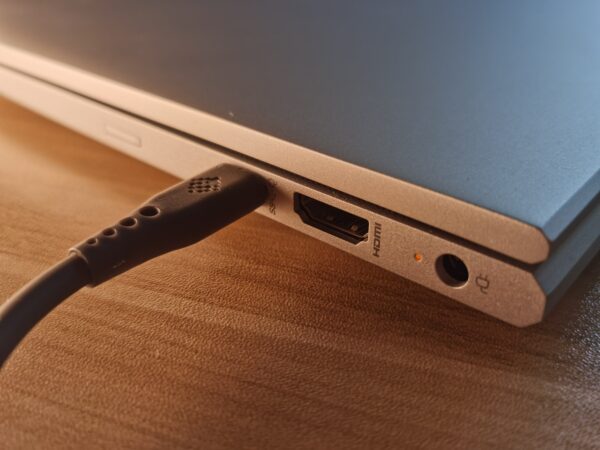 Another positive development is the use of the Type-C Thunderbolt port to charge your laptop, besides the normal charging port seen in older laptops.
The power adaptor has shrunk as well, which is a good thing. Now just the size and weight of a small block of butter, it is easy to pack into a back.
If you have a 100W GaN multi-port charger, the laptop can be charged from it too, reducing the number of things you have to carry around on your travels.
The enterprise-based laptop from HP is priced at S$2,369, which isn't the cheapest. Dell's 11th-gen Core i7-based XPS 13, for example costs slightly less at under S$2,300 now.
Plus, the slightly thicker bezel on the HP machine also goes against it when compared to the Dell's sleeker thin bezels.
What HP does have are some handy features, such as the 4G connectivity, which can be a lifesaver for busy executives on the go.
If you can get the Aero G7 at a good deal (below its suggested retail price), it's worth a shot. I might also wait for the newer Aero G8, which sports the latest AMD 5000 series processor and is already out in the United States.