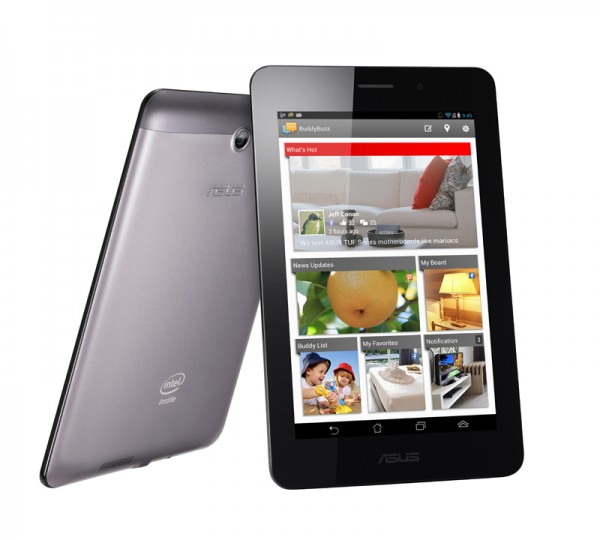 If you're looking for a small, affordable tablet, there's another interesting option from Asus, in the form of the Fonepad. On sale in Singapore from April 27, the 3G-enabled, 7-inch Android tablet costs an attractive S$369.
For most users, that price immediately puts it in the same bracket as Asus' own wildly successful Nexus 7, which it worked with Google on.
The Fonepad has a similar 7-inch screen offering a nice 1,280 x 800 resolution. The size also feels the same, but the metallic finish makes the Fonepad seem a little more expensive, going by our quick hands-on test at yesterday's launch in Singapore.
Unlike the Google-branded Nexus 7, the Fonepad has a microSD card slot, which means you can slot in a memory card full of movies for your trips.
That sort of balances the rather stingy 8GB that Asus has for storage on the Fonepad. It's also cheaper, of course, at S$369 for a 3G model, compared to the S$499 that Asus is asking for the 32GB version of the 3G-enabled Nexus 7.
The Fonepad, of course, is not the only low-cost tablet that Asus is making. The Taiwanese electronics maker also has the MeMo Pad, which uses a single-core processor and costs just S$249 for a Wi-Fi-only model.
What's also interesting is that the Fonepad – not to be confused with Asus' Padfone – uses an Intel Atom processor, instead of the usual Arm-based chips used on tablets.
The 1.2GHz Atom Z2420 promises performance – Asus has even customised the Android interface to have PC-like multi-tasking with windows you can drag around – but one question that users will ask is whether the chip will be more power-hungry.
The specs on paper promise nine hours of battery life, but we'd have to get our hands on one tablet to confirm how well the Fonepad stacks up against rival Android tablets.
If battery is not an issue, perhaps if you're used to carrying additional power packs in your bag, then the low-cost Fonepad is a nice alternative to the rest of the "small" tablets in the market.
It's also a major win for Intel, which has been trying to get its chips into mobile devices. The question is whether users will warm up to yet another tablet in the market, Intel Atom or no.