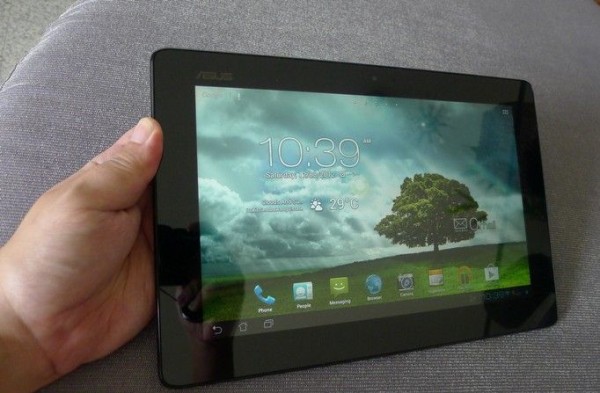 If the original PadFone was a sort of concept device, the followup from Asus that recently started shipping in Singapore is certainly a much more polished phone-cum-tablet.

The PadFone 2 consists of a phone, which looks and runs as well as most high-end options in the market, and a dock that turns into a tablet when you slide your phone into it.
There's no keyboard to dock to, unlike with the original PadFone, so the PadFone 2 will not transform into a notebook-like device. It is sort of like a two-in-one rather than three-in-one "transform" device.
While making things more streamlined, Asus has also improved on the docking interface. Previously, you had to open a cover and slot in the phone unit. With the Padfone 2, you just slide in the phone. Idiot-proof, indeed.
The Taiwanese electronics maker has also retained the sleek design. There's the familiar Zenbook-like metallic grain that adds a premium feel to the PadFone 2.
Both the phone and tablet are also very slim and portable. The phone is 9mm thin, and the tablet just 10.4mm, not counting the slight bulge, of course, when you dock the phone in it. Together, the devices weigh a light 649 grams, less than the 662-gram iPad.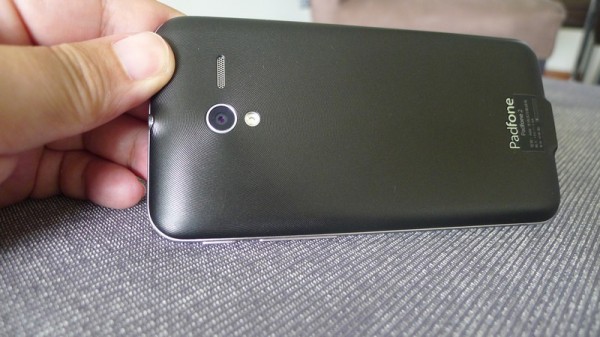 Powering on the phone, you'd find a high-contrast and sharp 4.7-inch screen that doesn't look out of place compared to Samsung's Galaxy devices. The resolution here is a credible 1,280 x 720, which means no blur images on the small screen.
With a 13-meg camera onboard, which takes decent shots even in low light, and support for 4G or LTE (Long Term Evolution) networks in Singapore, the PadFone 2 device doesn't lack what the top-end models from Samsung and HTC offer.
What's more interesting is how smooth the interface is when you dock the phone in the 10.1-inch screen or tablet station. Barely a second passes before the bigger screen becomes active, so the transition is as good as seamless. The same, when you remove the phone from the dock.
The good news is that your phone's already ample 2,140 mAh battery is backed up by the 5,000mAh power pack on the tablet when it is docked. That's a useful 7,140mAh altogether, which will be handy on long trips, for sure.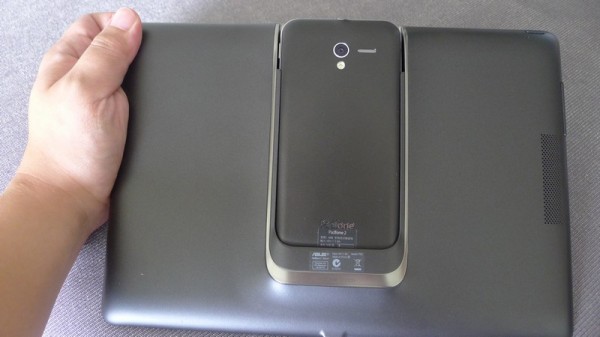 So, what happens when a call comes in while your phone is in tablet mode? You can simply slide out the phone to answer it. There's even an option for you to automatically answer the call once you undock the phone. Alternatively, you can also answer with a Bluetooth earpiece or go the dorky way by using the tablet's mic and speakers.
All in, Asus has made a pretty intuitive device, despite the obvious difficulties you can expect when trying to be both phone and tablet. It even has separate firmware updates for phone and tablet.
Yet, unfortunately, this is where slight hiccups can sometimes occur. The review unit I used failed several times to update the tablet firmware and I had to reset the phone to its factory settings, dock it and restart the firmware update process to get things going.
During this time, the screen would sometimes go off and the touch feature would not be available on the large screen. I certainly hope this was because the PadFone 2 I had was a review unit that had been through the hands of many reviewers, so it was probably not in the pristine shape that greets users when it comes out of the box the first time.
Geeks will also note that the PadFone 2 comes with Google's Android 4.0 "Ice Cream Sandwich" software and not the latest Android 4.2 "Jellybean", which promises a smoother interface, among other things.
Asus says it will have an update later, though the performance today is pretty smooth, I'd say. This is no doubt helped by a quad-core Qualcomm Snapdragon S4 Pro Krait processor running at 1.5GHz and the ample 2GB RAM onboard.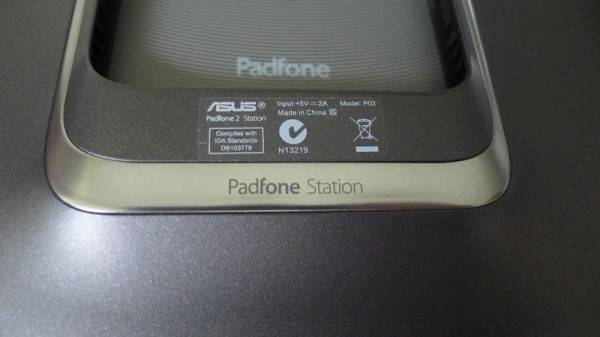 One other thing I'd pick on, though I'm a little difficult to please here, is the tablet's resolution. It's got great contrast, yes, and with a sharpness of 1,280 x 800, is hardly a poor screen. Indeed, I'd put it above the Samsung Galaxy Note 10.1's. Yet, the experience can be improved.
When you are used to staring at the phone's sharp screen, which has almost the same number of pixels on a smaller display, then the 10.1-inch tablet screen's lower resolution becomes all the more obvious.
Perhaps the corporate user that Asus may be chasing may not mind this, since they might mostly be firing away e-mails on the go. But for geeks, who are surely a target audience as well for such "transform" devices, will lament that the screen isn't sharper.
The iPad has its Retina display, the Nexus 10 has an even sharper 2,560 x 1,600 screen, while Asus' own Transformer Pad Infinity boasts a 1,920 x 1,200 display.
Fit at least a Full HD display on the PadFone 2 and I think Asus will have a surefire winner. As it is, it's a great device for those who don't mind  the lower resolution on the tablet. It will attract folks who do their surfing on the phone and use a tablet more on the couch at home or on the occasional trip overseas.
Of course, with a two-in-one device, you also don't worry about tethering or buying two SIM cards for two devices. It's a concept that Asus has made a lot of sense of with this PadFone 2.
More interestingly, users can in future simply upgrade their phones – with faster processors and new operating systems – and plug them into their existing PadFone stations and have an essentially new tablet. This is like upgrading your PC while keeping the monitor.
For now, the PadFone 2 will do well to convince users of this new way forward. It helps that it is priced aggressively, when you buy both the phone and tablet dock.
At S$1,099 for a 32GB version and S$1,239 for a 64GB option, it is cheaper than a separate phone plus tablet, and even cheaper than some phones alone. All in, a device well worth checking out.