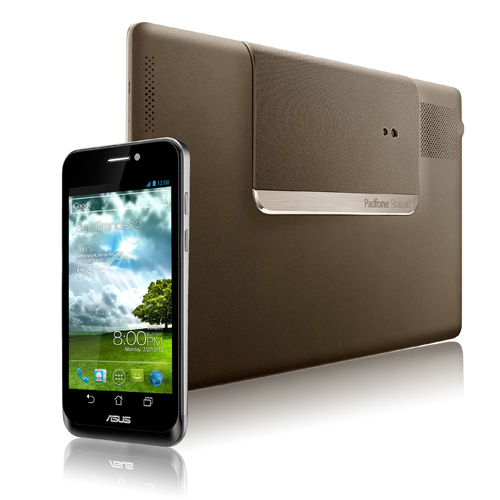 It's a phone, a tablet and a laptop rolled into one. The Asus PadFone, which has received much fanfare since its unveiling some months back, is coming to Singapore on June 2, and geeks will surely lap it up.
The all-in-one device will be available exclusively from StarHub for eight weeks, after which you can probably buy the basic unit at the retail price of S$800.
We say basic unit because at its heart is a smartphone running the latest version of Android, Ice Cream Sandwich. The phone is well-made and feels solid to touch, like Asus' Transformer Prime tablet and its Zenbook ultrabook.
But when you find the 4.3-inch Super AMOLED screen too small, you can slot it easily into a larger 10.1-inch screen, called the PadFone Station. Now, you have transformed the phone, like the robots in the movies, into another device – a tablet.
Not happy still? Plug it into a keyboard dock and you have a portable laptop for firing away your e-mails easily.
It's clear Asus is taking the concept of docking to new levels. While its Transformer Prime tablet could dock with a keyboard dock, just like Motorola's Atrix phone could transform into a laptop when docked, the PadFone is a three-in-one device.
The concept is not for everyone – many will still prefer to carry a phone and an ultrabook – but here's something that will make geeks rub their hands with glee. And Asus has them in mind, clearly.
Take the too-cool stylus, for example. Like any regular stylus, you scribble and draw with it. Yet, it also functions as a earpiece, allowing you to answer calls with the built-in speaker.
Asus has put in quite a bit of thought into the experience and that's a good thing. When you slide the smartphone into the tablet enclosure, for example, the bigger screen automatically powers on within a second or so. If you were playing a video, it continues playing without interruption.
The other cool thing is the batteries involved. The phone comes a 1,520mAh battery, which is not bad, and this gets charged when you plug it into the tablet, which is really little more than a screen with a handy 6,600mAh power pack.
What if you connect those two to the keyboard dock? Yup, the onboard battery charges the tablet battery, which charges the phone battery. So, you don't worry so much about your phone draining your battery, which is what happens now when you hook up your phone to let your laptop go online.
The thing is, even with everything plugged in and "transformed" into the ultimate geeky device, the PadFone isn't that heavy. It's not as light as an ultrabook, surely, but it's still quite easy to carry around without a heavily-padded bag.
The PadFone is obviously a gadget for the future. Like other "transform" devices, it will attract the geeky niche with its seamless all-in-one convenience.
But obviously, the folks making the core of most of our laptops now – Intel – are not sitting around doing nothing. Their answer is the ultrabook – cheap, thin, light and powerful.
For users, it's quite compelling to just bring a phone along with a really thin ultrabook. In terms of weight, there's not much difference. Plus, you enjoy a more familiar operating system like Mac OS or Windows and your Office programs.
One thing that makes the PadFone more appealing is perhaps the easy switching between devices. It really points to the future, when all your photos, movies and documents are available on the cloud and you can easily log in to a remote desktop using something like Citrix.
The other selling point is price. The basic unit at S$800 (without contract) is a good deal and the PadFone, on its own, is a nice smartphone with a dual-core 1.5GHz Snapdragon processor.
The PadFone Station, which turns it into a tablet, costs another S$328, while the PadFone Station Dock goes for S$228 and PadFone Stylus costs S$128. Assuming you buy everything, you still won't break the bank at S$1,484.
Right now, though, Asus is fighting against convention. Its new gadget might play very well with techies but may not stop people from buying, separately, a Samsung Galaxy S III, an Apple iPad and an Asus Zenbook.