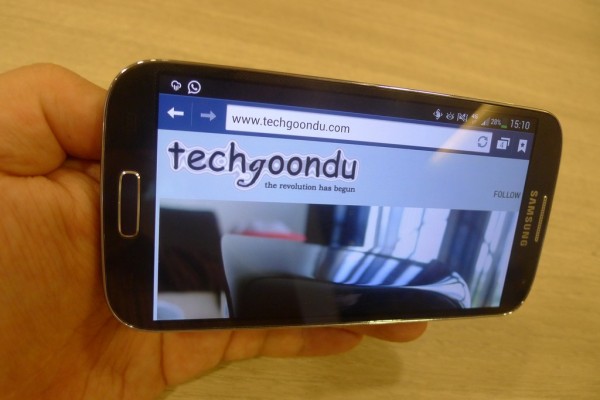 Like many critics, I've been cool to the unveiling of Samsung's new Galaxy S4 last month, after rivals such as HTC had raised the competition a notch.
Getting my hands on it, however, gives me another perspective. Actually, the much-awaited flagship in the Galaxy line doesn't feel as flimsy as its predecessor.
Yes, it's plastic – or polycarbonate, as the Samsung folks in Singapore insist – but it doesn't feel that cheap.
The difference really is in the design accents. The metallic-looking rim around the phone is just right on the bling, yet sets it apart from other plastic variants in the market (LG, please take note).
I don't know about the white version, but the dark-coloured one for the Singapore market comes with interesting carbon fibre-like patterns on its back, which make it feel a little more premium.
I still feel that the HTC One's aluminium case is a notch above the Galaxy S4's, in terms of design. But I've to say, the gap is narrower than I thought, after seeing the Samsung phone earlier this week at a hands-on demo for Singapore media.
The Galaxy S4 probably won't have any chipping problems common with aluminium frames, either.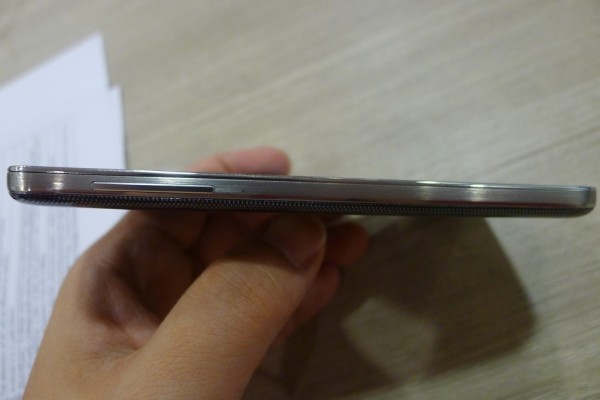 Indeed, if you're cool with the Galaxy S4's look, you'd really have very little to complain about the phone. It is loaded with the latest hardware, has dozens of software features (which you may or may not use) and promises a very pleasant user experience.
The model that is shipping in Singapore, by the way, will feature the 1.9GHz quad-core chip instead of the octa-core chip that South Korea is getting.
According to Samsung, the experience shouldn't be much different, unless you're running some really processor-intensive tasks. Though the octa-core chip scores better in benchmarks, it doesn't double the performance and certainly won't impact on what most people do on the phone.
Even with all the annoying widgets loaded on its home screen, the Galaxy S4 unit I had a brief test with didn't seem to slow down by much.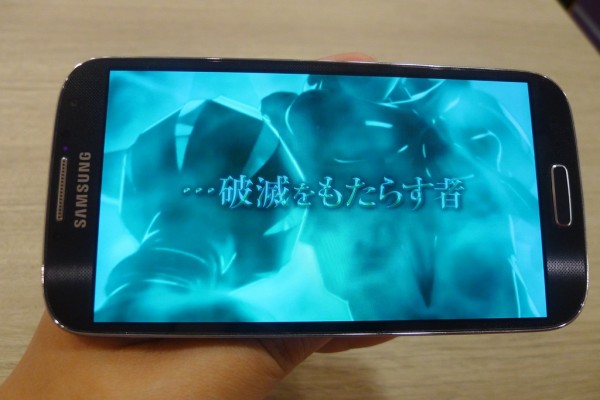 What of the apps that recognise your face and eyes that are so cool during Samsung's launch demos? Well, I'd say some work, and others are not so intuitive.
I particularly like the one where the phone automatically pauses a video when it senses that you're not looking at the screen.
Whenever I turned my head to speak to someone at the table during the demo, the video stopped playing. Look back at the screen and I had the video playing back again. There was little lag and the experience was great.
With other features, I'm not too sure. With one where you can move up or down a webpage by literally tilting your head (and eyes), I found myself nodding my head like a clown. Until everyone at a train station or cafe is doing that, I think I'd avoid attracting unnecessary attention.
The same goes for the "air gestures" that Samsung has built. Some are useful, others less so. It helps that you can move through e-mail or photos with a wave, like a Jedi playing a mind trick, but be mindful that you'd look like a dork waving around on a crowded train.
What's wrong with regular touch? Samsung folks say its new features are useful, say, when your hands are dirty while washing dishes. Alright, fair enough.
One feature I didn't have much time to test out was the Galaxy S4's 13-meg camera. I can only say from just firing a few shots in a well-lit room that it's pretty fast to snap and it does close-up shots with quite a bit of detail.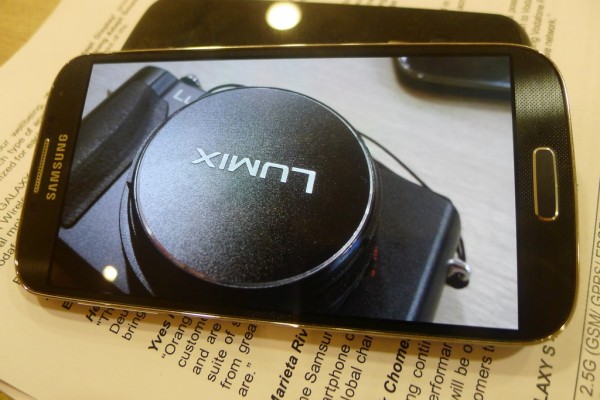 What I'd give high marks to Samsung for is the Super AMOLED screen. If you visit a stand with dozens of phones from next month, you'll surely notice the Galaxy S4 with its bright, vibrant screen. It's over-saturated, I hear you detractors, but it's also the most eye-catching and yes, you can turn down the levels if you wish.
The Full HD display is nothing short of sharp. Play a high-def video on the 5-inch screen and you might be surprised how much sharper the extra pixels offer over your year-old phone.
For many Samsung users, the Galaxy S4 is an attractive upgrade. Though the screen has been upsized from 4.8 inches from the Galaxy S III to 5 inches on the new phone, the Galaxy S4's size hasn't really changed much, thanks to its thinner edges.
Actually, Samsung has managed to trim the weight and thickness on the new phone, so it feels really compact despite the large screen. For folks who have been staying away from the Galaxy Note II because of the bulk, the Galaxy S4 fills that niche. Big screen that fits in the pocket.
For iPhone users who have been holding out, don't bother waiting for the next big thing from Apple. It's really already here – it's been here, actually for years. Place an iPhone next to a Galaxy S4, or even a Galaxy S III, and the difference is too obvious.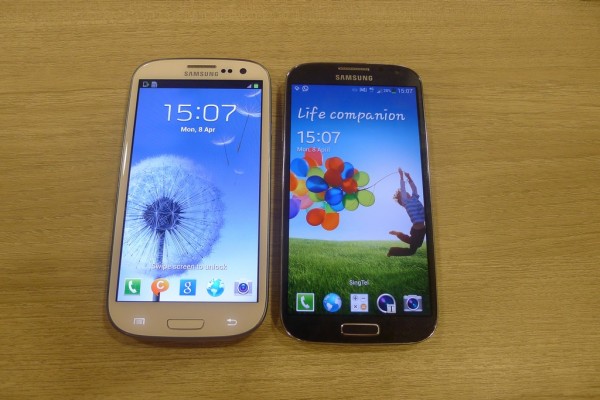 Fortunately, Samsung has taken a leaf from Apple's play book as well. The accessories do make a difference this time, besides making the phone look good.
A smart cover with a window cut-out lets you see the time, answer calls and play music without even lifting the cover. This obviously works only if you have the dedicated Samsung widget on the home screen, but it's a nice little innovation to improve everyday experience.
Also in the accessories line-up is a Qi inductive charging jacket, which is very slim and adds little bulk to the phone, and an accompanying charger. Cool to have, but smart of Samsung to have saved money by not making wireless charging a standard feature. Geeks will pay extra for this stuff anyway, right?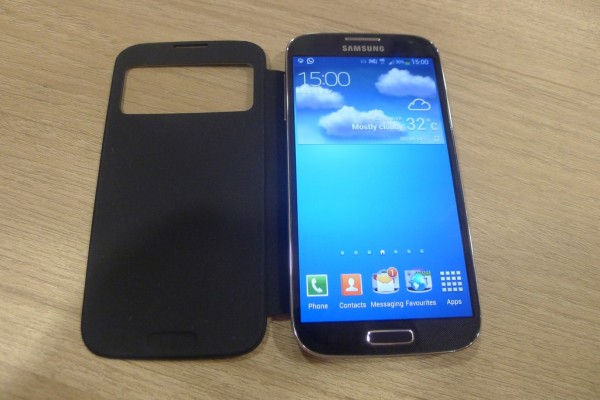 So, how much will the phone and all the goodies cost? Unfortunately, the Samsung folks here are tight-lipped about that. They would only say the Galaxy S4 will turn up in Singapore shops sometime in May.
When it does, I'm pretty sure it will ratchet up the kind of sales that has made the Korean firm the number one player in the past couple of years. Like it or not, it's slowly gaining an aura that Apple had at the height of its game.
UPDATE: The Galaxy S4 is going on sale in Singapore on April 27. It will cost S$998, without an operator contract.