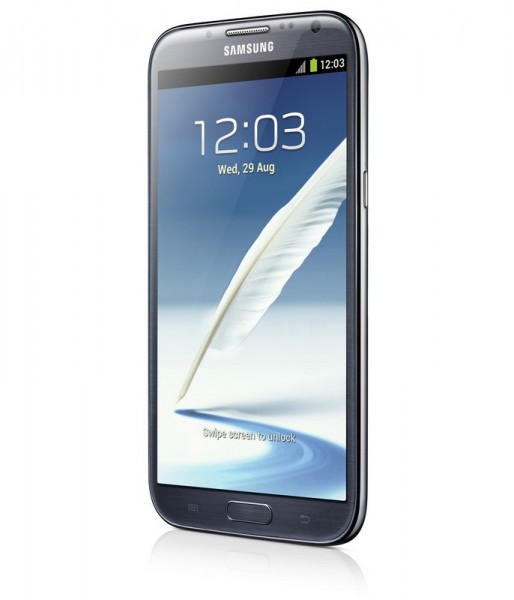 When the Galaxy Note was unveiled a year ago, I saw it as a niche product aimed at folks who might do a bit of sketching on the go. Why would people go back to a stylus and isn't a 5-inch screen too big for a phone?
Well, if you see the queues this weekend in Singapore for the Galaxy Note II, the followup to the surprise hit last year, you'll know how wrong many geeks like me have been.
The new S$998 "phablet" – a cross between a phone and tablet – comes with a slightly bigger screen and now looks even more like a sure-fire crowd pleaser.
Firstly, if you liked the Galaxy S III, you'd be happy that the same touch-and-feel is here. The previous Note's squarish shape has been replaced with the slightly smoother edges now.
The softer, more streamlined look will attract so-called "lifestyle users", who have taken to the Galaxy S III very well. Yet another winning feature here is the S-pen stylus, which lets them sketch whatever they fancy or jot down notes.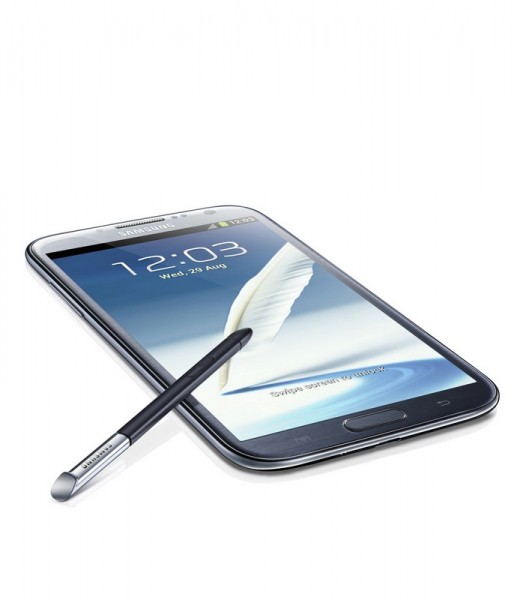 What are the major changes? The new 5.5-inch screen is slightly upsized from the 5.3-incher on the previous model, while the girth is a slim 9.4mm, a hair's breadth skinnier than the previous 9.7mm, despite the extra features packed in.
That means if you've always felt that the Note was too big for your pocket, the Note II will not make it easier to squeeze into your skinny jeans. Having said that, size is no issue if you are carrying a hand bag.
What I'm most impressed with the Note II is still its screen. The HD Super AMOLED display is sharp, with a resolution of 1,280 x 720, and also very bright and comes with excellent contrast that really shows in images and videos.
I've always been pleased by the Korean phone maker's Super AMOLED screens, and on the Note II, the experience is no different. Just try playing an HD movie on it.
Yet another important draw is how smooth the Android operating system (Jellybean 4.1.1) is on the phone. Even with all the junk apps and widgets that Samsung somehow feels obliged to fill all the screens with, there's none of the lag you'd expect as a result.
Software-wise, I'm also wowed by a new "hover" feature presented by the S-pen, the stylus. Place it over a menu on screen and it brings up a preview, of say, a movie. It acts as if you have pressed on something on screen and held your finger there.
A gimmick, I thought, when I first saw the demo on stage. Yet, when I tried it out later, the feature proved pretty nifty. Very importantly, no lag there either.
Perhaps it helps that the Note II has a 1.6GHz quad core chip. For folks looking to jump on 4G services, there's also 4G LTE, promising theoretical download speeds of up to 100Mbps, if your operator supports it.
How will all that impact the battery life? I can't say for sure, until I get a review unit to test it for a few days. But there's more juice in the battery – the 3,100mAh now an improvement over the original Note's 2,500mAh.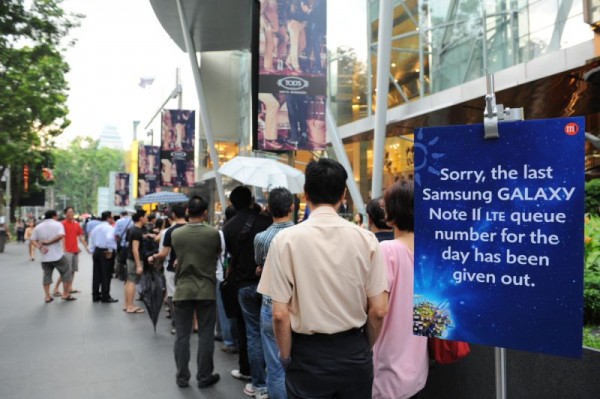 (Queue for the Samsung GALAXY Note II LTE at M1 Paragon on Saturday. Credit: Samsung.)

Just to make sure that this is the "complete" phone, Samsung has also added to the Galaxy Note II a microSD card slot that lets you pop in your own movies should you run out of space with the 16GB of storage onboard the basic model.
Then there's near-field communications (NFC), which offers an option to tap and pay for an widening range of services in Singapore now.
All in, there's little not to like about the Note II. It's a nice followup after the Korean electronics firm had hit gold with the Galaxy S III. This time, it's surely not a niche product.
Got your hands on the Note II? Tell us what you think of it so far?