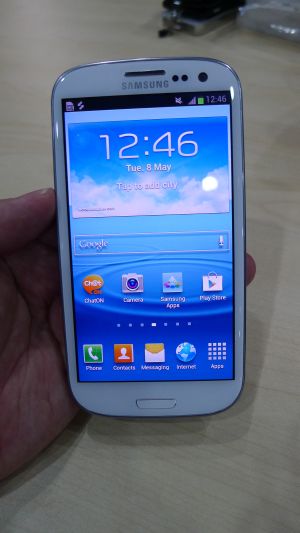 Almost like with an iPhone, details on Samsung's Galaxy S III were rumoured, leaked, exposed and went through the entire online hype cycle before it was finally unveiled last week.
Just how well does the flagship model from the new number one manufacturer of phones do in the face of increased competition? Not so bad, I have to say, after a hands-on session with the Galaxy S III a couple of days ago.
With a typically bright screen, slim body and new quad-core processor that provides zippy Android 4.0 performance, it holds its own against the best. To be clear, there's nothing dramatically different here from the previous Galaxy Nexus, Note or S II, but the Korean phone maker knows it already has winners and doesn't need to reinvent the wheel.
The first thing that impresses is how slender the phone is. Okay, the screen is a nice 4.8 inches, but the frame of the phone has not scaled up dramatically. Indeed, if you place it next to a Galaxy S II, which sports a 4.3-incher, or the Galaxy Nexus, which has a 4.7-inch display, you'd find that the new star on the Galaxy is not that much bigger.
I have used my Galaxy S II for more than a year and when I took to using the Galaxy S III during the demo with Samsung Singapore, I didn't feel like I was carrying a bigger or heavier phone. Indeed, the extra screen space just feels right in the hand – it's bigger, allowing for more useful data when surfing the Web, for example, but you don't feel that things have expanded that much.
That 133-gram frame, contoured beautifully in either white or dark blue, is probably enough to sell to a good number of fashion-conscious users eager to snap up the latest and greatest in the smallest size.
It helps too that the HD Super AMOLED screen is as bright as you'd expect from Samsung these days. The Koreans have sold millions of phones on those ultra-bright, brilliant-looking screens alone, and the Galaxy S III once again counts on that to do its pitch. And I must say, it doesn't disappoint either.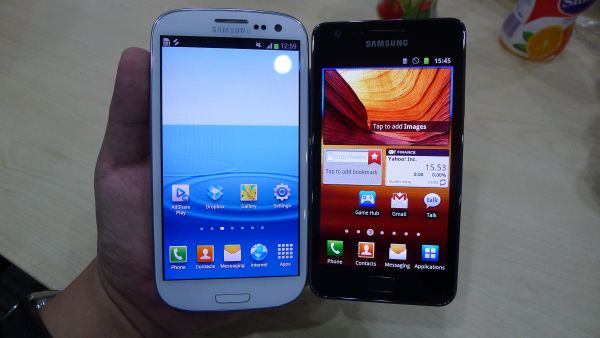 What of the new features, like the "zero shutter lag" camera, which seems to be aimed squarely at the HTC One X? Well, the phone is fast, which means I can fire away almost instantly once I focus on the subject. I'm not sure it's "faster" than the One X, because I didn't have a stopwatch that measured in the smallest milliseconds, but I'd say the Galaxy S III is fast enough for everyday candid shots.
In low light, the 8-meg camera does moderately well too, going by the couple of shots I tested out. Not too much graininess here, but you won't expect a small image sensor to achieve miracles and beat regular shooters if you have to shoot in dim settings. Again, good enough for the candid shot or two, but it is still a phone camera.
The other new feature here is, of course, the quad-core Exynos 4 chipset that Samsung designed itself. To demo that, Samsung showed off a video preview screen, where several videos were just playing all at the same time while in thumbnail mode. To top it off, the phone also offers a "pop up" play mode where a persistent small screen keeps playing the video while you go about other tasks on your phone.
The multi-tasking that is going on here is obvious. There is no lag even when I fire up tons of apps on the Android 4.0 or Ice Cream Sandwich (ICS) operating system.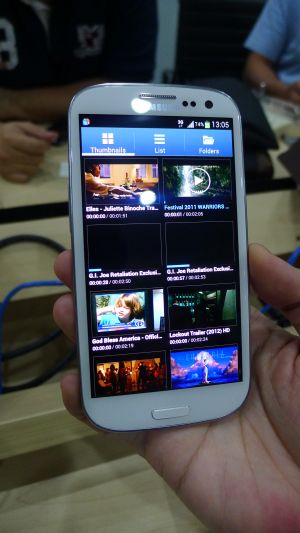 Besides the hardware, there are several cool software features that Samsung has built in as well. You've probably read about the call feature – you can read an SMS from a friend and with that screen still on, simply place the phone to your ear and it will dial your friend automatically.
But more interesting is the auto-off feature for the screen. A video simply stops playing if it detects that you are not looking at the screen. So if you place it screen down on the table or simply flat on its back and move away, the phone will stop playing the video and stop draining the battery. Nifty? Yes, and it seems Samsung has only just started tapping on the front camera that it uses to track movement.
To its credit, it has packed a lot of interesting software in the Galaxy S III. One of them is an image-tagging feature, which recognises faces in photos and lets you easily tag your friends. There is also an Android version of Flipboard, that magazine style reader that Apple users have been using to reformat websites into flip-a-page magazine style layouts for easy reading.
When I say the software is quite interesting, I have to mention Samsung's Touchwiz as well. Good news is, it's a lot less intrusive than before, with icons slightly smaller, say, in the Settings screen. At least on the trial sets, which are running early versions of the phone's software, there doesn't seem to be loads of useless widgets installed on the main screens, which can slow things down.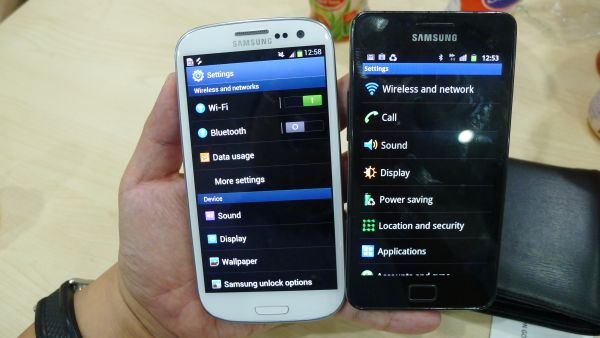 I'm also told that the Singapore version of the phone will come with NFC (near-field communication), which essentially opens up a world of opportunities for touch- and tap-based transactions and apps. One thing that Samsung has included in the Galaxy S III is the Android Beam feature, which lets you transfer data to another authorised Android phone when you tap the two devices together.
With a long list of goodies thrown in, what would give you pause as you ready your credit card for the Galaxy S III's shipment, expected in late May in Europe and "soon after" in Singapore?
The most likely reason I can find is the touch and feel. Those who didn't like the whole plastic design of the Galaxy series will have little to help them get over that deal-breaking dilemma. The Galaxy S III is not brittle or fragile – my abused Galaxy S II can attest to that – but that lightweight plastic feel may not be to everyone's liking.
Some users may just cross over to the HTC One X, which has a cover that does feel a little bit more "space age" and smooth, despite being plastic as well. Otherwise, head to head, there's little to choose between the two hottest phones right now.
The Galaxy S III, despite what its rivals do, will have branding on its side. Like it or not, and even Apple fans will attest to this, Samsung's Galaxy brand has started to have a premium ring about it. Stick with the formula, as Samsung has done here with the Galaxy S III, and it will sell millions more of this new model.