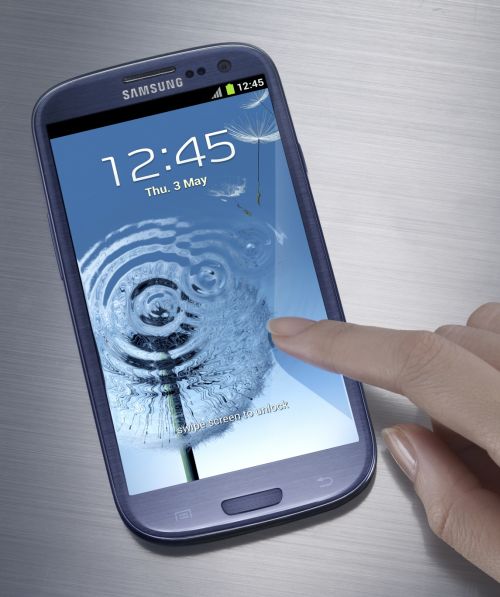 It's svelte like before but it's got a larger screen, more juice in the battery, and interestingly, smart software features that could turn off the screen after detecting that you have fallen asleep watching a movie.
Is Samsung's much-awaited Galaxy S III the smartphone to have now? Well, after the Korean electronics maker unveiled its new flagship device just hours ago, you can already sense the credit cards and cash ready to fall out of many users' wallets.
It's true, the Galaxy S III, which will ship in Singapore by June the latest, is set for a stay at the top of the charts. 
Essentially, Samsung has not changed the winning formula for its previous Galaxy S II, which lifted it in the first quarter of 2012 to become the number one phone maker in the world, ending Nokia's 14-year reign at the top.
The Galaxy S III is still waif-thin and weighs just 133 grams, but it now comes with a bigger 4.8-inch HD Super AMOLED screen and an 1.4GHz quad-core processor based on the Korean company's own Exynos 4 design.
The jury is still out on whether this is faster than the quad-core unit seen in HTC's One X, which runs on an Nvidia Tegra 3, but Samsung fans will be glad it is not losing out on having the best hardware.
However, it is perhaps the software onboard that the Galaxy S III may stand out for. The front camera is put to good use by monitoring whether you are falling asleep, while, say, watching a movie on the phone. If the phone detects that you have dozed off, it turns off the screen. Nifty? For sure.
There's also a voice recognition feature, called S Voice, which Samsung has obviously included to keep pace with Apple's Siri voice commands. We're not sure people still use that now after the novelty has worn off, but Samsung's taking no chances apparently and making sure it's got that covered as well.
This move towards more "smart" software features seems to be a step up for the Korean phone maker, which has previously worked hard in squeezing all the latest hardware into a beautiful design and depended on that to overcome its somewhat less stellar Touchwiz interface.
Now, it seems Samsung is keen to take on Apple and also fellow Android phone maker HTC, which has always positioned its Sense interface as a selling point, at their game.
Indeed, the Galaxy S III promises "zero" shutter lag as well for its 8-meg camera. And yes, that seems to be aimed squarely at HTC's One X, which shoots an amazing series of shots if you hold down the phone's fire button and performs admirably in low light.
From what we can see, until we have a more close-up hands-on with the phone, it appears that Samsung has upped its game to keep abreast if not ahead of what the competition has come up with.
Just weeks ago, HTC's One X had overtaken its Galaxy Nexus, Galaxy S II and also Galaxy Note. Now, the Korean company has come back with a phone that seems bent on beating out the competition from other Android phone makers.
Plus, with the next iPhone not due for several months, the Korean phone maker may just capture a few iPhone users tired of waiting for the next big thing from Apple.