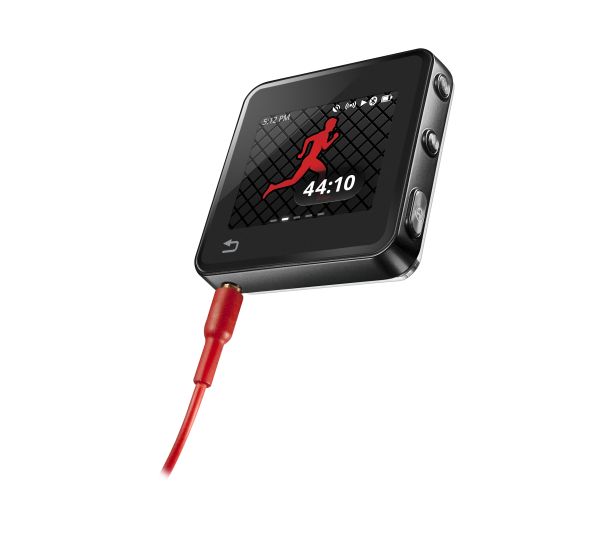 It has taken several months to reach Singapore, but finally, joggers here can check out Motorola's tough little Motoactv music player that has wowed users over in the United States.
The big deal about this nifty sweat-proof and rain-proof player is that it runs on Android and can fire up a number of GPS-enabled apps that better track your run or cycle. Plus it comes with Bluetooth connectivity out of the box.
Pair it with one of those cool Jabra Sport headphones we reviewed some months back and you have an excellent jogging companion, sans cable and fuss. Very crucially, the 35-gram player will be light enough to be slid into your shorts' pocket or clipped on without dragging your shorts down, as a heavy or large-screen smartphone may just do!
The Singapore version is the basic one that comes with 8GB of storage, which Motorola says will be enough for 4,000 songs. The battery, if used outdoors, presumably with GPS turned on, is expected to last five hours. Otherwise, if you are just playing music, it will last 20 hours. That should be enough for a regular workout, unless you are on a multi-day trek, of course.
Other "luxe" features include a 1.6-inch colour screen that's protected by a piece of tough Gorilla glass. There is also an ANT+ connector to hook up to devices like heart monitors or bike sensors. There's even Wi-Fi, and not just Wireless B and G but also the faster N version.
The bad news, get ready for it, is that the Motoactv will cost a rather expensive S$399 in Singapore.
The Motorola folks probably know this and have thrown in 14-day access to True Fitness gyms in the city and they also offer 10 per cent off the GPS music device to members of True Fitness, True Yoga and Bikram Original Hot Yoga if they flash their membership cards at Newstead stores that are selling the Motoactv.
However, if you don't want any of the freebies, the price at Amazon is a lot lower. The Motoactv goes for just US$211.88 (about S$263) at the online store. Add shipping and it's probably still cheaper, though you don't enjoy any warranty if you break your Motoactv during a jog.
NOTE: The Motorola folks have written in to say that the Singapore version, unlike the US one, comes with a number of accessories, which were originally not mentioned in its announcement. They are:
– Sports Watch Strap
– USB Cable and Travel Charger
– Motorola SF200 Stereo Headphones with mic
– Belt Clip