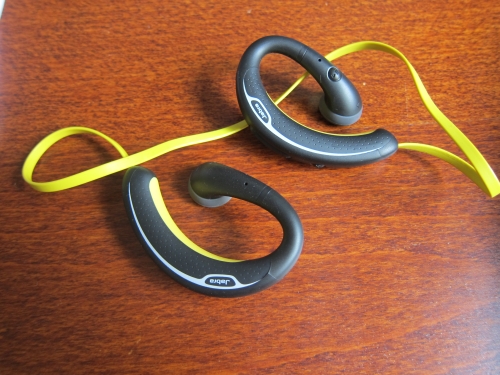 Anyone who's ever gone jogging or biking with their music will know how irritating it is to have wires dangling and getting in the way. You can have a short cable, say, with sports earphones that hook up to an iPod strapped to your arm, but there's still that bit of wire that often gets in the way if you are sensitive to these things.
For such active folks, you'd be pleased to try out Jabra's Sport earphones. These Bluetooth headphones receive music wirelessly, doing away with cables other than one between the earphones which you'd hardly feel on the go. I've tried a number of Bluetooth stereo headsets before this, but Jabra Sport ranks as one of the best yet.
The first thing that inspires confidence is the sturdy-looking yellow cable hooking up the two earphones. Okay, the yellow seems a bit obligatory since these are meant to be "sport" headphones, but there is a lot more thought involved here than colour.
The flat cable, for one, is less likely to be tangled up than regular thin, rounded cables. Then there is the hardy joints between cable and earphone – you'd have to pull pretty hard to destroy that.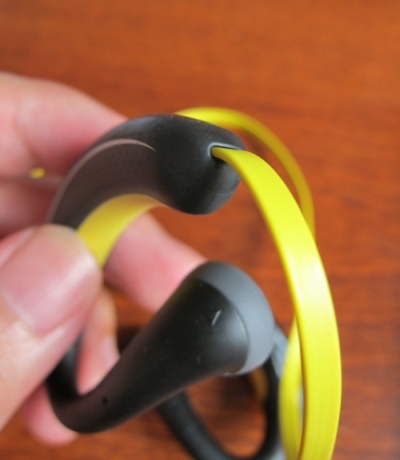 When I took them out of the pretty packaging, the Jabra Sport also impressed with their really soft yet sturdy hooked design. Though they resemble the early Jabra headphones that made the brand famous, the new headphones are now made with a material that is much improved in comfort and fit. Few Bluetooth headphones fit as snugly yet feels as comfortable.
When I went for a short run last week, I didn't feel the Jabra Sport on my ears at all, partly because they hung on without moving irritatingly as in-ear types can often do. The Jabra Sport comes too with three "ear gels" for that perfect fit, but I was happy enough with what I got out of the box.
Like similar Bluetooth stereo headphones, the Jabra Sport receives the music wirelessly using the Bluetooth A2DP (Advanced Audio Distribution Profile) feature, which is supported on most smartphones today and a small number of Bluetooth-enabled MP3 players such as the Apple iPod Touch (check Apple support here).
It's a pity that small and light iPods, such as the Nano that runners like, don't do Bluetooth. You may still add a Bluetooth transmitter to it, though I have not tested this out and can't vouch for 100 per cent compatibility with the Jabra Sport.
Once powered on, the Bluetooth headsets are a joy to use. Fire it up for the first time, and a voice prompt tells you to hook up with a phone or MP3 player using a pre-set pass code. That's all the fuss you need to go through before heading to the gym or track or climbing on your bike.
I paired the Jabra Sport with my Samsung Galaxy S II (yes, a little big for running) once and never had to fuss around with the settings again. Every time I wanted to play back tracks on the Jabra Sport, I only have to press the Play button on it, and it automatically loads the last track played on the phone. There's no need to even stumble through the menus on the phone, which is a good thing if you want to quickly get going for a jog.
And what of the audio quality? I'm pleased to say that music streamed perfectly for me, as long as the phone and headphones were within line of sight, say, about 5m to 10m. You'd have no problems streaming music clearly if you jog while having your music player in your trouser pocket (even though Jabra, for some reason, doesn't encourage it).
The headphones also punched well in the bass department and sounded clearer and brighter than many poor-sounding sports headphones that often don't emphasise audio quality.
Needless to say, the voice quality is impressive as well. Expect no less clarity when it comes to phone conversations as you would with other high-end Jabra headphones, especially since the Sport also suppresses background noises like wind noise. I guess it's something bikers might want if they are on hours-long rides, though the one time I answered a call on my smartphone while in the middle of a jog, my panting proved more of an issue than the noise cancellation.
I use the Nike+ run tracker now, and the Jabra Sport comes with similar features as long as your phone – or MP3 player – supports them. If you install the free Endomondo Sports Tracker app on your phone (Android, iOS or Blackberry) to track your run or bike ride, the Jabra Sport will remind you of the distance you have covered and even offer words of encouragement (or taunts). If you like Nike+, you'd probably like this Jabra + Endomondo combination.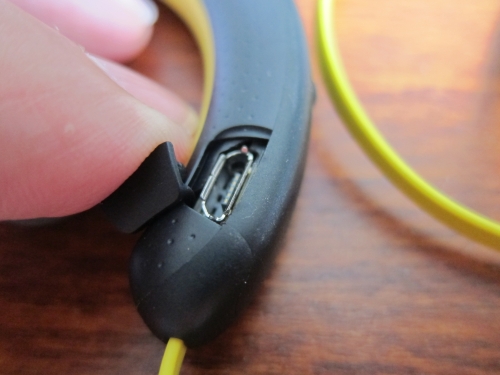 The only small issue I have with the Jabra Sport is probably its USB connector, or rather, the rubber protector that you have to lift every now and then to charge the headphones.
I know it's ruggedised, but I can't help worrying that I'd accidentally pull out the really thin plastic connector holding it in place, which could leave the USB port totally exposed to sweat and grime. Considering how often you have to flip this little rubber piece out to charge your headphones, it has better be able to withstand tough use.
To be fair, I've not managed to destroy the headphones yet in the couple of weeks I used them. I'd happily recommend the Jabra Sport because few headphones have felt so "transparent" and comfortable when I go jogging with them. Plus, the audio quality is pretty good, which is a plus when you just want to enjoy the music while not working out. I just have to find a Bluetooth adapter for my iPod nano now.