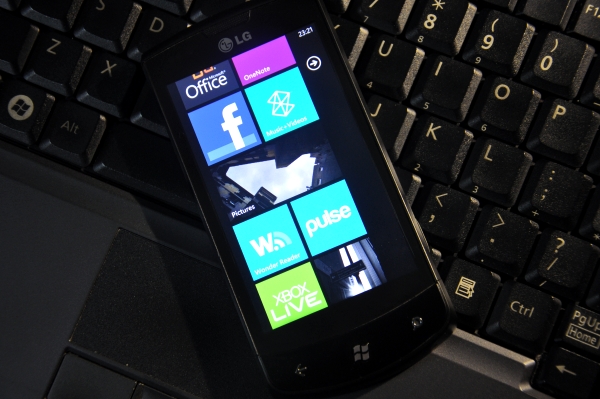 When Microsoft's Windows Phone 7 launched last year, it received largely positive reviews, including from us. But there was a nagging sense that it was incomplete, and there were a lot of tiny but important features missing.
With the follow-up officially known as Windows Phone 7.5 (codenamed Mango) now out on new phones as well as an update on existing models this month, the platform is proving to be a capable OS with enough features on take on both iOS and Android.
People who have never used WP7 before this will probably find it difficult to spot most of these improvements, as the user experience remains consistent. So without further ado, let's dive into our Goondu review!
Improved performance
After upgrading my LG Optimus 7 to WP7.5, I fully expected some slow-downs. After all, it's not the best of Windows Phones, and 7.5 brings with it more than 500 new features that are sure to bog down the phone, right?
To my pleasant surprise, performance actually improved. Everything bounced and jumped along even faster than before the upgrade. Even on the relatively old 1GHz chip the Optimus 7 uses, everything worked just fine, and dare I say, even faster than the dual-core Android behemoths out there.
Unfortunately, battery life seems to have suffered a little. I used to be able to get through an entire day with just one charge. Now the battery gets precariously close to needing a new charge by the end of the work day.
The souped up "People" hub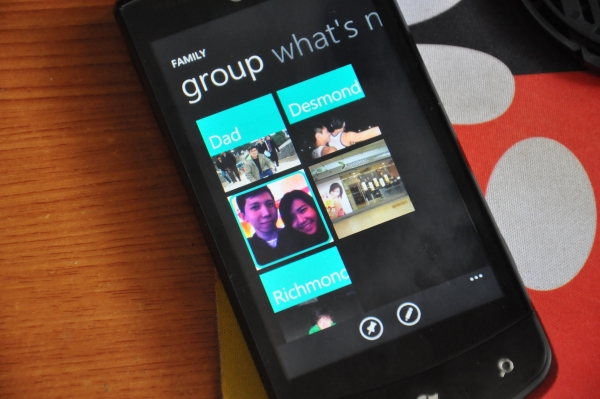 The People hub is basically your phonebook, but augmented with additional data from Facebook.  WP7.5 adds Twitter and LinkedIn support so you can natively check your social networks without installing separate apps. Of course, these apps are all available in the app marketplace (with the exception of LinkedIn) should you prefer the full experience.
In addition, the "Me" tile has also been improved. You can now post updates straight to Facebook, Twitter, LinkedIn, and Windows Live right from the "Me" tile. Notifications such as Facebook comments and Twitter mentions also gets delivered straight to your "Me" tile, without the need to open different apps all the time.
WP7.5 also adds a Groups feature, which lets you group contacts together and view just their updates. This is an excellent feature which lets you quickly get an update on what's happening in your social circles.
Email and messaging
Prior to 7.5, e-mail in Windows Phone looked nice, but was largely inefficient. Messages were not threaded, and you had to have separate tiles for different inboxes. 7.5 brings a unified inbox, and threads related e-mails together so you don't have to scroll down 1 kilometre just to find an e-mail you sent a week ago.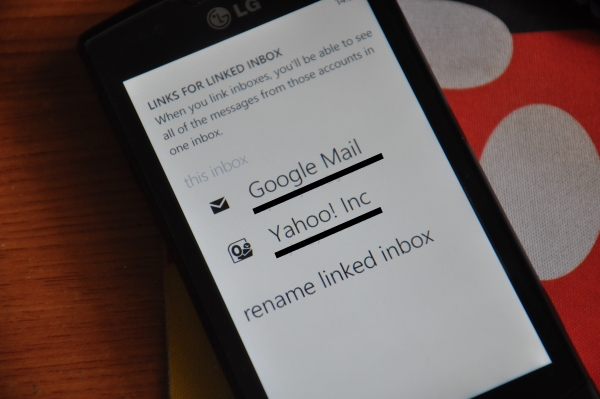 You can even pin a specific folder to the start screen, allowing quick access to your most important emails.
If you link up your contacts with their respective Facebook and Windows Live accounts, SMS messages will also threaded with Facebook chat and Windows Live Messenger IMs, making a seamless flow of conversation really possible.
App handling & interaction
Despite going for less focus on apps, Microsoft has vastly improved what apps can or cannot do within WP7.5. For one, the much-hankered after multi-tasking ability is now present – just hold down the back button and a spread of your open apps appears in front of you.
But it's still not true multitasking.  Instead, developers have to manually add to their apps the ability to freeze the app in the background, much like how iOS does it.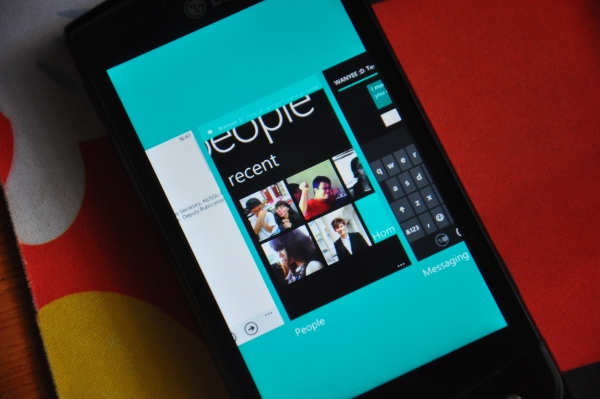 On top of that, freezing isn't really done on an app by app basis, but more on a screen by screen system. For example, I could have three messaging threads as my last three "apps" and the phone will show all of them in the multi-tasking screen.
To make it even more annoying, WP7.5 limits the number of frozen "screens" to only 5. Anything app beyond that isn't frozen, and will have to start from scratch the next time you open it.
Moving on to a more positive note, developers can now deep link an app from the home screen. Simply put, developers can get creative and allow certain functions of their apps to be pinned directly on the home screen. For example, I can pin my favourite foursquare location to my home screen for faster check-in. That way, I don't have to open up the app (I use a third-party app called 4th & Mayor), navigate to the location, and check-in.
Apps can also take more advantage of Windows Phone's best features: live tiles. On top of displaying information on one side, tiles can now flip to display more information on the other side. For example, if you pin your "Me" tile to the start screen, it will flip to display new notifications when they come in.
Camera & photos
Windows Phone's camera software also sees and upgrade in 7.5. For one, you can finally save your camera settings (e.g. no flash, effects etc.). Previously, the camera settings reset every time you exit the app, causing a lot of frustration.
Microsoft has also baked in an "auto-fix" function which automatically edits the brightness, exposure, colour etc. of your photos to make them look better.  However, there's no manual control, so the photos don't always look the way you want them to.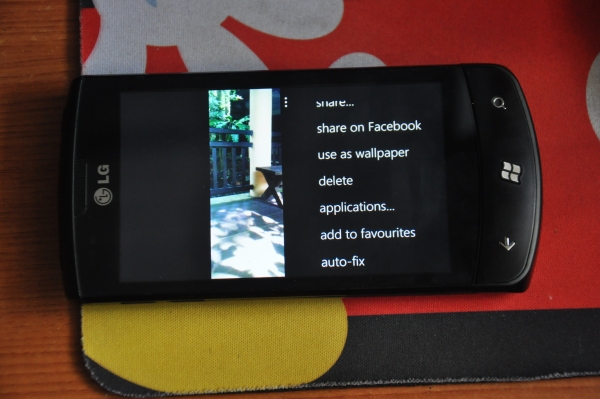 Twitter sharing has been added to the existing Facebook sharing. Photos you share on Twitter will be shared on SkyDrive, in a folder called Mobile Uploads. This is immediately less appealing to people who prefer to use their SkyDrive for storing other data.
In addition, you can now tag your Facebook friends right from the phone. Tags can be done either through manual typing, or choosing a contact from your People hub. However, there's no way to fine-tune to position of the tags; you'll have to download the Facebook app for that.
Office & SkyDrive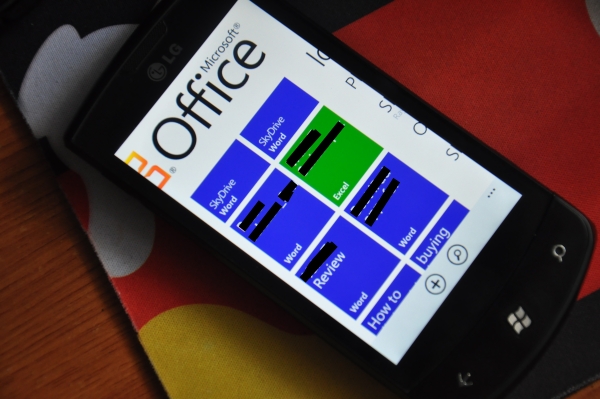 Microsoft Office is now fully integrated with SkyDrive in WP7.5, letting you view, edit, and save documents in the cloud. Also in the new OS: support for multiple Exchange account, Information Rights Management for confidential documents, the ability to sync Outlook tasks and set up out-of-office messages.
Internet Explorer 9
WP7.5's browser has been upgraded to IE9, with the full works: HTML5, CSS3, SV and more! The interface has also been tweaked to allow more of the webpage to appear on the screen. Each tab runs as a separate process so a rogue webpage won't crash your entire browser.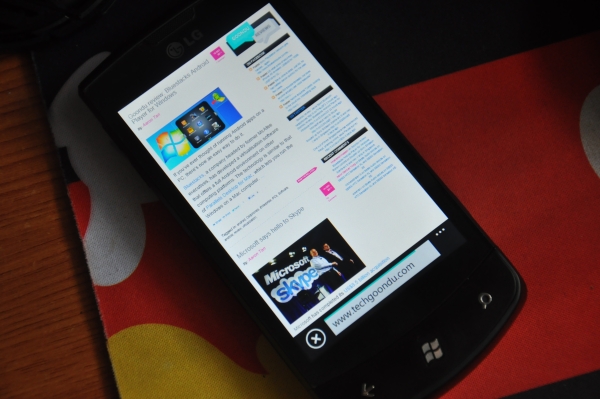 IE9 mobile also features hardware acceleration, and webpages do load faster compared to pre-7.5. On the flipside, my phone gets really hot after browsing for about 10 minutes. It would be nice if I can turn off hardware acceleration when on-the-go to save some power.
What's missing
Despite this update bonanza, there are still lots missing in Windows Phone. Chief among these is the inability to sync your shared Google calendars. Currently, to see the events on a shared Google calendar, I first have to copy them to my personal calendar.
Internet sharing, or tethering, is also missing from the update, although new Windows Phones like the HTC Radar do get them. Some manufacturers like LG have already promised to deliver the functionality through an update, while others like Dell have said their Venue Pro will never get it.
Also, I'd like to see more IM options available in the messaging threads. Not everyone chats on Facebook or Windows Live Messenger, and options like Yahoo! Messenger or Google Talk would be welcome.
All the Bing location-based goodies are unavailable in this part of the world. With Siri now about to go on tonnes of iPhone 4S handsets – global support will be available in 2012, says Apple – Microsoft better work fast or Apple's offering will eclipse Bing very soon.
Looking for a new phone? Give Windows Phone a look

If you're in the market for a new smartphone, it's time to look at Windows Phone seriously. The latest update brings it up to par to Android and iOS, and in some areas it even surpasses the two in functionality.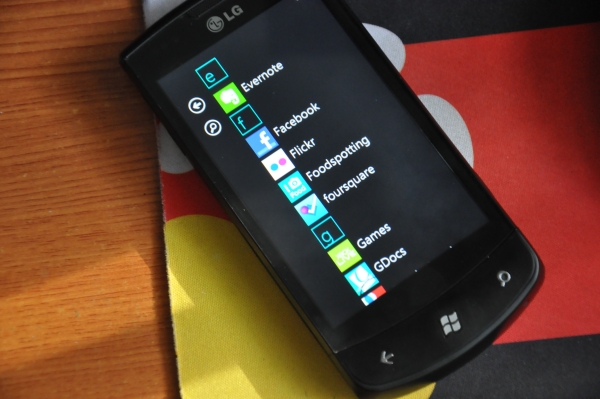 This review only covered the major new features, but there is a lot of original stuff going on in Windows Phone that should have people picking it up for the first time pleasantly surprised. Plus, with Android facing legal difficulties, manufacturers might just start to look at Windows Phone as a safer alternative to put on their phones.
With Nokia set to release their first Windows Phone device in the coming few months, the future of the platform looks bright.